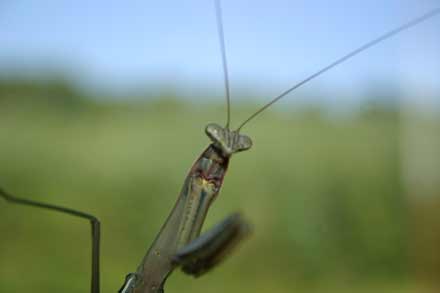 You know it's fall when the grasshoppers and assorted cousins start jumping on your car. This praying mantis landed right on the windshield. Photo by Michael Sink.



Mayland Community Collegeís Foundation held their annual art auction at the Burnsville Town Center. Proceeds from this auction went to benefit Mayland students through the Foundation. Artists from Avery, Mitchell, and Yancey Counties as well as Asheville donated items for the event. Pictured are Janet Colvin and

Deborah Jacobus looking over the pieces of art before the auctions.


WKYK-WTOE employee Denise Whitson attended the "Get Motivated" Business Seminar in Asheville on September 22nd. Denise is pictured with lead speaker, Zig Ziglar.
| | |
| --- | --- |
| The Old Timey Fall Festival was held on the Burnsville Town Square on Saturday, September 24th. Photo by Randy Ward. For more pictures, click here. | Touchdown pass in Cougar game on Friday night, September 23rd. Photo by Randy Ward. For more pictures click here. |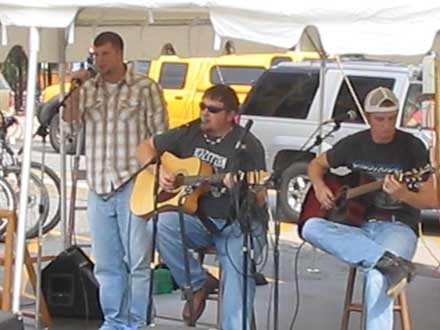 Andy Howell (right) and Marc Whitson (center), both from Burnsville, teamed up with their friend, Brad Bess to perform last weekend at the Kraut Creek Street Festival in Boone. All three guys go to Appalachian State University. Marc has recorded a country song that you can hear occasionally on WKYK.
| | |
| --- | --- |
| A wood-fired stoneware pitcher made by Ken Sedberry auctioned at art/spaghetti dinner held Oct 8th. | Senator Richard Burr visited Mountain Heritage High School on September 26th. |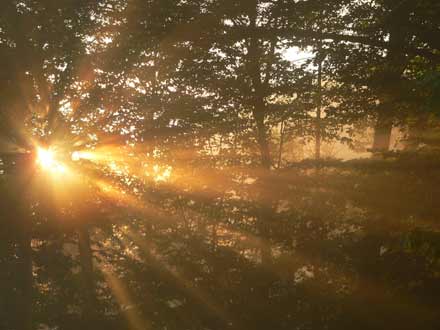 Linda Brown caught this sunrise coming through the trees.

| | |
| --- | --- |
| Marigolds look particularly nice during the fall. | Marie Nicholson with Mars Hill College (L) and Miki Pontorno with the Yancey County Chamber of Commerce (R) presented Yancey County Schools Teacher of the Year, Karen Fox (center), with a gift basket filled with items donated by Yancey County Chamber business members. |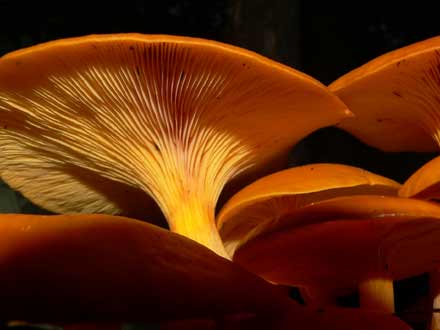 Not your average picture of a mushroom--this artistic view was taken by Linda Brown.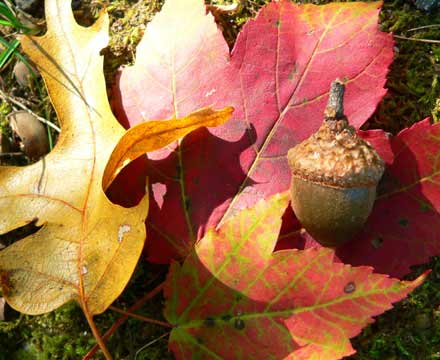 So far the fall leaves have been hard to find. Linda Brown was able to find a few for this picture.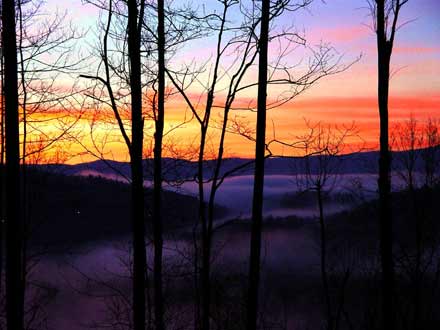 This beautiful sunrise photograph was taken by Michael Hopson in the Micaville/Celo area in the spring of 2005. The white spots in the picture are from houses in the valley.
| | |
| --- | --- |
| | Vicky Hoilman sent us this picture she took of beautiful "cosmos". |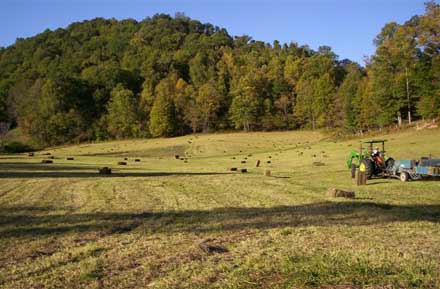 Glenn Wilson square bailing hay on a beautiful October day. Photo by Phyllis Wilson.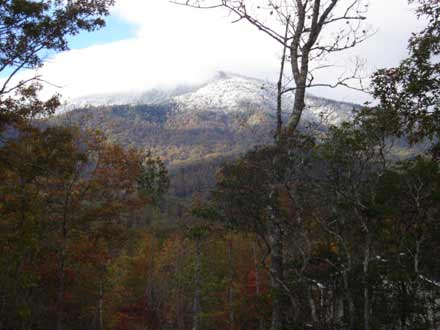 This picture of Celo Knob was taken Wednesday morning, October 26, after a light snow had fallen on the mountain tops. Photo by Sandy Matheny.
| | |
| --- | --- |
| Dr. Suzanne Owens will become Maylandís fifth president, and the second female president in the collegeís 34-year history. | Heritage players "psyching up" for game against Mitchell.. Photo by Randy Ward. |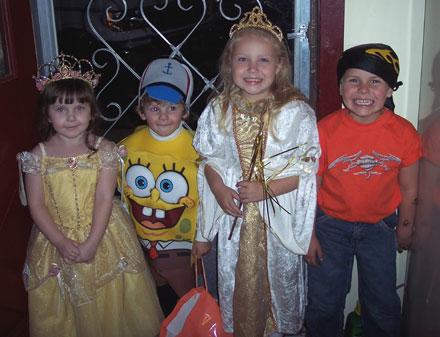 One of the many cute groups of kids out making the rounds for Halloween. (Left to right) Madison Tunks, Kason Hall, Alyssa Sparks and Keaton Hall.
| | |
| --- | --- |
| Bobby Proffitt enjoys a little Halloween fun. We've been told he is "President Bush's new campaign manager." | Randy Hall of Burnsville is the lucky winner of the WTOE 50th Anniversary trip to Gatlinburg, $50 cash and $50 for gas. He registered at People's Furniture in Spruce Pine. |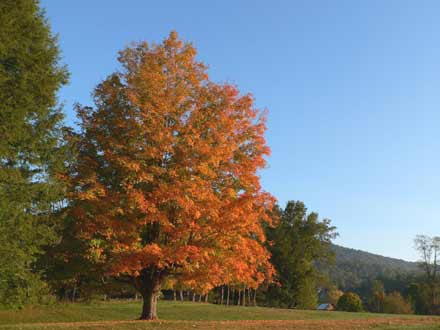 Fall colors have been few and far between this year. Linda Brown did get this picture near the Post Office in Burnsville last week.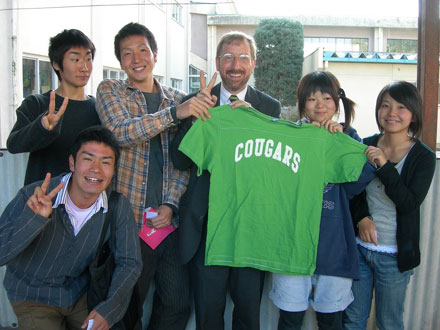 Here is a picture from Peter Bobbe's recent education-related trip to Japan. These are students from Nawazakita Senior High School in Saku, Japan. You just canít hide that Cougar pride! Teacher of the Year Peter Bobbe Peter Bobbe participanted in the Japan Fulbright Memorial Fund (JFMF) Teacher Program.
| | |
| --- | --- |
| Steven Proffitt crosses the finish line during the Cross Country match at Freedom. | Sugarbear on his favorite table beside the window where he can watch for visitors. Photo by Peggy Bailey. |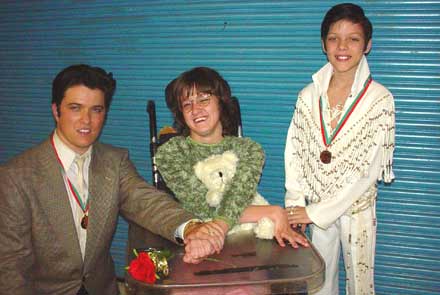 Haley Atkins with Arik Christopher and Alex Swindle at the Special Olympics Fundraiser Oct. 14.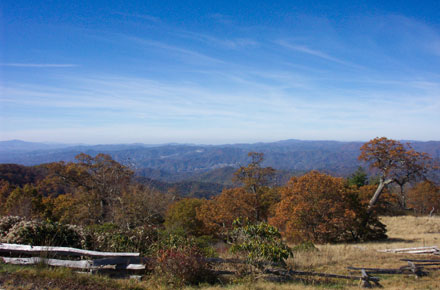 This picture was taken recently at Ogle Meadows by Elaine Boone.
| | |
| --- | --- |
| Ballerina Ava and Princess Clara dressed for Halloween. | |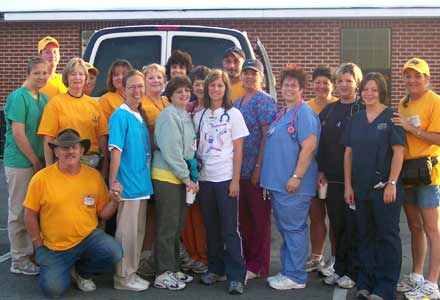 This group recently traveled with Mayland Community College to the Gulf Coast to help Hurricane victims. Front Row, Left to Right: Jim Teal (kneeling), Trela Watson, Anna Teal, Vicki Wise, Randi Miller, Roxanna Shepherd, Nicole Guinn, Heather Calvert, Mary Nell Tucker. Back Row, Left to Right: Mitzi Bullis, Robert Moore, Nina Moore, Melissa Wilson, Connie McKinney, Yvonne Hardin, Angie Duncan, Billy Hoyle, Gwen Frye, Connie Guinn. The individuals traveled as private citizens and volunteered through the Baptist Menís organization. Several from the group worked with the Red Cross in their administration department. They helped with paperwork and printed maps for recovery teams and helped with other much needed services.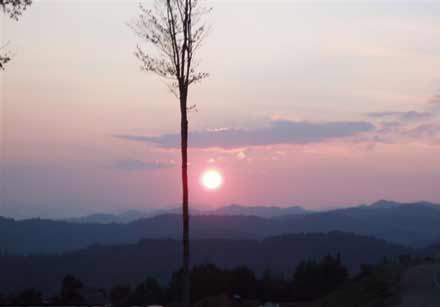 Peggy Bailey took this beautiful sunset from the deck at The Lodge Restaurant at Wolf Laurel.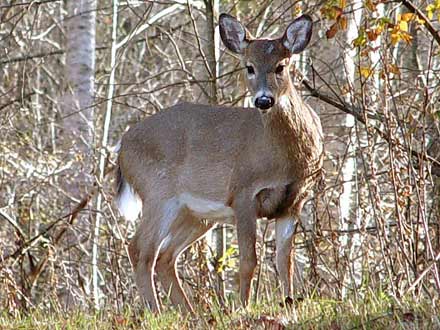 Doyle Adkins got this great shot of a deer.
| | |
| --- | --- |
| Emery Shai was born on Friday 11/11/05 at 2:15pm at Memorial Mission Hospital in Asheville. She weighed 7 lb. 3 oz. Her very proud parents are Todd and Christy Capps. They report that she is the light of their life and that she already has aspirations to be a movie star, with a goal of having "a star somewhere between Cher and James Dean on Hollywood Blvd." | Peggy Bailey sent these pictures of Sugarbear (black dog) and Miss Priss taking a minute to relax. |
For more photos click here


Click Here To Visit Our Sister Radio Station


This page was last updated on Tuesday, 23 October 2007 10:55 AM