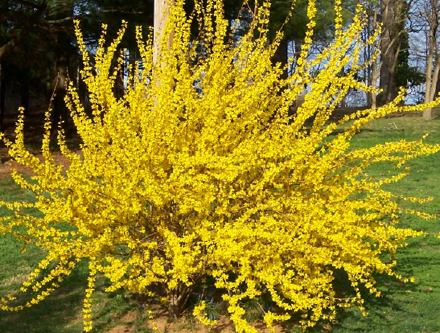 A familiar site this time of year, forsythia can be found in bloom throughout this area. Photo by Tina Sink.
| | |
| --- | --- |
| Rita and Cameron Roberts with their new baby, Lena Elise Roberts, who was born April 3, 2006. Rita is a teacher a Madison Middle School, Cameron is a teacher at Mitchell High School. Cameron leaves on April 30th with the 630th CSSB Unit of the Army, which is returning to Iraq. | A honey bee swarm on Cane Branch on April 12, 2006 at 4:30 PM. Swarm was approximately 2 feet above the ground. Photo by Evrena Gillespie. |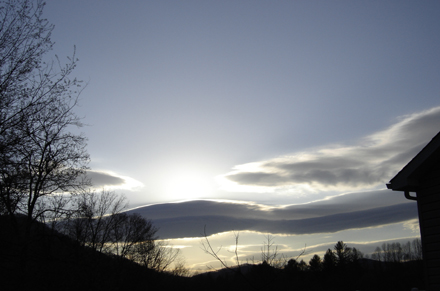 This Easter morning sky was captured by Jeff Boone.

Looks like it is going to be a good year for the dogwood blossoms. This pretty pink dogwood was captured by Linda Brown.



The annual Yancey County special Olympics prom will be held on Friday night, June 9, 6:30 - 9:00 p.m. at High Pastures. Special and featured performers will be Elvis Tribute Artists, Alex Swindle and Arik Christopher, from

Atlanta

,

GA.

Also, special DJ will be Jim Singleton. The public is cordially invited to attend. The event is free, but a donation box will be set up.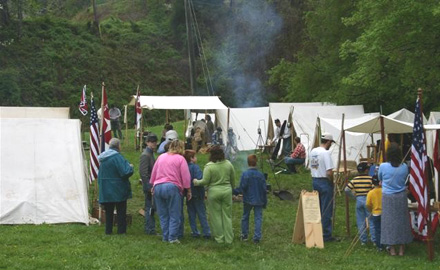 | | |
| --- | --- |
| | Despite the bad weather conditions the "Battle of Burnsville" went on as planned this weekend. The re-enactment was held on Saturday and Sunday. The heavy rains and high winds reduced the size of the crowd but those that were able to attend enjoyed seeing the "battle" and the McElroy House. Photos by Michael Sink. |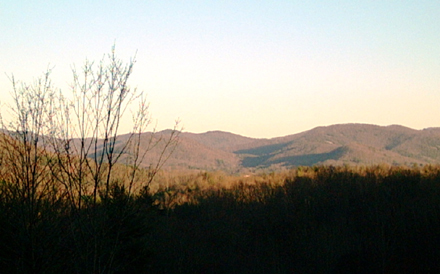 Jeremy Atkins took this picture from standing on a mountain above his house at sunset. It shows how the sun had already sunk behind the mountain at his house but was still highlighting those in the distance. This is in Double Island looking back toward Blue Rock.

Don't tell these two that they should be fighting like cats and dogs--they're best of friends and enjoy sharing a bed! Miss Priss (left) and Sugar Bear (right).



Th

is bee was checking out a bloom on a Bradford pear tree. Photo by Melissa McCurry.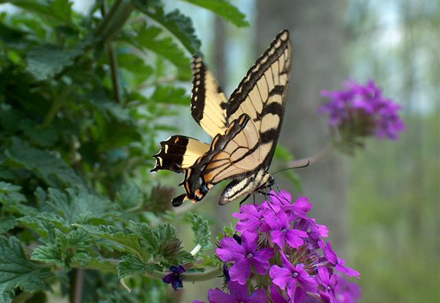 What a picture! Melissa McCurry captured this butterfly at just the right moment. Beautiful.
| | |
| --- | --- |
| Cassie Farmer caught her first fish while fishing with her friend Jessica Shepherd. Cassie is the daughter of Tom and Regina Farmer. | Mackenzie Proffitt holds little sister Cadie for their Easter picture. |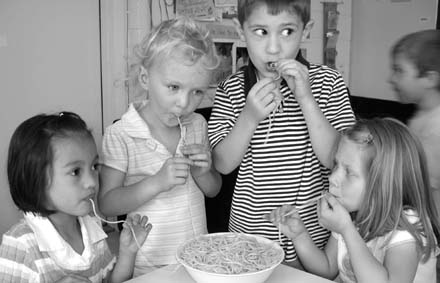 Students at the Church Street Preschool slurp spaghetti in anticipation of their annual Spaghetti Dinner Fundraiser. From left to right: Hannah Robinson, Drew Smoker, Eli Gortney, and Kaitlyn Silvers.

Before opening up this tulip looked a lot like a rose.

Mayland students

Georgette Lanier, left,

and Russell Nyberg, right, are taking their love of science to the next level. The two will be moving to

Alaska Pacific University (APU) in

Anchorage this fall.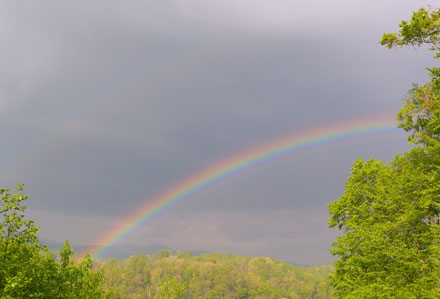 Linda Brown caught this rainbow on May 4th. She calls this picture "Promise".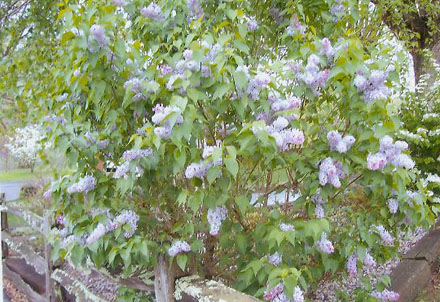 Lilacs have been a common sight the past couple of weeks. The azaleas have also recently bloomed and the rhododendrons have begun in some areas.
| | |
| --- | --- |
| Lucas Honeycutt, pictured, was one of two MCC students recognized as a 2006 NCCCS Student Academic Excellence Award recipient. | Reba Vance, pictured, was one of two MCC students recognized as a 2006 NCCCS Student Academic Excellence Award recipient. |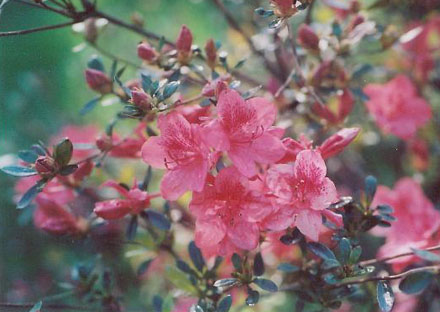 Azaleas in bloom. Photo by Gwendolyn Tracy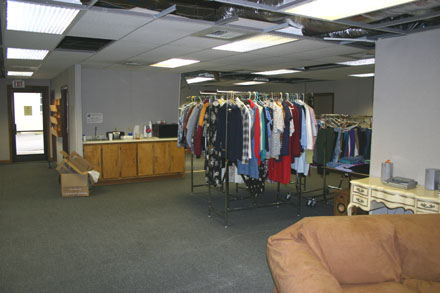 You probably don't recognize this place because as you can see it is just getting set up. Redemption Outreach Teen Center is a non profit organization here in Burnsville that is setting up a Christian teen "hang out". For more about how you can help go to Local News button above and click on Community Closeups to listen to an interview. Redemption Outreach Teen Center will be having a indoor yard sale at 329 West Main Street in Burnsville on Saturday May 27th & June 3rd. It will open at 8am and end around 4pm. All donations of items are greatly appreciated. Pictured above are some of the clothes for the yard sale. If you have an item to donate please contact Darryl at 828-284-3894 or the Teen Center at 1-888-682-3141 toll free or 682-3141 local.
| | |
| --- | --- |
| Dannika Maye Brown was born on Sunday May 7th at 5:58pm at Memorial Mission Hospital. She weighed 7lb 8oz and was 19.5 inches long. Proud parents are Whitney Mitchell Brown and Adam Brown. | Manuel Peterson got this 3 point on 11/22/05. While it was pouring the snow. It was the second day of rifle season. Tender loin was great for Thanksgiving meals. |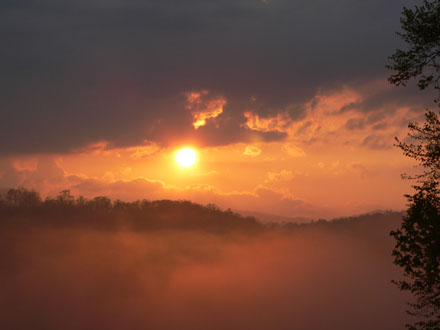 What a sight to see first thing in the morning! Linda Brown took this sunrise photo on April 25th.



Kaylee Peterson enjoys her trip to

Times Square

in

New York City! Kaylee is a 6th grader at

Cane

River

Middle School!




Brookelyn Hughes in the East Yancey Homecoming 2006.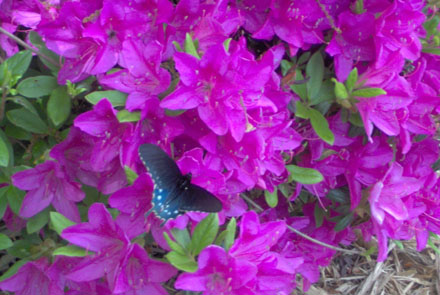 Jeanne Proffitt "captured" this butterfly on an azalea.
| | |
| --- | --- |
| Helen Bailey, President of Yancey-Mitchell Board of REALTORS, presents a check for $4000.00 to Ray Spanjers, Director of Mitchell-Yancey Habitat for Humanity. | Shanna Clark, an Associate in Arts graduate from Yancey County, served as one of three student speakers during Maylandís graduation ceremony. |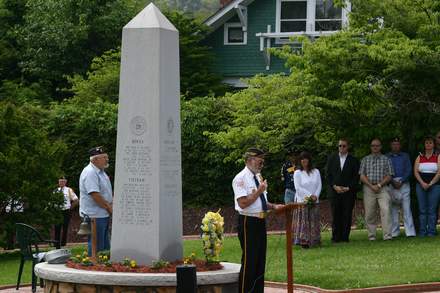 Memorial Day Service from the Burnsville Town Square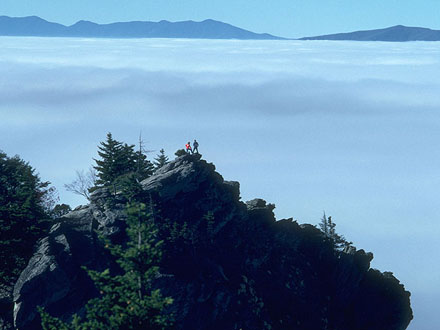 This is a view of Mt. Mitchell as seen from Grandfather Mountain with the hikers on Linville Bluffs. The photo was taken in 2004 by Hugh Morton. Hugh Morton, owner of Grandfather Mountain and an accomplished photographer died Thursday, June 1st.
| | |
| --- | --- |
| Local artist Carolina Cracker aka/ Michale Higgins was featured recently in the Phoenix Times as an upcoming artist. | Hannah Grace McCourry was born May 22nd. Her proud parents are Jim and Jennifer McCourry. |
| | |
| --- | --- |
| A picture of quite possibly the two most pampered pets in Yancey County. Daisy Mae and Toto live with Paula Hughes and she says they "make each day worth getting up". | This picture was taken by Linda Brown at the annual nature photography contest recently held at Grandfather Mountain. 165 photographers attended. Linda won third place for one of her bear pictures. |

(Left to right) Emily Stallings, William Ritter, Tadayoshi Littleton,
and Kate Haskell in "Aladdin Jr." at the Parkway Playhouse beginning June 16th.

Dwight Edwards (left) with Billy Dean at the Lodge at Wolf Ridge when Billy Dean performed there June 8th.
Click here for more archived photos.



Click Here To Visit Our Sister Radio Station


This page was last updated on Tuesday, 23 October 2007 10:55 AM