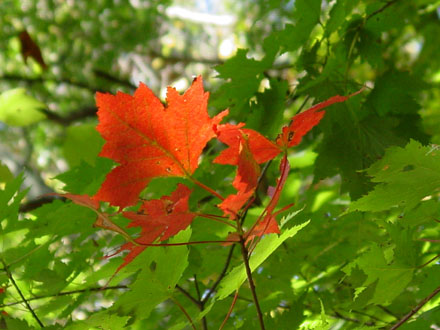 A view from beneath as this tree began to turn color. Photo by Vicky Hoilman.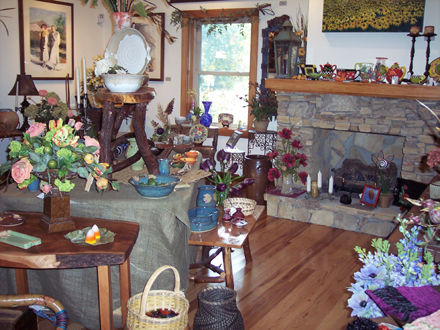 Crabtree Creek Art & Floral Gallery is located in the big red building in Micaville, next to the Silver Bullet. Above shows a small portion of the many items in the shop. Owner Margaret Horne has over 25 years experience in floral design. Weddings, special occasions and home decor are her specialties.
| | |
| --- | --- |
| Luke Wilson on a fishing trip to Cherokee. | Students at Cane River study African music. |
| | |
| --- | --- |
| Having a hard time waking up from a nap...photo by Peggy Bailey. | One of a few remaining roses in bloom this fall...photo by Melissa McCurry. |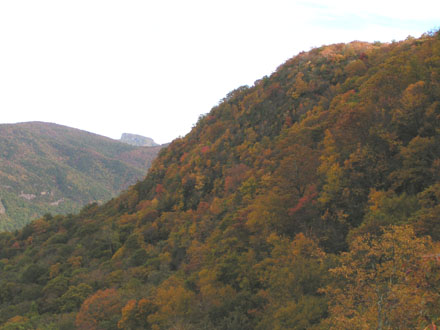 Table Rock as seen from the Blue Ridge Parkway. Photo by Troy Hartzog.
| | |
| --- | --- |
| Nirabkumar J. Mehta moved to Yancey County from India to help with the family business and continue his education. | Riley Blake Robinson was born 9/13/06 to Steve and Darla Robinson. |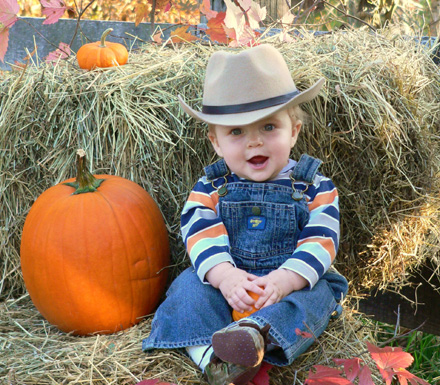 Brayden Pate dressed and ready for the season. Photo by Linda Brown
| | |
| --- | --- |
| Dannika at 5 months old. | Coy Tschudy receives recognition from Dr. Marshall Stewart at 4H Meeting. |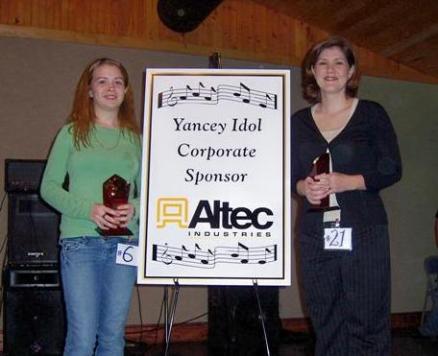 The Yancey Idol Contest Finals were held Saturday Night at the Burnsville Town Center. Youth Winner, Stephanie Bailey is pictured on the left and Adult winner, Kary Higgins is pictured on the right. The Contest was a Fund raiser for the Yancey United Fund Campaign. To hear the winning performances click the audio buttons below.
| | |
| --- | --- |
| Natasha Renfro's family congratulates her on making Super A Honor Roll. She is in third grade in Mrs. Bailey's class at Micaville Elementary. her family is very proud of her. | Tiffany Woody and Austin Wheeler in a rare moment together. |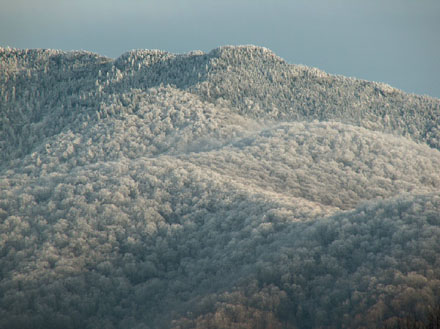 Martin Plamondon got this photo on Roan Mountain on Friday the 17th.
| | |
| --- | --- |
| | Sara Elizabeth Utley shows off the latest in Halloween attire. Sara is 6 months old. She is the granddaughter of Sybil Chapman of Burnsville. |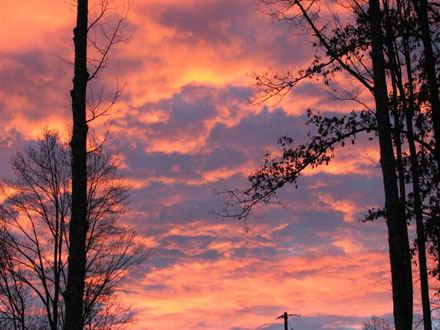 Melissa McCurry took this photo of the sky at Crabtree.
| | |
| --- | --- |
| Shirley Yelton of Bakersville and Bill Thomas of Double Island...were United In Marriage On Friday Nov 17th 2006. She's the mother to Derek Deanna and Shannon. He is the father to Jessica. | Mayland Community College's Phi Theta Kappa Honor Society club organized a food drive during November. The club members saw a need to help their community and add to a low supply of food at a food bank at Grassy Creek Baptist Church in Spruce Pine. Mayland students, faculty and staff helped the club take cars loaded with canned and non-perishable foods to the food bank. Pictured are PTK President Maria Grindstaff and PTK member Bo Beck loading the food for delivery. |
| | |
| --- | --- |
| | "Hunter-in-training" two year old John-Claude Charlton with his dad, John Charlton who killed this 250 lb. bear on November 10th. |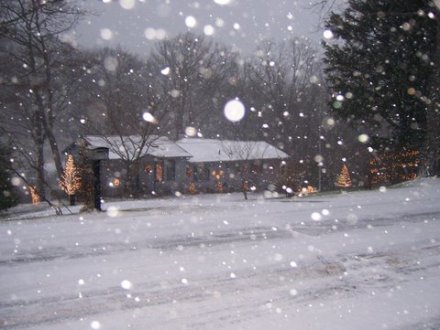 This Christmas Card View is the Kerry Van Hollifield home on Chestnut Grove Church Road, near Little Switzerland . Photo by Gene Douglas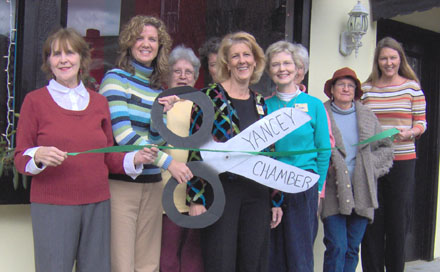 New Owner For Needle Me This
On Friday, November 17, The new owner of "Needle Me This" opened the doors for business. Her name is Cherine Criste. December classes will be available including "Make n Take". You can make aprons, placemats, gift bags and more! Also, the 1st Thursday of every month from 10am-12:30pm will be Sew Creation Club. You will be able to learn creative ways to sew and a "show and tell" where you can show the class a new creative way to sew. Please stop by and meet the new owner and enjoy browsing around the beautiful store. Needle Me This is located on 112 West Main Street next to the Visitor Center. The phone number is 682-9462. Pictured (left to right) Chamber President Iva Nell Buckner, Chamber Executive Director Miki Portorno and new owner Cherine Criste.
For more photos click here

Click Here To Visit Our Sister Radio Station


This page was last updated on Tuesday, 23 October 2007 10:55 AM