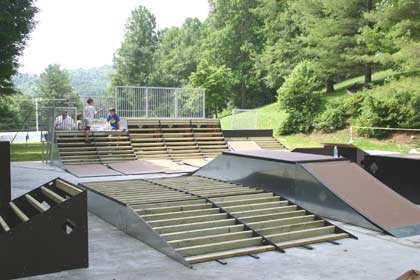 The new skate park was built through a community effort. To see more photos click.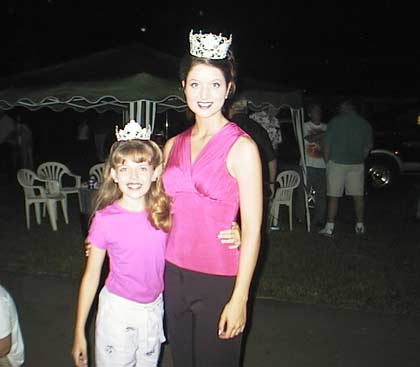 Rhododendron Queens were crowned at the Rhododendron Festival Pageant June 19th. Amelia Wilson (left) of Bakersville, was crowned Junior Queen and Chelsea Wilson, of Bakersville was crowned the 2005 North Carolina Rhododendron Queen. Click here for more pictures.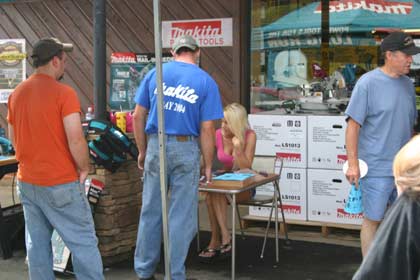 Live broadcast held at Heritage Lumber on June 16 for Father's Day. Here Miss Makita signs autographs. For more pictures click.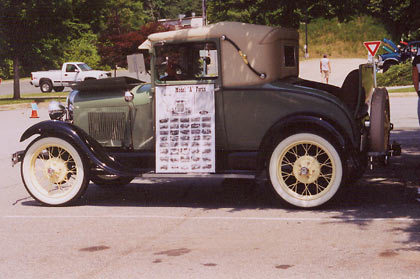 This antique Ford won first place in its category. It belongs to Ralph and Jean Gresens of Burnsville. Click here for more pictures of the Mayland Car Show.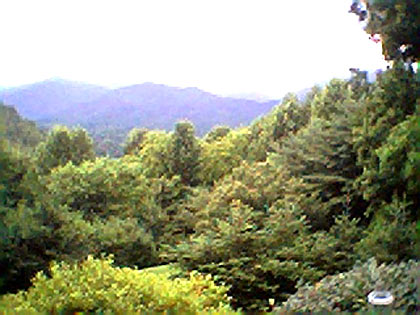 Picture taken by Alan Scott from his home on Sang Branch.
| | |
| --- | --- |
| Brandon Yelton and Byrne Tinney adjust an antenna in preparation for local Amateur Radio Field Day. The Mayland Amateur Radio Club, KK4MAR, were at the Mitchell County Emergency Operations Center in Bakersville June 26-27. Radio Amateurs all across America were on the air practicing emergency preparedness. | Edna Koonts with her great-great grandchild, Adalyn Jarrett. |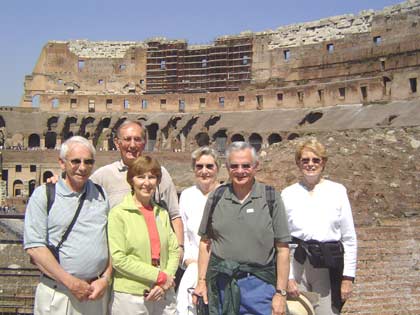 These three Yancey County couples enjoyed a two-week vacation in Italy the last week of April and first week of May. Pictured here at the Coliseum in Rome are (left to right) Marvin Holland, Jim Swaim, Keitha Swaim, Mary Tom Aldridge, Charles Aldridge and Sue Holland. They "winged it" as they visited Rome, Florence, Senia, Pisa, Luca, the Tuscany area and Naples. Would they go back again? In a heart beat. They thoroughly enjoyed it!

| | |
| --- | --- |
| Miss Priss and Sugar Bear eagerly await arrival of their "mom", Peggy Bailey of Haircutter & Co. in Burnsville. | CD cover of local musical artist, Michael Higgins, a.k.a. Carolina Cracker. He recently recorded and is now in the process of selling and distributing his self-titled debut album. He has received lots of support from his hometown of Burnsville. |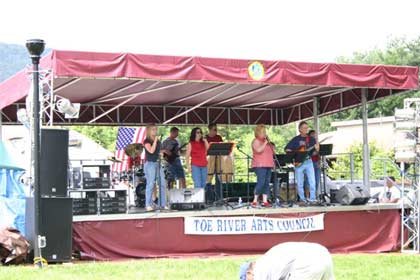 Lots of people enjoyed the July 4th festivities held Saturday, July 3rd on the Burnsville town square. Entertainment went on all day, along with arts and crafts booths on the square. The day was topped off with a beautiful fireworks display.
| | |
| --- | --- |
| Tyler gives Cameron a kiss. They are the grandchildren of Mr. and Mrs. Tom Coppley of Lexington, NC. The Coppleys have relatives in the Burnsville area and enjoy keeping up with local events through this web site. | Although this photo doesn't show Muffy Taylor's beautiful blue eyes very well, she still aspires to her own movie and TV career. Move over Morris! |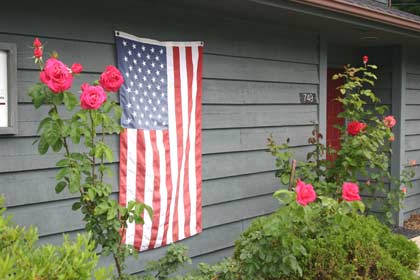 The roses this year continue to "out do" themselves here at the WKYK building. Our "rose professional" on staff is Dennis Renfro. For more information about Dennis go to the "Meet the Staff" button at left.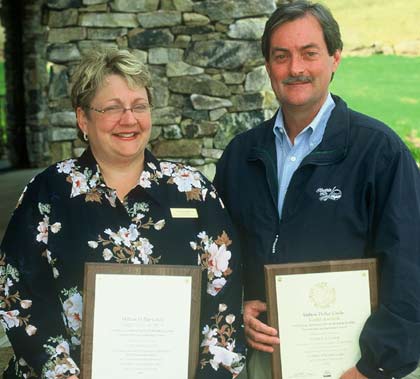 Ginger Sineath and Dave Fletcher, community consultants at Mountain Air Country Club have earned the National Association of Home Builders National Sales and Marketing Council Million Dollar Circle Award for excellence in home sales during 2003. Sineath received the Platinum Million Dollar Circle Award. She was also the Mountain Air Salesperson of the Year for 2003. Fletcher received the Gold Award for sales. Both Sineath and Fletcher reside in Burnsville.
| | |
| --- | --- |
| Precious and Butterscotch, a couple of local puppies enjoy a game of tug-of-war. | Shadow was found hiding under a truck bed liner when he was just a tiny kitten. Eighteen pounds later he rules the household. |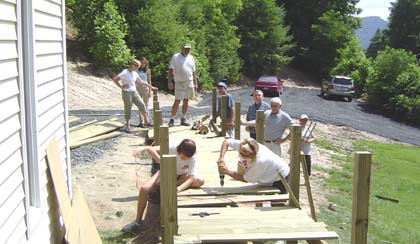 A Baptist Builders Group from Hinesville, GA recently came here to help complete a building project for MY Meds Medication Ministry. MY Meds operates a medication assistance program in both Spruce Pine and Burnsville and has moved to this Spruce Pine site that required some modifications. The volunteers worked for a week plus donated $500 towards the building supplies and paid their expenses while here. Rev. Harvey Sharpe, Director of Yancey Baptist association and MY Meds board member arranged for the volunteers. Chairman of MY Meds Marvin Holland expresses his and the board's sincerest gratitude to the volunteers.
| | |
| --- | --- |
| This pretty girl actually needs a new home! Maggie is a two year old basset hound. She's been spayed and recently had her shots updated. She is very loving--and is free--to the right people! Call 284-3377 if you can give Maggie a good home. | This little cutie was born 7-26-04 and is named Logan Wade Thomason. Logan is the son of Kevin and Jennifer Thomason, the grandson of Donna Huskins of Burnsville and Danny and Janice Huskins of Hendersonville, Guy and Debbie Thomason of Burnsville. |
Click for more archived photos.

Click Here To Visit Our Sister Radio Station


This page was last updated on Tuesday, 23 October 2007 10:55 AM