| | |
| --- | --- |
| Paisley Alyssa Penland.Her mom and dad are Chris and Kellie Penland. Her grandparents are Gerald and Mauren Penland , And David and Ginger Shepherd. | African violet. Photo by Melissa McCurry |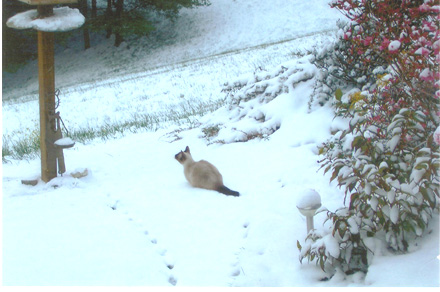 It will take more than just a little snow to deter this kitty cat from his goal. This photo was taken Saturday morning, April 7th, after the surprisingly large snow.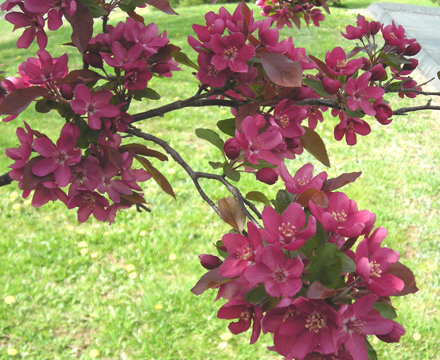 This photo was taken last Friday--just before Saturday's snow and cold weather that killed many of the blossoms.
| | |
| --- | --- |
| Brayden Pate in his Easter picture. He is the son of John and Lynn Pate and the grandson of Al and Linda Brown and Junior and Becky Pate. | Pretty little Scarlett was born April 10th at 9:04 p.m. to Larry and Amanda Ogle. She weighed 7 lbs. and was 20 1/2 inches long. Her proud grandparents are William and Pamela White of Burnsville, Lois and Keith Laws of South Toe, Lynn and Spencer Chandler of Burnsville. Her proud Aunts are Brittany White of Burnsville, Heather Silvers of Burnsville, and Shenna Laws Of South Toe, and Tracy McCurry of Texas. Uncles are Adam Silvers and Jason McCurry. |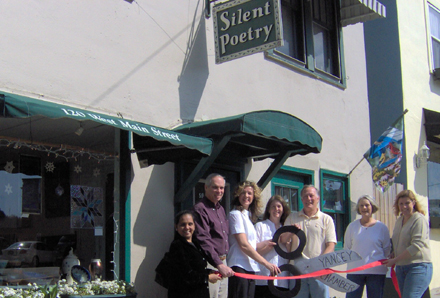 James and Polly Ash are proud to announce their new ownership of Silent Poetry gallery. Yancey County Burnsville Chamber of Commerce Executive Director Miki Pontorno, was present on Friday, March 23rd, to do a ribbon cutting for their business opening.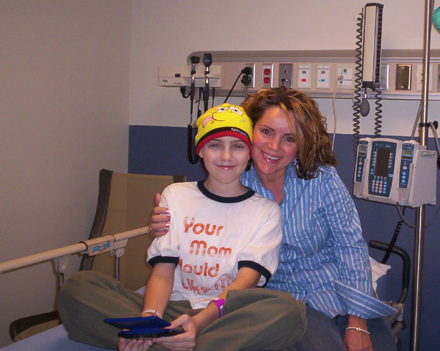 Nikolai Frank, pictured here with his mother, Tamera, will be coming home to Burnsville this Friday. Nikolai was diagnosed with MDS/AML Leukemia in August and has been at St. Jude's Hospital in Memphis since October. Many people in the area have been following his progress. Good News--Nikolai's coming home this week!
| | |
| --- | --- |
| Happy Anniversary to Jennifer and Stephen Gortney. | A pre-historic animal will again visit Fire on the Mountain Blacksmith Festival in downtown Spruce Pine on April 28th. Be on watch between 10am and 4pm to see John Payne's masterful work. For further information contact Kay Goins at 765-3008. |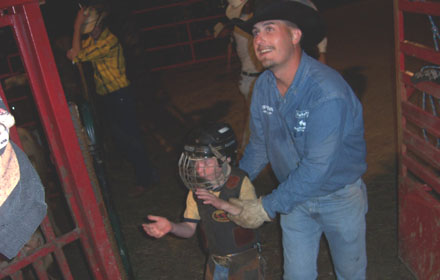 Getting ready for the 8 second ride at the Arbuckle Rodeo.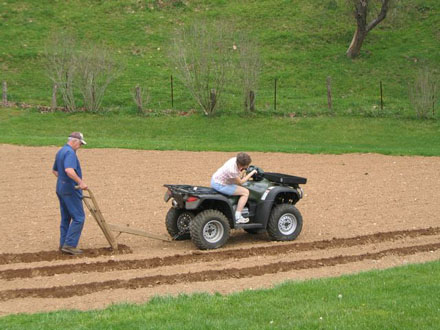 The old meets the new in this picture taken by Paul Crutchfield.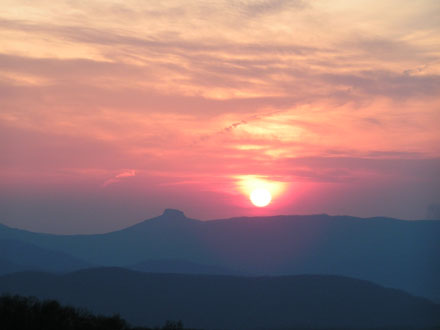 Troy Hartzog took this photo back on the morning of May 2nd when checking out the Linville Gorge fire.
Jan Michael Riddle graduated from

Western

Carolina

University

in Cullowhee on May 5th with a Bachelor of Science in Psychology degree.

Jan graduated from Mtn. Heritage High School with the Class of 2002. He is the son of Randy and Penny Silver of Burnsville, who are very proud of him and love him very much!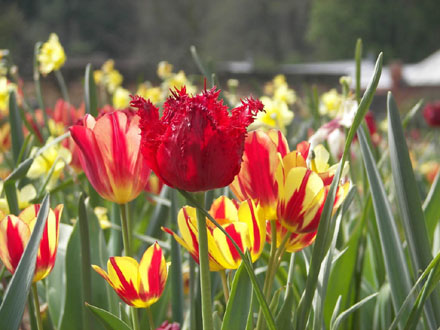 Tulips at Biltmore House in Asheville. Photo taken April 24th by Edgar Ward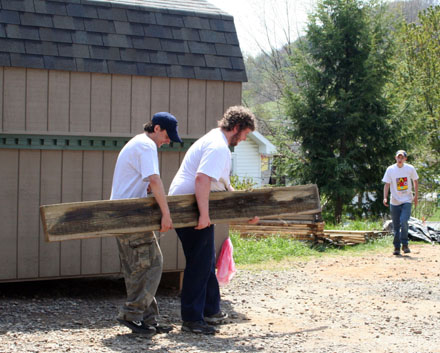 Get REAL Program participates volunteered in their community in honor of National and Global Youth Service Day. Pictured from left to right are Andy Phillips, George Lanier, and Curtis Carpenter.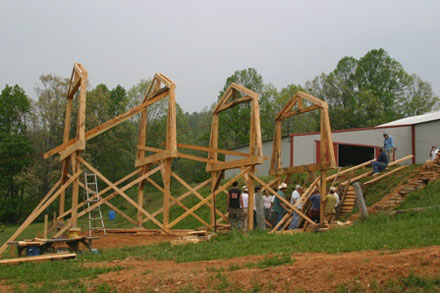 Volunteers worked hard Saturday in a barn raising project at the Appalachian Therapeutic Riding Center. They hope to have the barn complete in a couple of weeks.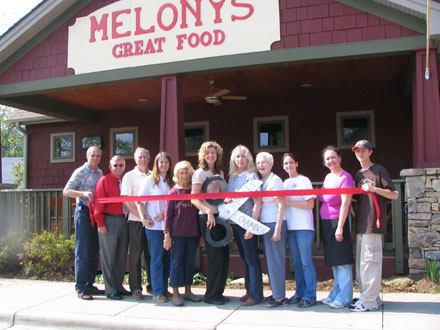 Pictured here left to right are friends and patrons of the newly opened restaurant. Joe Peek, Charlie Rogers, James & Polly Ash, Chamber Board Member Dixie Styles, Miki Pontorno, owner Melony Poppo, her mother Lorraine Simpson, her daughter Ashlee Poppo, and staff members Denise Owenby and Josh Swink.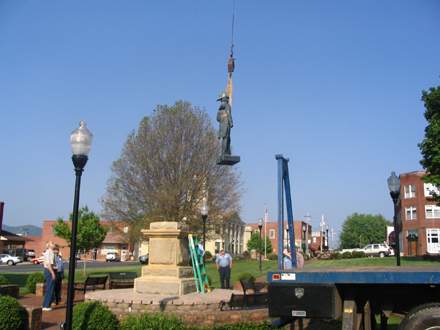 Otway Burns being removed from the town square in order to make repairs to the statue.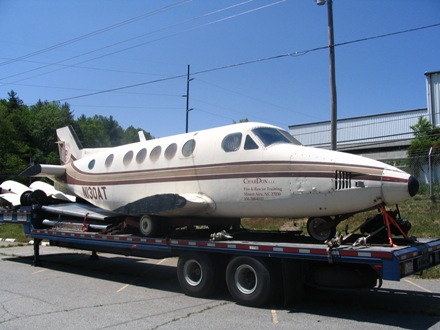 You may have seen this lear jet around town--actually parked at Avondale. The jet is being kept there until June when it will be used in fire and rescue classes.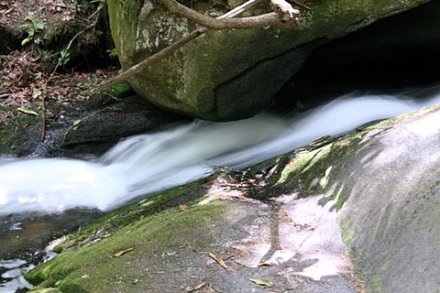 David Phillips took this picture of a beautiful stream on a recent hike in the mountains.
For more photos click here

Click Here To Visit Our Sister Radio Station


This page was last updated on Monday, 23 June 2008 03:35 PM