| | |
| --- | --- |
| Carson Timothy Jarrett. He is the son of Jacob and Christina Jarrett. Carson was born December 2, 2007. | Jaxon Dade Simpson shows his pride for the Miami Hurricanes. Jaxon is the son of Kim and Darrin Simpson. |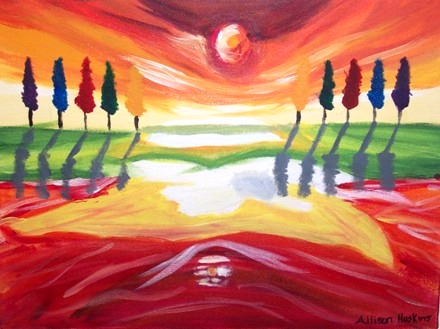 The above painting by high school student, Allison Huskins, is one of many pieces of art displayed at the TRAC's Annual Student Art Exhibit.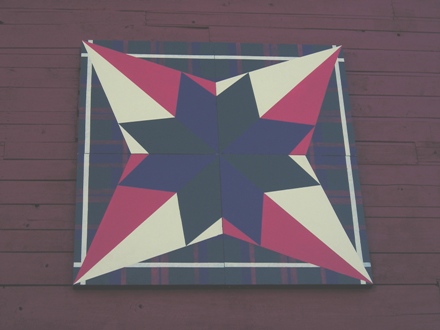 On the side of the Reece McIntosh barn, located on the west side of Burnsville, you'll see this quilt square as a part of the Quilt Trails Project. As part of the project the squares have related history, such as the McIntosh pattern in the background of this one.
| | |
| --- | --- |
| Cindy Riddle weds Jason King 12/22/07 in Pigeon Forge | Here is Thumper, doing what he does best, relaxing and getting ready for a nap. If only life was as easy as it is for a cat! |
| | |
| --- | --- |
| This is Robbie McCurry, son of Jamie McCurry and Shana Penland McCurry, in his dress-up hat on Valentine's Day! | The pictures of Robbie were so cute we decided to use them both!....here he is all decked out in his camo! |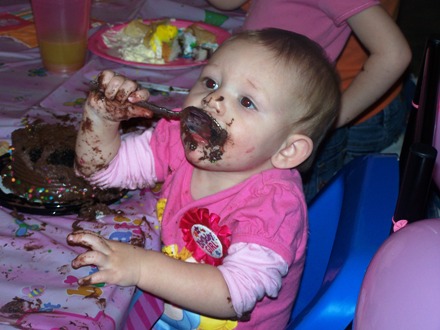 This is Lily Buchanan on her first birthday loving every bite of her chocolate cake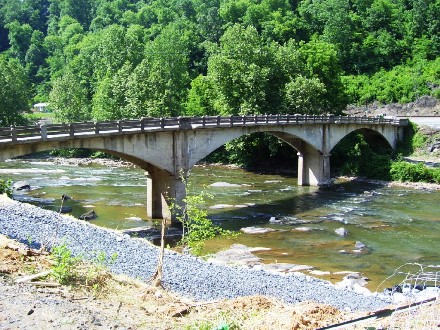 This photo, taken by Larry Gortney, may be one of the last ones of the The Old Forbes Bridge. The bridge is scheduled to be replaced soon.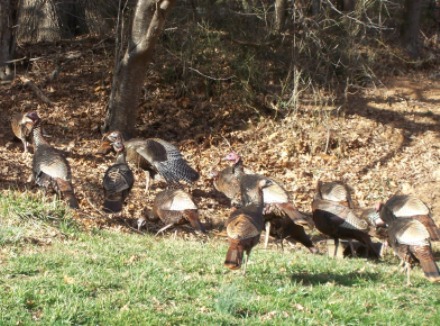 Turkeys out for a stroll in their "turkey camouflage". How many can you find?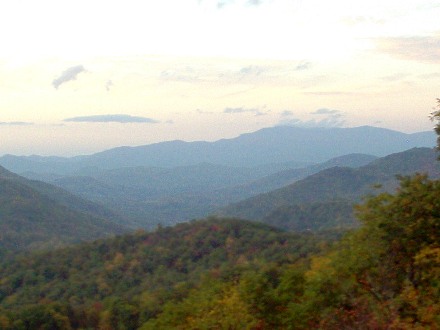 Marc Whitson took this picture from the Parkway right before winter
began this season.
| | |
| --- | --- |
| "Cotton" keeping an eye on his food bowl....... | ........and the bird who likes to take Cottons food!! (Both Photos were taken by Tammy Loftis) |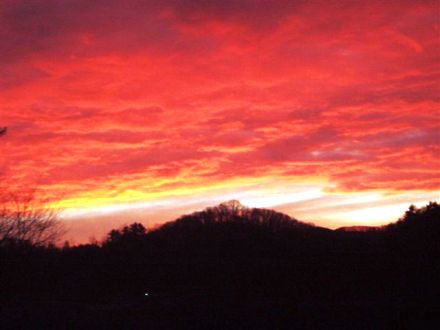 Beautiful red sky! Red sky at morning Sailors take warning!!!!! This photo was taken by Peggy Bailey.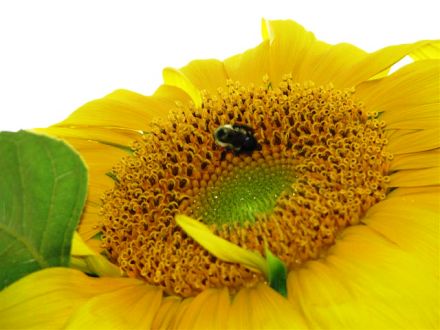 Melissa McCurry took a picture of this cheerful yellow bloom sunflower.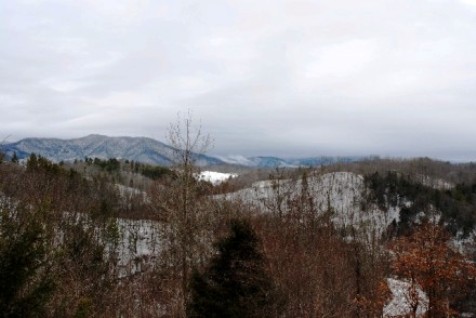 This photo was taken on Thursday, Jan 17th from Green Mountain looking towards Red Hill. The photo was taken by Linda Brown. For more of Linda's photography, check out her website at www.lindabrownphotography.com.
| | |
| --- | --- |
| Sandra Laws Allison Turns 50. "Happy Birthday" to her from all her from all her friends | Muffy relaxing and enjoying the Christmas Tree. |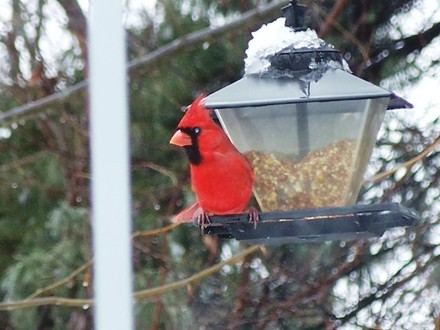 Kayla Hoilman took this picture of a beautiful male Cardinal perched on a birdfeeder. The picture was taken from the view of her deck.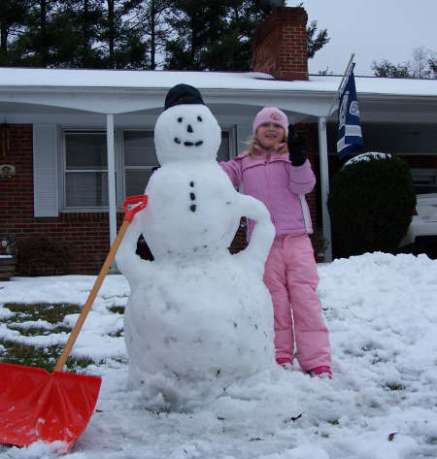 Yancey County Schools have been closed for two days due to icy roads. Pictured above: Alyssa sure did enjoy her day off of school building this snowman on Thursday, January 17th.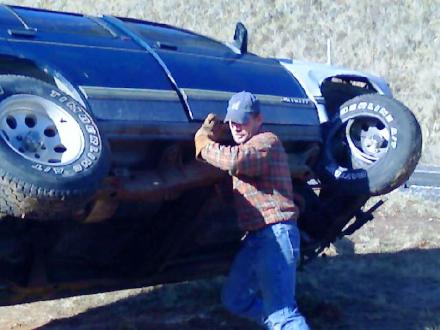 Norris Davis after eating his Popeye spinach....okay, actually he had a little help from a cable that can't be seen in the picture!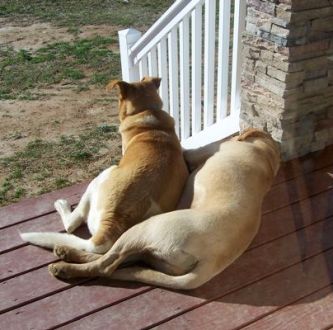 Hunter and Snuffy enjoying a relaxing day on the porch.
| | |
| --- | --- |
| Nicole Miller on her wedding day | Little Brayden in his fire man uniform...just like his daddy! |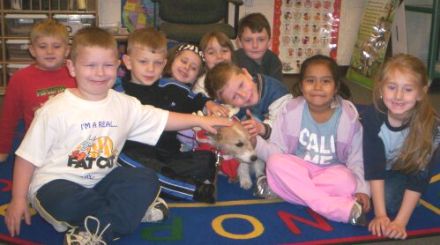 Mrs. Millers class remembers pets as they help donate, food, liter, toys and bedding to the animal shelter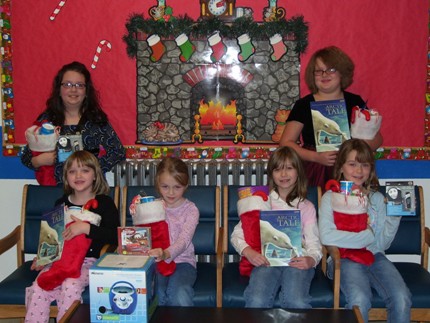 Pictured above, are the essay winners and runners-up: Front (seated) from left to right-Kindergarten Runner Up-Audrey Laws, First Grade Winner-Reagan Houchard, Second Grade Runner Up-Alyssa Banks, Third Grade Winner-Madison Tipton. Back (standing) from left to right-Fourth Grade Winner-Makenna Renfro and Fifth Grade Runner-Up-Claire Ledford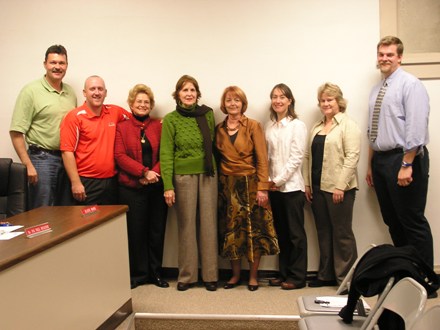 During the regular meeting of the Yancey County Schools Board of
Education on Monday, January 7, 2008, teachers receiving National Board
Certification were recognized for their outstanding achievement.
Pictured from left to right are Board members Randy Banks, Jeremy
Chandler, Elaine Boone, and Iva Nell Buckner and National Board
Certification recipients Sharon Randolph of Burnsville Elementary
School, Amanda DeSua of East Yancey Middle School, Nora Lusk of
Micaville Elementary School, and Jamie Pate of Bee Log Elementary
School.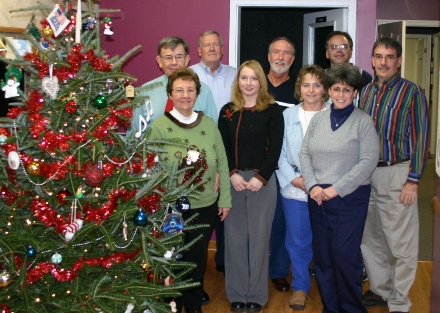 The staff of WKYK/WTOE would like to wish everyone a Merry Christmas and Happy Holidays!
Staff pictured from left to right: back row: J. Ardell Sink, Danny Burleson, Steve Murphy, Dennis Renfro and Michael Sink. Front row: Remelle Sink, Laura Phillips, Mary Marsh and Holly Hall.
| | |
| --- | --- |
| Jason Hicks little girl on Christmas day | Jaxon Dade Simpson, the son of Darrin and Kim Simpson, celebrated his 1st Birthday over the weekend. |
| | |
| --- | --- |
| Happy Birthday to Ashley Ayers who celebrated her Birthday on December 7th | |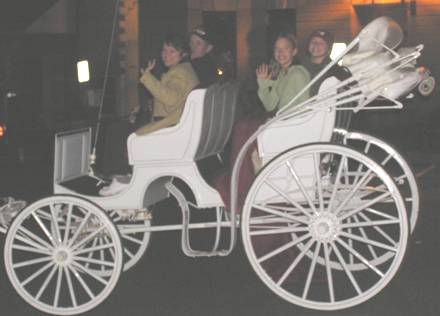 | | |
| --- | --- |
| The Yancey County Community came together last Friday night to open the Christmas season with "Winterfest 2007." Sponsored by the the Burnsville Chamber of Commerce, the Winterfest festivities began at 5:30 at the Town Center where you could pose with Santa for a picture and enjoy hot chocolate and cookies. Other events included a carriage ride around the Town Square while enjoying all the Christmas lights and decorations. Downtown businesses were decked out for the holiday celebration and ready to welcome shoppers with super sales and refreshments. Santa, hot | chocolate, cookies, a carriage ride, lights galore and Christmas sales, what better way could there be for Burnsville to bring in the holiday season? |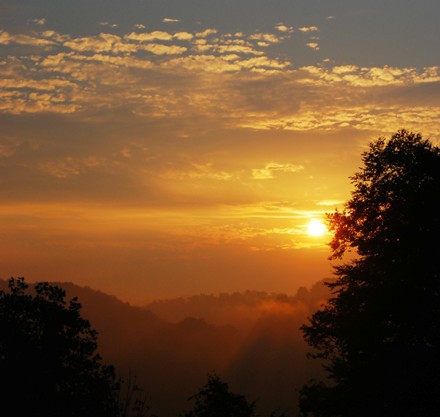 Linda Brown took this beautiful sunrise photo on September 10th.



"When Jennifer met Sally!"




Jennifer Patton and her grandpa EJ Roland found this huge gourd that Jennifer named "Sally" in her grandpa's favorite place, the garden. Sally weighs approximately 20 lbs. Jennifer and "Pa" love hanging out together especially in the garden.




Scottie feeding Mr Pot Belly rabbit( as we call him !)
| | |
| --- | --- |
| | Payton and Sophia Banks had a surprise visitor at their party! |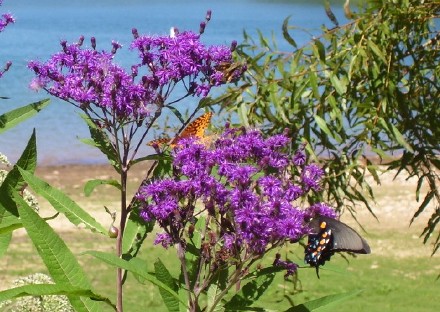 Larry Gortney took this pictures of wildflowers and butterflies over at Watauga Lake.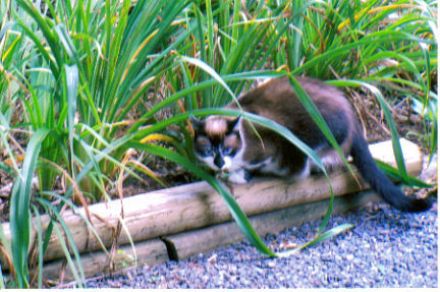 "Holly Bell" is a pretty kitty cat that belongs to Jean and Bill Norris. Is she hiding because she is shy or "on the hunt"? Photo by Mike Bennett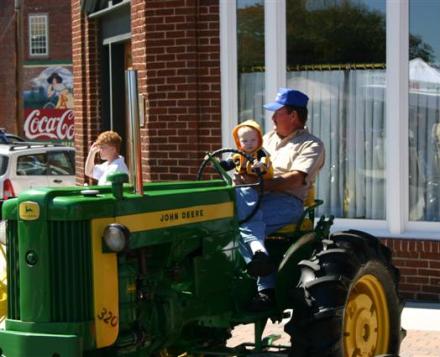 Fall Festival 2007 - click here for more pictures.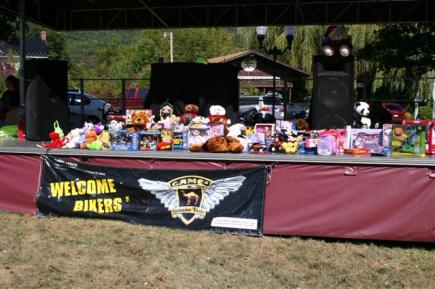 Another successful Toy Run, click here for more pictures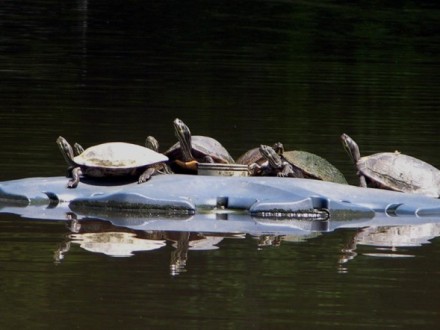 "Looking for Rain", photo by Bob Gunn.
| | |
| --- | --- |
| This little boxer pup came into the world 9-19-07, along with four siblings. Photo by Jennifer Silvers. | Jennifer Riddle in Frankfurt, Germany with her three bodyguards! |



Dennis and Jannell Ayers celebrated their 25th wedding anniversary October 16th. Their daughters, Jennifer and Ashley are throwing them a party at Browns Creek Baptist Church, October 20, 2007 beginning at

4pm

and would like to invite all family and friends to come join their parents celebrate this happy time.


Danny's first birthday! Photo by Pamela Martin
| | |
| --- | --- |
| Ten month old Jaxon Simpson enjoys sitting in the fire truck at the Burnsville Fire Departments Rod Run last Saturday! He is the son of Kim and Darrin Simpson. | Ezra Fender celebrates his 70th birthday in style with a fiesta! |
| | |
| --- | --- |
| | Peppermint is proud of her new little puppies born September 29th. Proud owner is Pamela White. |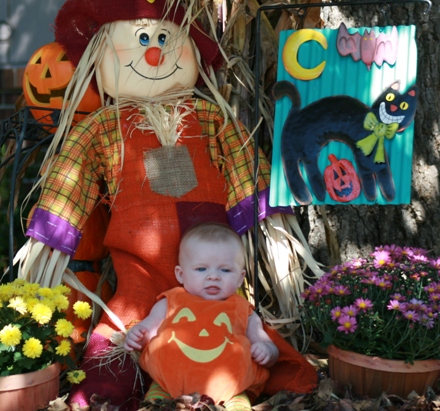 This is a picture of Neveah Buchanan, she is the daughter of Anthony and Kristin Buchanan. She is 4 months old. What a cute little pumpkin! Nevaeh wishes everyone a Happy Fall and Happy Halloween!
Dawson, Devion and Dyllon Dietz enjoying a beautiful fall day in the pumpkin patch.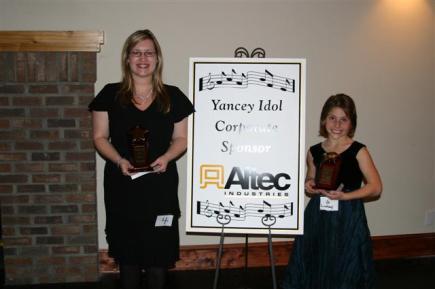 Idol Contest Winners!
The Yancey Idol Contest was held Friday and Saturday night, November 2 and 3rd, at the Burnsville Town Center. Pictured above are this year's Adult winner Melina Johnson, pictured on the left. Lindsay Salvati is the youth winner, pictured on the right. For pictures of all of the contestants click here.
Melina Johnson's winning song

Lindsay Salvati's winning song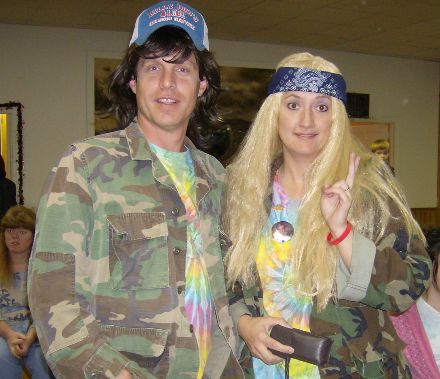 Recognize these two? Mr. and Mrs. Randy Proffitt recently dressed up for a night out on the town (at the special needs Halloween Party)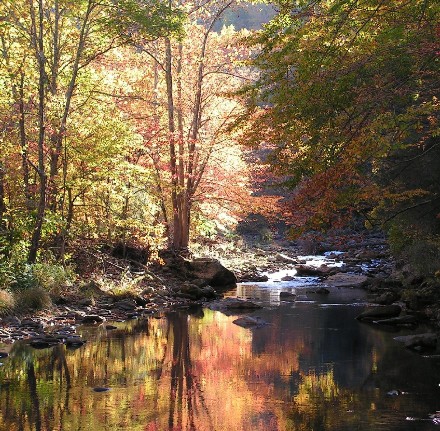 Angie Higgins took this photo a couple weeks ago in Pensacola.



This is our lil pumpkin and his big 1st Halloween...Aidan Graham Kardulis born 8-15...spent most of his trick-or-treating time asleep!Aidan is the son of Anthony & Melody Kardulis and the litle brother of the very proud Maria Kardulis. His proud maternal grandparents are Randy and Penny Silver and proud paternal grandparents are Bo and Brenda Kardulis, all of Burnsville.


Future President Hillary Clinton and Remy from Disney's Ratatouille on
Halloween night at Burl's BP in South Toe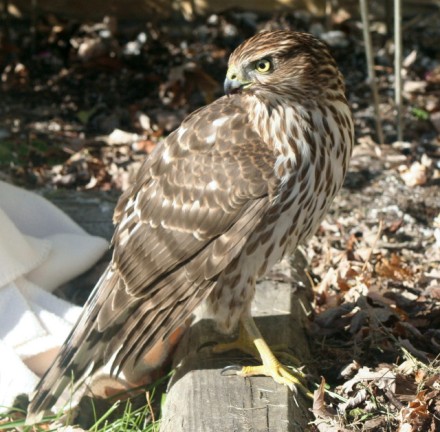 Maureen Makings took this photo of a hawk that landed in her garden. Does anyone know what kind it is? One person says it is a red tail hawk, another says it is a Cooper's hawk because of the yellow legs and black banding in the tail. Another person now says they do not believe it is a red tail, but possibly a Cooper or a Sharp Shinned hawk, depending on its size. Both these hawks like to frequent feeders for the birds that go there. Either way it's a beautiful bird. We've got the answer! And it is official, a big thank you to Bob Pendergrass, President of the North Carolina Falconers Guild (www.ncfalconersguild.org), who had this to say "Great picture. Definitely an immature male Coopers hawk. The legs and toes are too thick for a sharpshin and the eye placement and size is a little different. The female Cooper's has a different conformation of the head to the body size." Also thanks to the guys at Blue Ridge PC Computer Repair for letting us know about Bob.
| | |
| --- | --- |
| Francesca Duncan with her dog Harley, and a pumpkin grown by her grandmother and grandfather, Maxine and Donald Duncan | Dennis and Jannell Ayers would like to thank all family and friends who attended their 25th Anniversary Party. God truly has blessed their marriage. |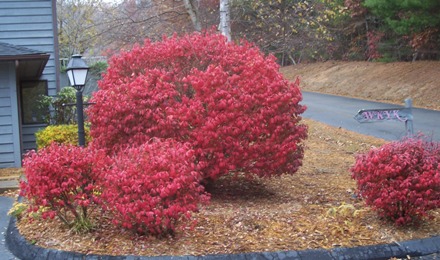 These "burning bushes", right here in front of the WKYK building, are making a late fall showing. Several trees (particularly the dark reds) throughout the area have made a final stand of bright color during the past week.
| | |
| --- | --- |
| After a hard day of mousing Thumper (left) and Buzz stretch out for a nap. | Darryl & Desiree Huskins announce the engagement and forthcoming marriage of their daughter Tamara Leigh to Ryan Clayton Murphy son of Gary & Martha Murphy. The wedding will be held at Faith Fellowship Church on Dec. 1st at 3:00 p.m. |

For More Great Pictures, click here

Click Here To Visit Our Sister Radio Station


This page was last updated on Wednesday, 02 March 2011 01:36 PM