| | |
| --- | --- |
| We've just gotten our brand new beautiful quilt block (5/14/08) and have it hung on the upper level of the radio stations' building on Sawmill Hollow Road. The pattern is a radio windmill with the triple star in the middle. Thanks to all the people who built and painted our block! The quilt block is one of many in the Mitchell and Yancey County Quilt Trails Project, to find out more about the Quilt Project, click here. | |

| | |
| --- | --- |
| Dylan Thomas of East Yancey Middle School, has been recognized for Outstanding Achievement and is honored in Who's Who Among Outstanding Students. Dylan is the son of Steve and Darla Robinson of Seven Mile Ridge. | Pictured above is Nell Pendley. Nell is celebrating her 10th Birthday on the first of June. Happy Up and Coming Birthday Nell! |

Pear trees in bloom during the spring. Photo by Amy Brown Welch.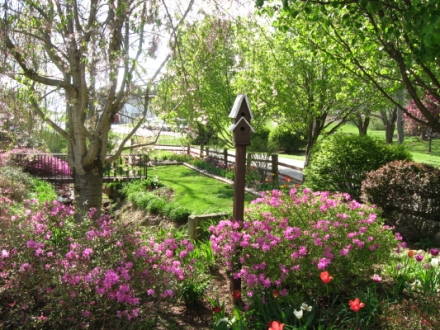 Forrest Hopson submitted this picture of his parents lawn, Norman and Nadine Hopson, who live here in town .The azaleas and tulips make for a beautiful view.
| | |
| --- | --- |
| Happy Birthday to Rubin who will be celebrating a Birthday on May 10th. From your sister and niece who love you | Here is Maycee, who seems to be all dressed up for ballet or the prom? |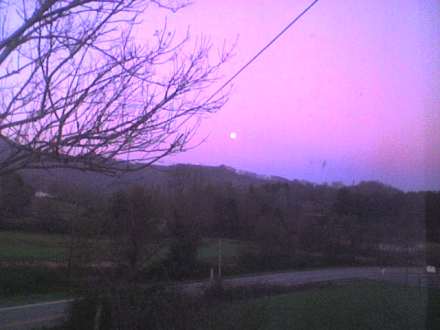 Amy Brown Welch took this picture of the full moon before sunrise on Charlie Brown Road.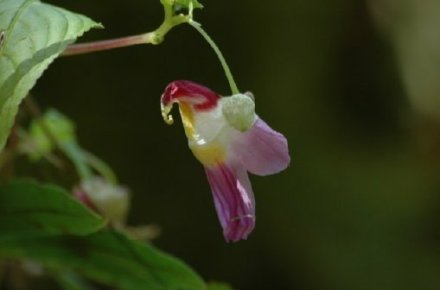 This photo, of a very rare parrot flower, was submitted by Randy Ward

Duane Cassida took this picture last summer in the Bavarian Alps. He and his wife Donna were on vacation in the Edelweiss Military Lodge. The castle, which was built by Mad King Ludwig, was the inspiration for Cinderella's Castle and Disneyworld in Florida.

This inspiring picture was taken by Tammy Loftis in her Mother's yard on Crabtree Creek

Grounds Supervisor Mark Norwood oversees the planting of three bald cypress trees on the lower quad of Mars Hill College, in celebration of Earth Day, with the help of facilities staff Paul Davis and Alan Garrett

The Yancey County/Burnsville Chamber of Commerce Small Business Committee holding their 2nd quarterly "Breakfast for a Buck"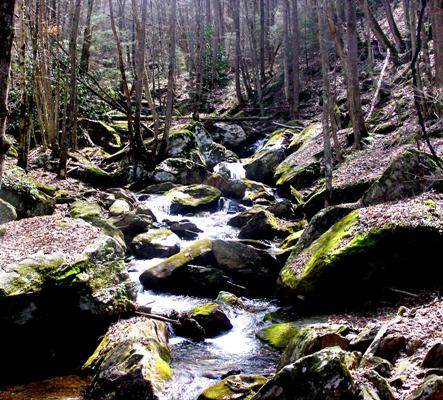 This picture was taken at the watershed at Bolens Creek. The creek, has many still pools that are notorious for good fishing.



Doris Bentley of Mars Hill, North Carolina, received the 2008 North Carolina Baptist Heritage Award from Mars Hill College during an April 8th ceremony in Greensboro. Photo Caption from (L-R) : Mars Hill College President

Dan Lunsford, Doris Bentley, Board of Trustees Chairman Lee Cain.




T

he North Carolina Associate Degree Nursing Council recognized Mayland Community College Nursing instructor Vicki Wise as Educator of the Year for 2008.



T

he family of Stephen and Jennifer Gortney would like to wish them a Happy 5th Wedding Anniversary on April 12, 2008!

Buzz enjoying a day at the window and posing for the camera.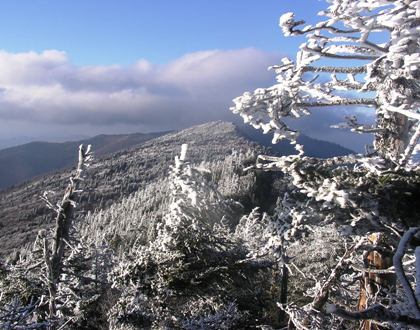 The above photo submitted is the view from atop Winter Star Mountain in Pensacola at 6,188 feet. Notice all the rime ice.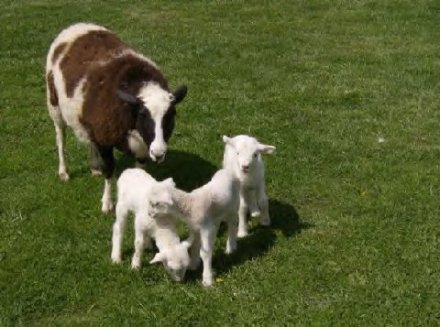 Cody Carroll's bundles of joy came Monday night! Triplets: Daisy, Dot and Cotton. Robert and Tammy Thomas submitted this photo
| | |
| --- | --- |
| Isaac Nathanael Jones was born on 3/28/08 and weighed 7 lbs, 1 oz, and was 20 inches long. Proud parents are Jason & Amanda Jones. | Best Friends sitting in the window: Miss Priss and Sugarbear |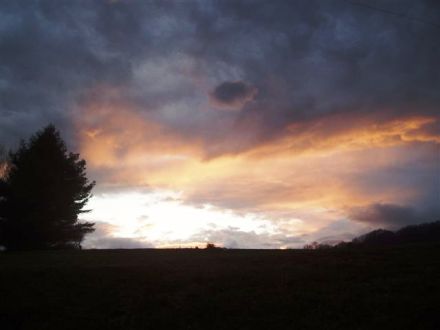 This picture was submitted in by one of our listeners, Peggy Bailey, of a beautiful sunset and some very unique looking clouds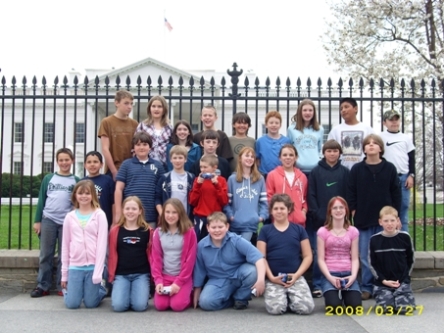 This is a picture of Bald Creek Fifth grade students in a group shot in front of the White House. They recently spent three days in Washington, DC. The class would like to thank parents, volunteers, and sponsors who made this trip happen (particularly Country Cablevision whose name was left off the tee shirts accidentally). The Fifth grade class is currently putting together scrapbooks of their DC experience
| | |
| --- | --- |
| Lily Buchanan in her Easter dress, hunting Easter eggs. | This is Jeremy and Haley Atkins showing their St. Patrick's Day Spirit! |
| | |
| --- | --- |
| The Easter bunny came to the egg hunt at the West Burnsville Church of God. | Meritta Thomas looking pretty in her green for St. Patrick's Day. |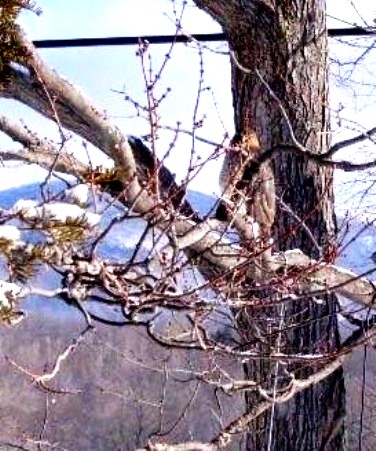 Do you see what I see? Annette Bigelow submitted this photo.
If you look closely, you can see a Red Tail Hawk blending in.
| | |
| --- | --- |
| This Angel Baby, Garrett, is the son of Rebecca Gardner and Luke Wheeler | This picture sent in by Jennifer Gortney, shows Maycee with her Easter basket. |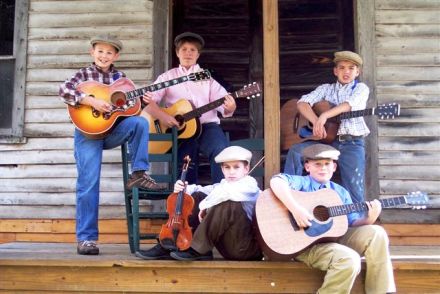 This group of young musicians call themselves the "Front Porch Pickers." The group, from Bee Log Elementary, has been working with Mrs. Sheila Ramsey and is planning to make their first CD at the beginning of April!

Colorful Easter eggs to celebrate the season of Easter 2008.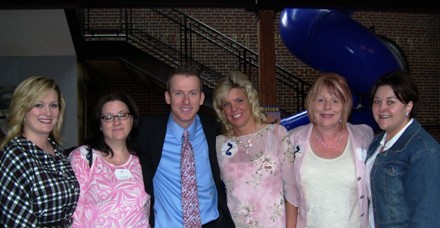 Clearmont Faculty teachers and principal recently took a trip to Atlanta Georgia to attend a full day observation of Ron Clark, who is acclaimed as "America's Educator." Pictured left to right: Angie Anglin, Jill Hensley, Ron Clark, Amy Autrey, Sue Pittman, Dawn Robinson.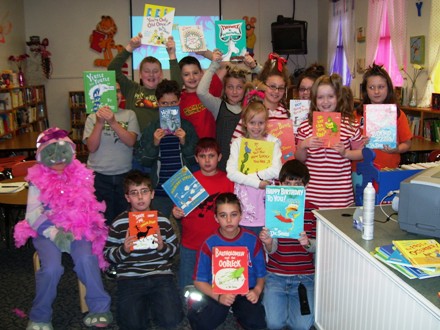 Clearmont Fourth Graders celebrate "Red White and Who" Day!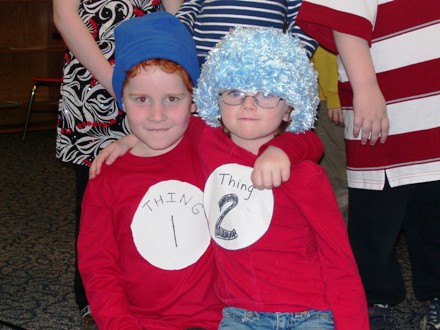 Two students dress up as as characters "Thing 1" and Thing 2" from Suess' famous book "Cat in the Hat"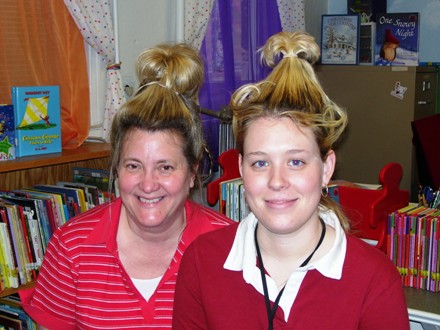 Two Clearmont Teachers show their Seuss Spirit with "Whoville" hairstyles!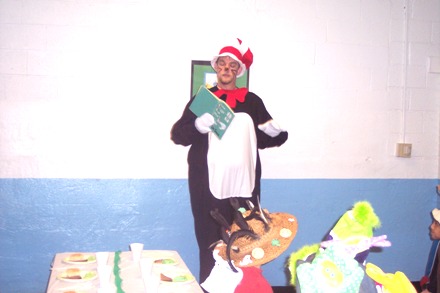 Bee Log Elementary and Clearmont Elementary recently celebrated the Birthday of Dr. Seuss and participated in numerous "Seuss" targeted learning events and activities. Pictured above, dressed as the "Cat in the Hat," is Jamie Pate, from Bee Log Elementary.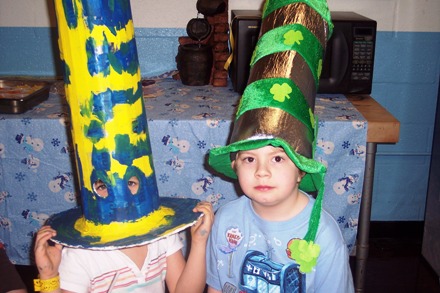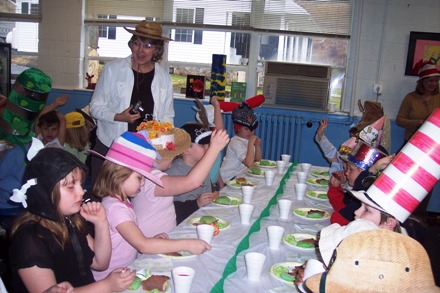 Bee Log Elementary Students enjoying a little "Green Eggs and Ham"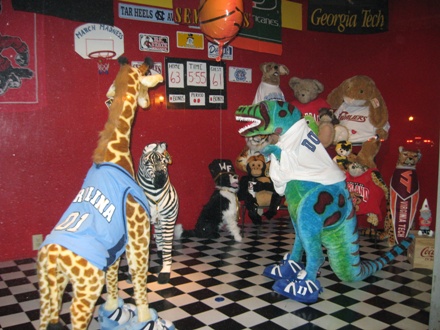 Something Special and Monkey Business, located on West Main Street in Burnsville our in the ACC spirit! Carolina (the giraffe) vs. Duke (the dinosaur) notice that the zebra is the ref!!
For More Photos, click here

Click Here To Visit Our Sister Radio Station


This page was last updated on Friday, 01 August 2008 04:32 PM