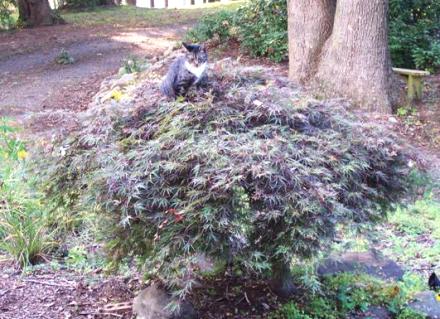 This kitty cat decided to not just climb up the tree but to climb on top of the tree. Tommy Boy enjoying the view from on top of a Japanese maple
| | |
| --- | --- |
| Jeanne Proffitt submitted this photo of a butterfly enjoying a daylily. | Cadie Proffitt celebrated her 3rd birthday on Aug. 24th. She is the daughter of Charlie and Dawn Proffitt. |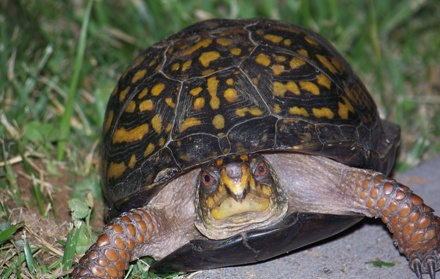 Jeanne Proffitt submitted this photo of a turtle that was passing through her yard on a hot July day.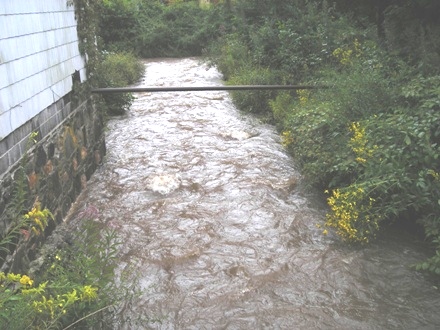 This photo was taken around 5:00pm on Tuesday at the Micaville Post Office. Many local creeks are running full due to the heavy rains that fell from the remnants of Tropical Storm Fay.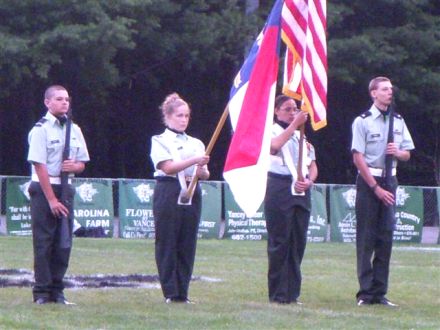 The JROTC Cougar Battalion color guard presented the colors at the Heritage Cougars Friday night's opening home football game. L-R: CDT Brandon Davis, CDT Samantha Hartnell, CDT MAJ Krystal Alford, CDT 2LT JesseTrimble. Photo taken by Thomas W. Surber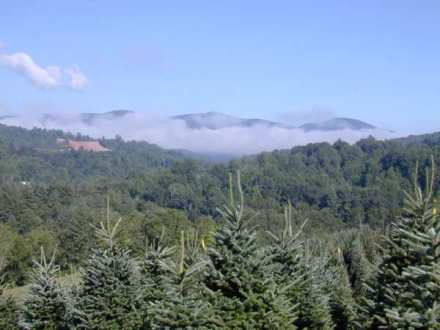 Marilyn Howell took this photo of "A Morning at Arbuckle" while shearing Christmas trees.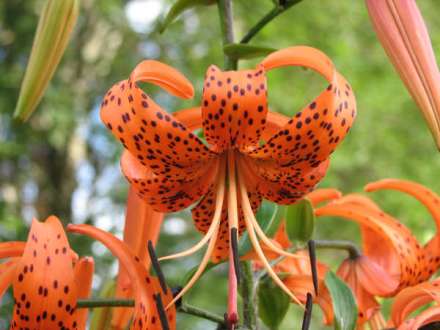 This image of a beautiful Tiger Lily was taken by Seth Flynn.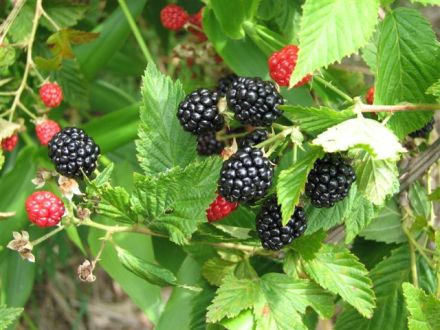 Melissa McCurry took this photo of blackberries at Crabtree.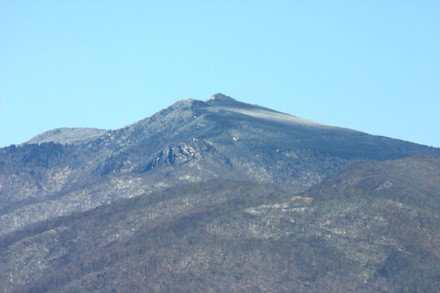 This spectacular view of Roan Mountain was taken by Randy Byrd from the peak of Byrd Mountain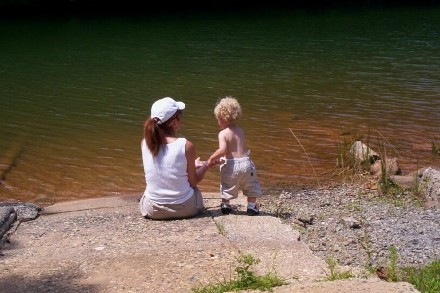 Kim & Darrin Simpson and Larry & Rhonda Peterson recently vacationed at Lake Norman.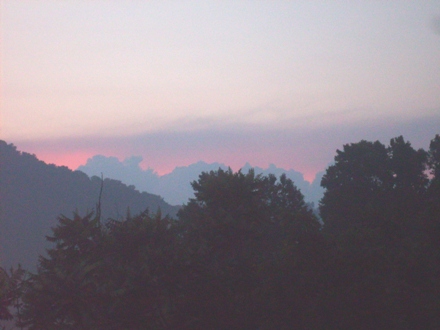 Jordan Warren took this photo of the sunset from her porch on Old Mine Fork Road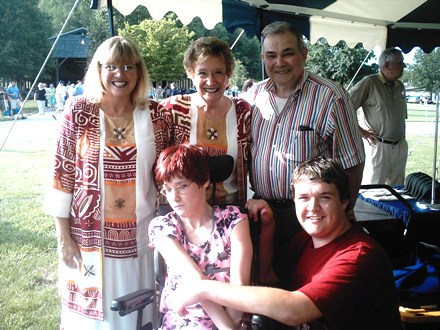 Haley and Jeremy Atkins with The McKameys at the Greene's singing in Marion.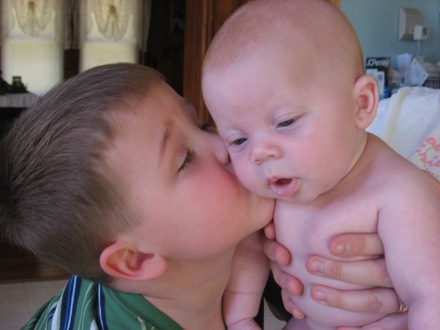 Big brother Levi gives baby Isaac a kiss. Levi is 4 and Isaac is 3 months old in this photo.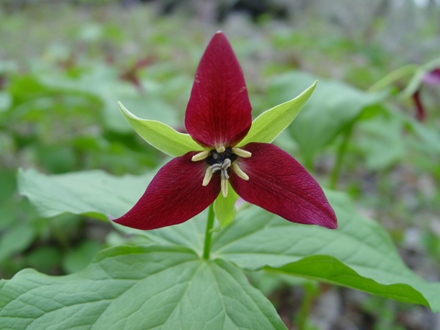 This photo of a wildflower (I think a trillium but have never seen one this color--anybody who knows, let us know), was taken by Michael Hopson on Lickskillet back in April....Drayton Cooper has shared this link http://www.cytechweb.net/~deekay/trilliums.htm to let everyone know about the trilliums.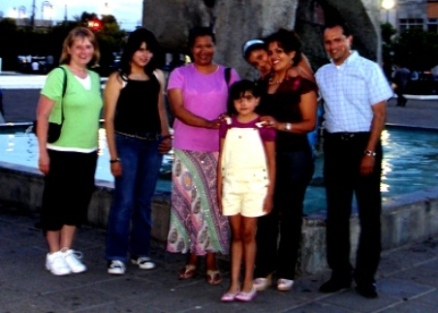 Sharryl Hagerman was the 2008 recipient of the James G.K. McClure
Fund Teacher Award to participate with the Latino Initiative Program in Mexico and represent Yancey County Schools. Pictured above is
Hagerman with the Ortega Family in Irapuato.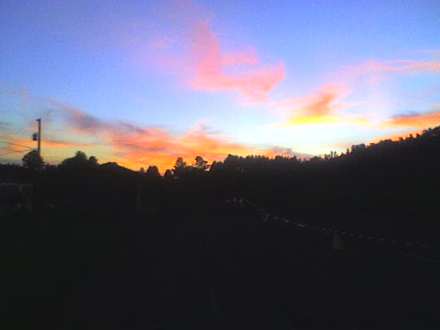 Amy Brown Welch took this picture of a sunset behind her house on Charlie Brown Road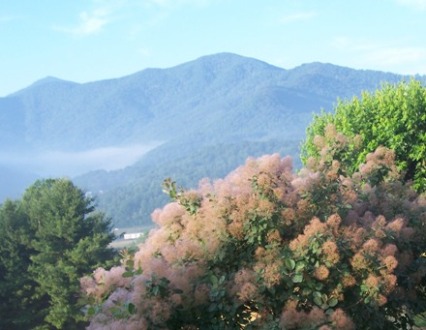 This beautiful scenic photo shows a Cotinus Bush also known as a "Smoke Bush." .
| | |
| --- | --- |
| Dylan Thomas 14, caught this 16 inch original brown trout on Thursday after the storm in the creek near his home. He loves to fish and is on the creek bank every chance he gets and it finally paid off! Dylan's parents are Steve and Darla Robinson of Seven Mile Ridge. | Here's Max...or is it Batman? |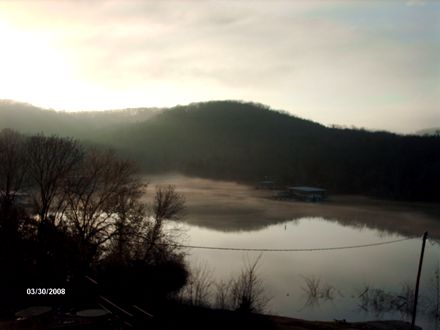 Emily DuFour (Smith), who graduated from MHHS, now lives in Branson Missouri. She wanted to share this picture of where she now lives. The picture shows sunset at Table Rock Lake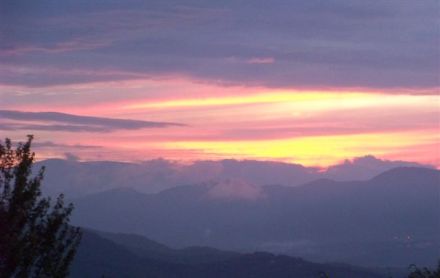 A magnificent view from her deck, Tammy Loftis submitted this photo of the sun setting over Burnsville.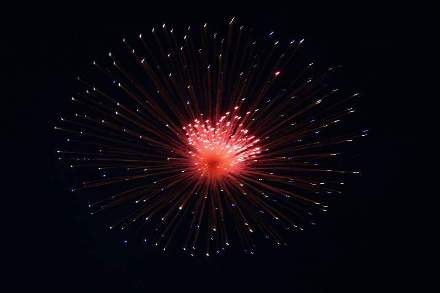 The birth of America is something that has long been celebrated with patriotism and enthusiasm. Check out what is going on in surrounding communities as we say "Happy Birthday America" this year on the 4th!

Shown left is "Emmie" the cat. Pictured above is "Pokey."

Pokey is a beagle/dalmation mix, which makes him "one of a kind!"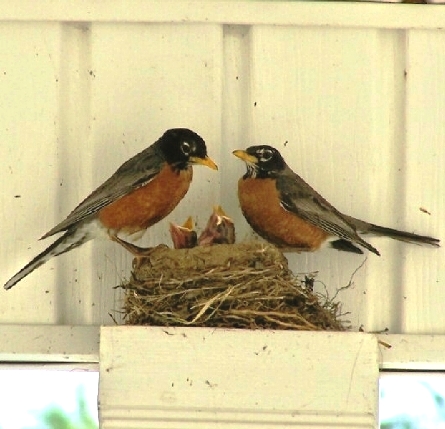 Nicole Webb took this photo outside of Tiny Town Christian Education Center on Pensacola where these birds have built their nest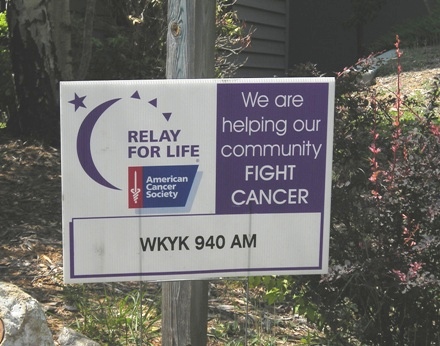 WKYK is helping "paint Yancey County purple" by supporting The American Cancer Society's Relay for Life. You can "Paint Yancey County Purple" too by purchasing bows to display on your home or business, cost for the bows are a $10 donation for a large bow or $5 for medium ones.You can even get ones to go on your car antennas for $3. To participate by purchasing your ribbons call Melissa Graham at 682-2613.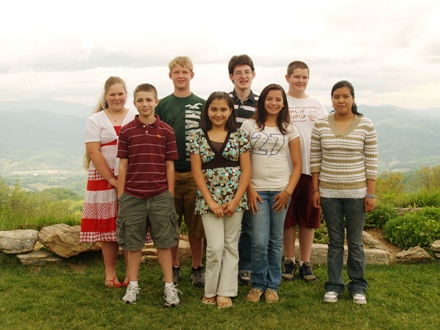 Each year East Yancey Middle School with the help of Mountain Air Country Club recognizes students that have exemplified good character. Throughout the year students are nominated by their peers for demonstrating the characteristic of the month. This year's students of the month were: Julie Burleson – Tolerance, Trevor Robinson – Integrity, Zack Brown – Diligence, Yaris Cortes – Compassion, Nick Thomas – Commitment, Autumn Byrd – Responsibility, Sam McMahan and Mason Peterson – Respect, and Brenda Guerrero – Trustworthiness
| | |
| --- | --- |
| Local fisherman, Lonny Payne caught a record carp June 3, 2008 at Ward's Carp Pond in Swannanoa, NC. The fish weighed in at 48 and 7/10 lbs. This is the largest fish ever caught at Wards | Jocelyn Hughes celebrated her 1st Birthday on May 27,2008. Jocelyn is the daughter of Chris & Casey Hughes. |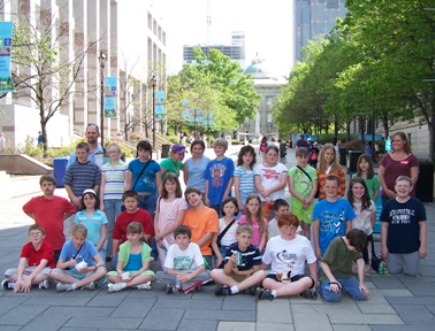 Ms. Teena McCurry's and Mr. Jason Robinson's Bald Creek fourth grade students traveled to Raleigh on April 24th. While in our state's capital, the fourth graders got the chance to tour the Legislative Building, visit the NC Museum of Natural Science and the Museum of History, visit the Marbles Children Museum and also visit the NC Zoo.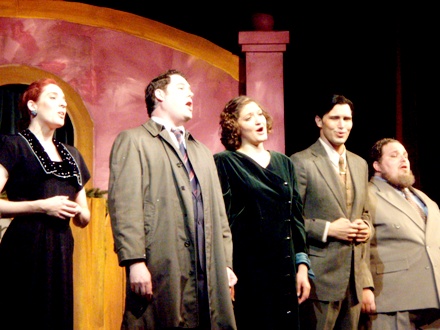 The Parkway Playhouse's Production of She Loves Me, produced and directed by Andrew Gall, opened up the 62nd season of the Playhouse on June 12th. Pictured above from left to right, actors: Kelly Christianson (who plays Ilona Ritter), Bradshaw Call (Georg Nowack), Aimee Bohner (Amalia Balash), Dominic Aquilino (Steven Kodaly) and Strother Stingley (who plays the character, Mr. Maraczek).
Sandra Burleson (shown right), age 25, recently won the 2008-2009 Sunburst Pageant. Sandra is originally from Yancey County and now lives in Mitchell County.

She would like to dedicate this to her loving Mamaw that just passed away. She would like to thank all of her friends and family that were there for her along the way, and her very special

husband Andy Burleson and parents Doug and Fonda Thomas . She would like to thank her sponsors Western Sizzlin, Mountain Air Pro Shop, Mitchell County Sheriff dept, Steve Miller, Vision Mortgage, Wade Hughes, Mitchell Mountain Real Estate, Richard and Barbara Bow, and everyone else that helped out. Sandra would just like to thank everyone for making a dream come true.

Remember Father's Day this weekend and give dad the chance to do something he likes to do--like fishing.
| | |
| --- | --- |
| Emily Renfro at the 8th grade East Yancey Dance that was on May 23rd. She is the daughter of Doyle and Melinda Renfro. | Lovey, a long haired calico cat, gives her kittens their early morning bath before they venture out to play. |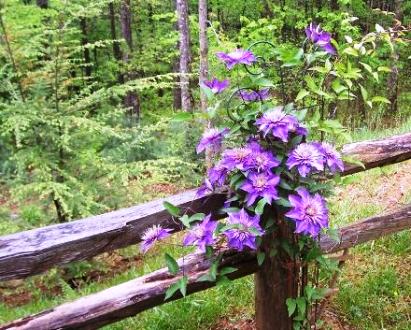 Mary Penley took this photo of beautiful purple flowers.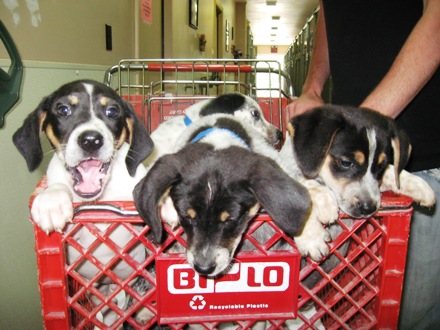 The Yancey County Humane Society is "littered with litters!" Help find these adorable puppies a loving home. Adoption fee is $65 which includes the spay/neuter of the pet, vaccinations and microchipping. Call 682-9510 for details or stop by the shelter at 962 Cane River School Road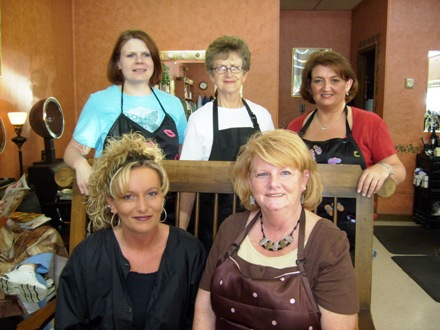 Creative Hair Design recently had a "Cut-A-Thon" Thursday, June 5th with all the proceeds going towards the Yancey County Relay for Life. Thanks to all the hairdressers, Mary Lou, Lee-Ann, Vanette, Angie and Teresa!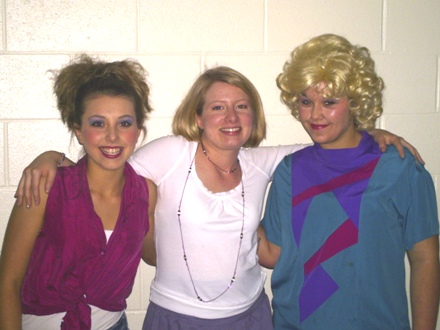 Rootie (Allison Tipton) and Bev (Emily Robinson) would like to thank Mrs. Jenny Martin for the time and effort that she put into preparing them for the play Graceland, which was performed at MHHS on May 23rd and 25th.
| | |
| --- | --- |
| Barbara, from the Lighthouse Christian Book Store, turned 50 on May 28th. The above picture of Barbara was taken at a Mothers Day Fashion show (wearing a "Minnie Mouse" Skirt). Lindsay, her daughter, and the rest of her family would like to wish her a Happy 50th Birthday!! | Pictured are Matt Horvat, Parkway Playhouse Box Office Manager, with Greensboro College interns Megan Carr and Laura Shelton. They are readying the newly renovated Parkway Playhouse Box Office for its May 27th opening. |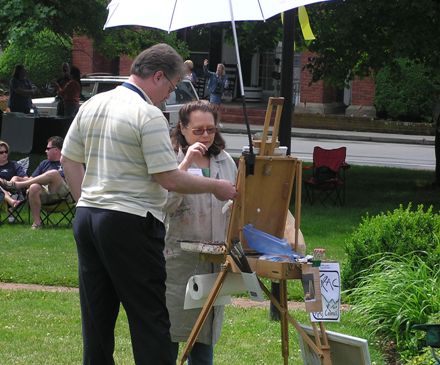 Many artists took to the streets last week during TRAC's annual "Paint-Out." The photo above, was one of the many artists who set up at the Town Square to capture images of Hometown Hero Day.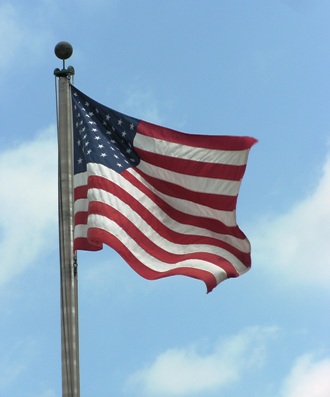 Flag flies high over the courthouse in downtown Burnsville. Take a moment today to remember those who have served our country.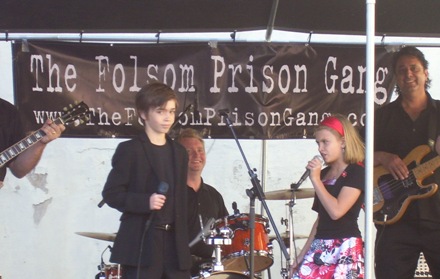 Noah Gavenus and Izsie Hilbert rocked the crowd Saturday when they performed the Johnny Cash/June Carter duet, "Jackson" with The Folsom Prison Gang Band at The Carolina Theater's Spring Benefit Concert in Spruce Pine Saturday,May 17th. Noah and Izsie are in the 5th grade at Burnsville Elementary.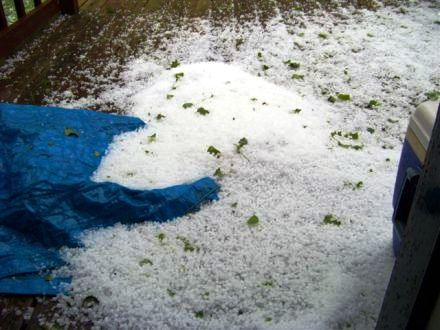 Tammy Loftis sent this picture of hail on her back porch from Tuesday evening, May 20, 2008 storm.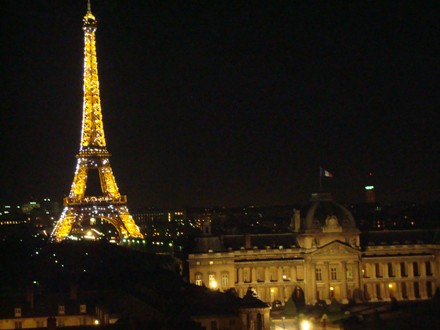 Picture made by Duane Cassida from the balcony of the UNESCO Building of Paris at Night. The building in the foreground with the French flag flying is the Ecole Militaire (Military School). Duane, an officer in the U.S. Air Force is a military attache assigned to the Defense Attache Office at the American Embassy in Paris. Duane and his wife, Donna are from Yancey County.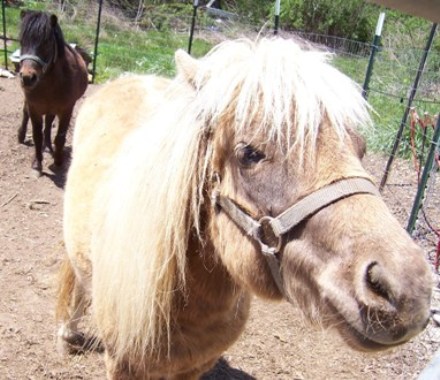 Take a look at these cute little fellas--they are little, they're mini horses! They belong to Tonya, David, Dominick, Christian, Zackary Beaver.
For More Photos, click here


Click Here To Visit Our Sister Radio Station


This page was last updated on Wednesday, 04 February 2009 02:19 PM