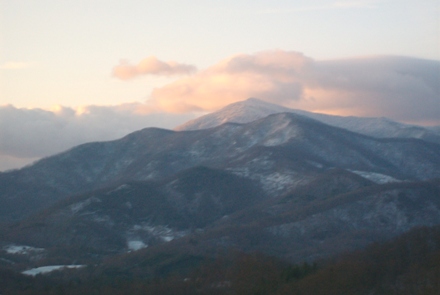 Another beautiful sunrise. This one was taken by Jennifer Bennett on April 8th after the snowfall.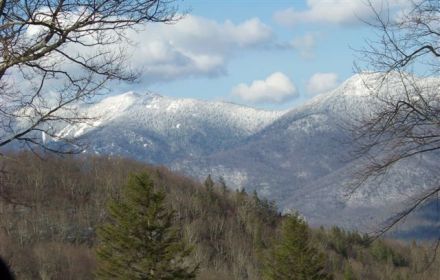 Tammy Loftis took this picture from Seven Mile Ridge Wednesday morning, April 8, 2009.
| | |
| --- | --- |
| Nora Grace Cox, 23 month old daughter of Emily & Travis Cox, wins the 2009-Baby Elite Miss Western NC title at the town center on March 28. | Lola with her 4 brand new little puppies. You may know Lola from the children's shop, I Thought About You, which is in the pink building on West Main St. in Burnsville. |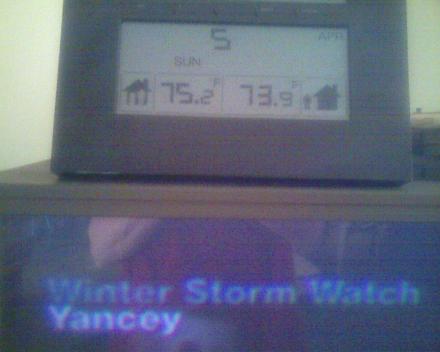 Diana O'Shields took this photo Monday when her weather thermometer was showing 75 outside and WLOS TV was forecasting a winter storm watch. Hard to believe at the time but it looks like those forecasters were right!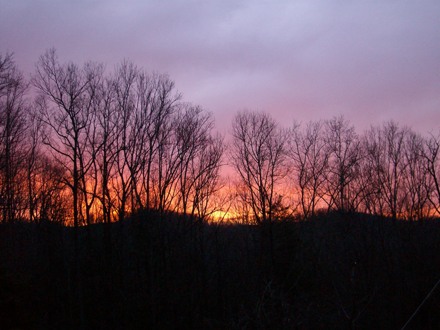 Jennifer Bennett took this picture of the sunrise on March 31st. We welcome your photos!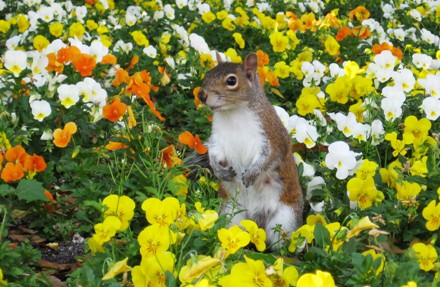 Wow...what a great picture! This little squirrel is "sitting pretty" in spring flowers. Photo by Linda Brown. You can see more of Linda's great photography by clicking here.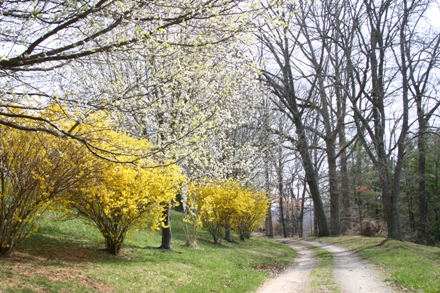 Sure signs of spring, a pear tree and forsythia bushes.

This photo of Big Ben as viewed from Trafalgar Square in London was taken by Donna Cassida on Valentine's Day 2009.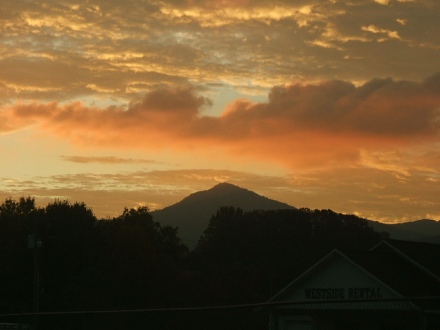 What a beautiful sunset! This photo was taken by Darlene and Keely Griffith.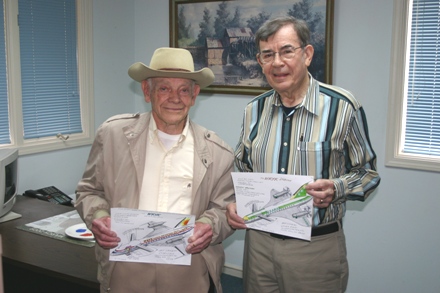 James Davis (left) of Lightening Bug Drive in Mars Hill stopped by on Wednesday, March 18 to present J. Ardell Sink, owner of WKYK, with several of his new airplane drawings. Mr. Davis has loved and drawn airplanes for many years and listened to WKYK for a long time too! He is holding the drawing that he customized for WKYK .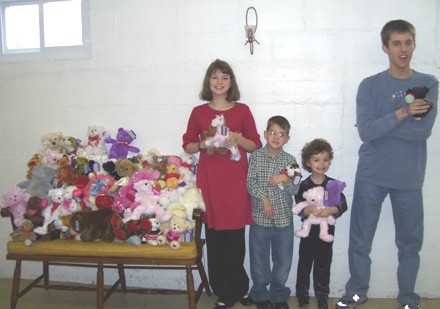 Here's a great idea--and a great bunch of kids! Mackenzie Proffitt, Aidan Hauser, Cadie Proffitt and Robbie Proffitt from the Bald Creek United Methodist Church collected stuffed animals to be donated to the Yancey Emergency Services to be given to children during an emergency.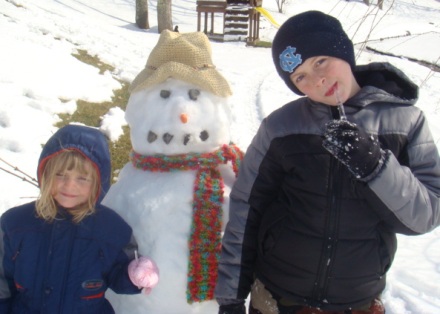 Sydney and Seth Edwards with their snowman. Photo by Christy Edwards
| | |
| --- | --- |
| This is Jesse and Tennyson at graduation from kindergarten at Bee Log Elementary. Children of Brandi Phillips and grandchildren of Jupper Phillips and Beth Phillips. | This is Little LLiam at 8 months old- wanting to get his hands into crayons!!!!! Son of Brandi Phillips. Grandson of Jupper Phillips and Beth Phillips. Great grandson of Bronis and Geneve Phillips. |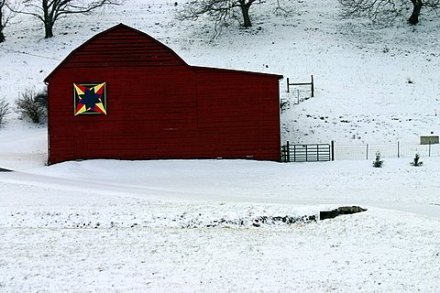 David Phillips took this picture Sunday morning, February22, after a light snow had covered the ground.
| | |
| --- | --- |
| This photo of Brayden Pate was selected as Honorable Mention in the Carolina Farm Credit 2009 calendar. Photo by his grandmother, Linda Brown. | LiL Carter ready to walk, he's 8 months old. He is the son of Jason & Melanie Bennett. The picture was taken by his proud PAPA-B. |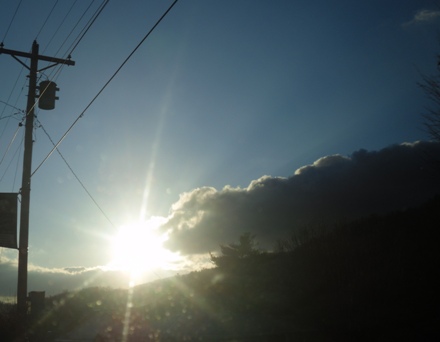 Meghan McIntosh took this photo back on January 30th from her car window.

This is a picture of Ms. Blanche Stanley, who turned 95 years young on 2/14/09 (Valentines day). She gives God all the credit for her long healthy life. She was honored with a party at Western Sizzlin Steak House with friends and family. Three of her nieces were there (Ms. Lola Morales, Ms. Helen Candler and Ms. Shirley Pittman).

Linda Autrey recently took this photo of a cardinal on bird feeder during the snow.

We welcome your photos! Email to holly@wkyk.com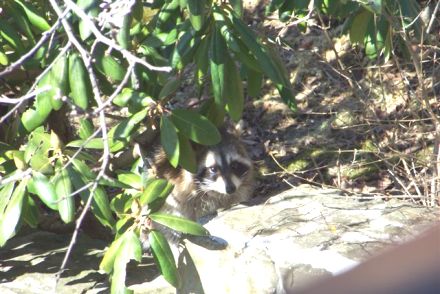 Look close and you'll see an adorable little fella looking back at you. Tammy Loftis captured this photo when he showed up in her back yard last week.
| | |
| --- | --- |
| "Peanut" celebrated his second birthday on January 27th! | Anna Hicks poses for the camera. |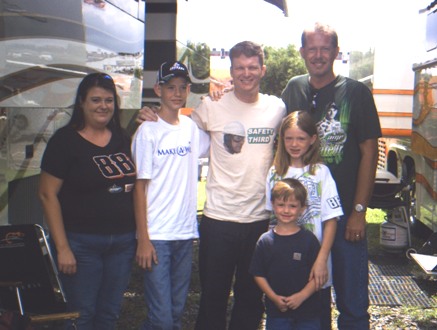 Daniel and Natasha Buchanan both have Pompe's Disease which is not curable. They both have infusions to slow down the progression of the disease. Daniel goes bi-weekly and Tasha goes each week. This affects all the muscles in their bodies and they have to see many different doctors like lung, heart, genetics, neurologist, pediatrician and physical therapist. This picture is from August when they got to take a trip through the Make-A-Wish Foundation to the race track at Pocono. They are pictured here with Dale Earnhardt Jr. In September Make-A-Wish took them to Disneyland.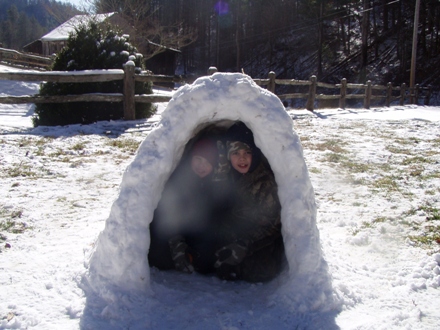 Landon & Colton Peterson have FUN IN THE SNOW!!!!! Landon & Colton are the sons of Tracy & Wendy Peterson of Poplar.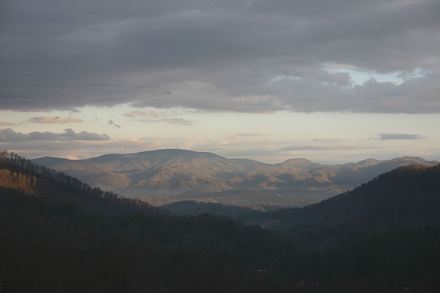 Randy Byrd took this picture of the Unaka Range on 197 at Mine Fork Gap.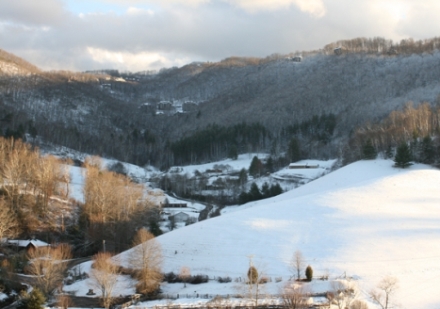 This photo was taken back during the snow on the 9th in the Phipps Creek section of the county. Photo by Toni Marie Maglietta Jobin.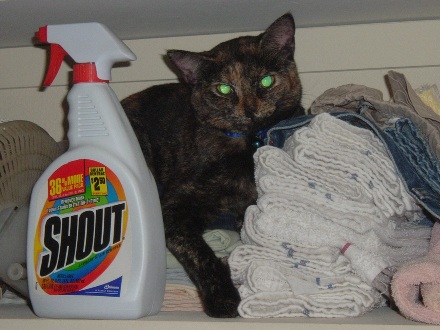 A big Shout Out for Ginger helping with the laundry. Photo by Stewart Dale.
Let It Snow!

Let It Snow!

Amy Ponder enjoying catching snowflakes last week.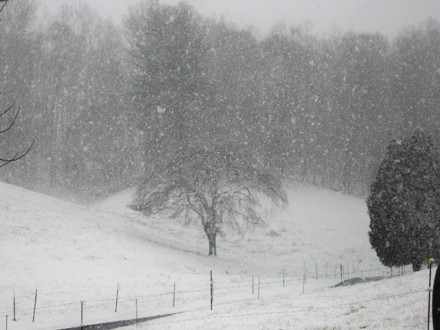 Taking one more look at last week's snow...this was taken on Banks Creek Road in Burnsville by Tara Diaz.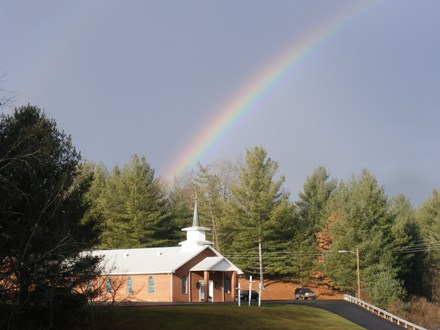 The True treasure at the end of the rainbow by Krystle Edwards.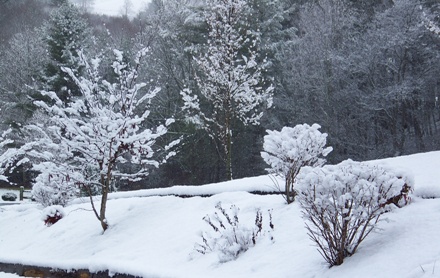 Some parts of the area had more snow than others on Thursday January 8th. Jeanne Proffitt took this picture on Hickory Lane, west of town.



Jaxon Dade Simpson turned 2 years old December 7. He is the son of Kim and Darrin Simpson.


Happy 16th Birthday
Brittany Gortney!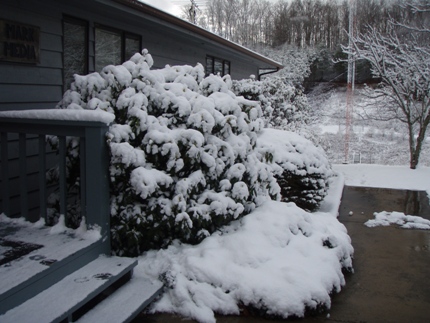 Thursday morning, January 8 snow at WKYK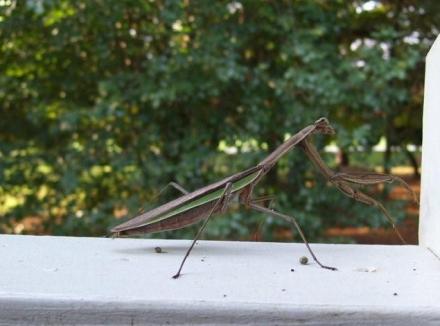 This little fella was caught "praying" last October by Tom Coppley.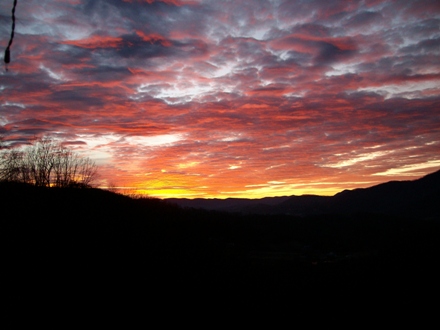 This beautiful sunrise was captured by Jennifer Bennett on December 23rd

Santa visited the Phillips Gwaltney Child Development Center located on Mayland Community College's Main Campus in Spruce Pine on Wednesday, December 17, bringing all the children candy canes and stuffed reindeers. Pictured here, Santa talks with PGCDC students Addison and her sister Haylee Herbert.
| | |
| --- | --- |
| Clara Cianfarano, in her "Minnie Mouse" ears, recently enjoyed a week long trip to Disney World with her grandparents. | Teagan Boyd, Daughter of Peyton and Monica Boyd celebrated her 1st Birthday on December 14th. Photo was taken by Teagan's proud cousin Madison Shuford. |
| | |
| --- | --- |
| Little Stitch all dressed up for the snow. Photo by Kathy Garland | Alex Stevenson and Pheobe in Roan Valley-photo by Kathy Garland |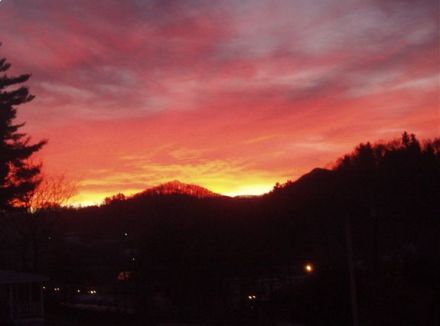 Peggy Bailey took this photo of this beautiful red sunrise on December 4th.

| | |
| --- | --- |
| Jennifer Gortney sent in this photo of Maycee who recently celebrated a birthday. Happy Birthday Maycee! | Jarrod Hall, pictured here with his son, Hunter, and the 13 point deer he killed on Monday, November 24th on Double Island. |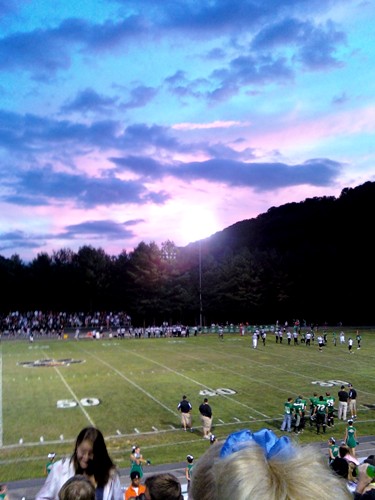 Misty Murdock submitted this photo of the sun setting at one
of the Mountain Heritage football games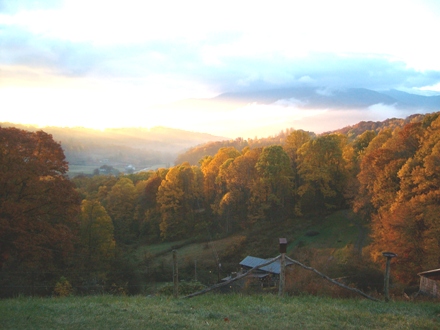 Jennifer Bennett submitted this photo of the view from Phillips Knob.
| | |
| --- | --- |
| To highlight that October was National Domestic Violence Awareness month, Mayland Community College's Human Services Student Association (HSSA) collected items for the Family Violence Coalition of Yancey County.The HSSA placed boxes with a 'wish list' of needs from clients at the Family Violence Coalition at Mayland's Main Campus. Pictured from left to right with some of the boxes the Human Services Student Association collected are Betty Hughes, Hazel Wilson, Misty Biddix, and Jessica Cox. | This is Lucy, proud owners are James and Tammy Ramsey, Lucy loves to pose for pictures as you can tell, this picture was taken at Cades Cove at one of the old barn sites. |
| | |
| --- | --- |
| Yancey County artist Linda Brown, pictured holding one of her photos, currently has photographs on display at Mayland Community College's Yancey Campus. | David Ardell Sink - Son of Jeremy and Donna Sink is showing his support for ASU! |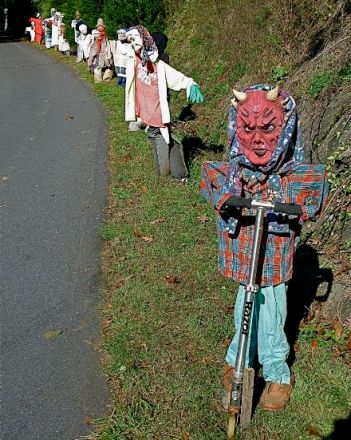 Neil Harris submitted this Halloween photo of what may be the scariest Halloween driveway.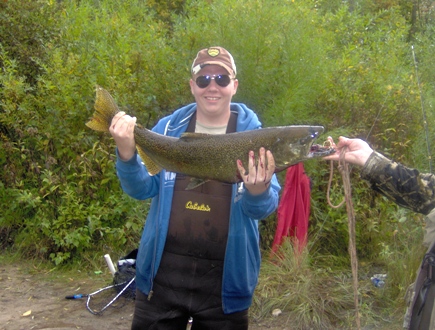 Cody Carroll recently caught his first big salmon in Michigan.
| | |
| --- | --- |
| Sugar Bear and Miss Priss...still Best Friends! | Thumper taking a cat nap. |
| | |
| --- | --- |
| Dylan Thomas 14, killed this big 10pt. near his home on Seven Mile Ridge. Dylan is an avid hunter and is looking forward to bear season as well! | April Jones took this photo of sisters, Emaleigh and Shaleigh Autry, sitting under the fall leaves. |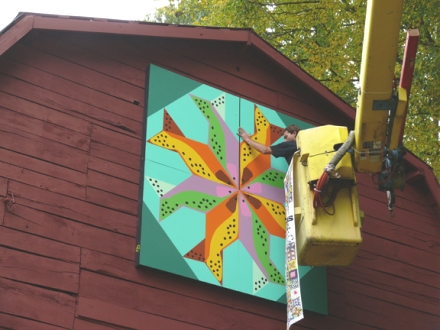 Quilt Trails of Western North Carolina celebrated the installation of the 100th Quilt Block on Saturday, October 11th. The colorful Quilt Block is entitled "Fish" and is on the barn of Alan and Bevo Peterson on Pensacola Rd. Alan, an avid fly fisherman, wanted the shapes to look like a brook trout and rainbow trout. The Petersons also hosted a party to celebrate the 100th Quilt Trail Block. To read more and see photos, click here.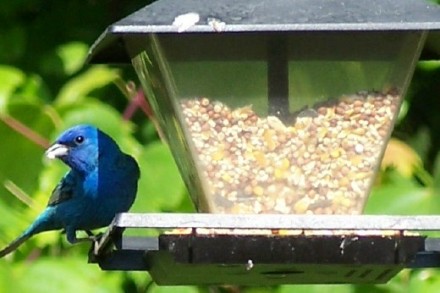 We have been informed that this beautiful bluebird is called an Indigo Bunting. Image submitted by Sandy Hoilman.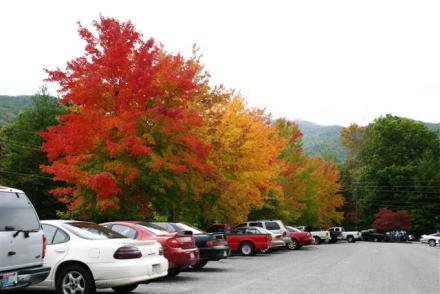 Trees in the area are starting to show a kaleidoscope of colors as you can see from this early fall photo that was taken from the student parking lot of Mountain Heritage High School.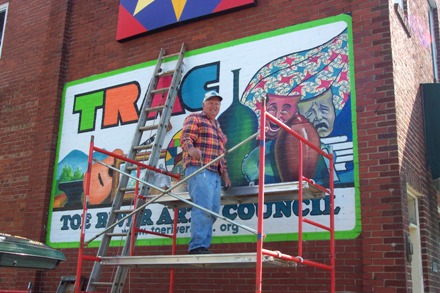 Jack Ferrell recently completed the Toe River Arts Council's mural outside of the TRAC store on Main Street in downtown Burnsville.

Crystal Sheperd sent in this adorable photo of little Adrian giving a helping hand at United Galax.


Moss adds a rustic element to this country mailbox. Photo by Kathy Garland.

We welcome your photos! Email to holly@wkyk.com
| | |
| --- | --- |
| Pictured is John Pate with his son Brayden sharing a proud father and son moment and showing off their prize! | Kathy Garland took this photo while attending a summer wedding. |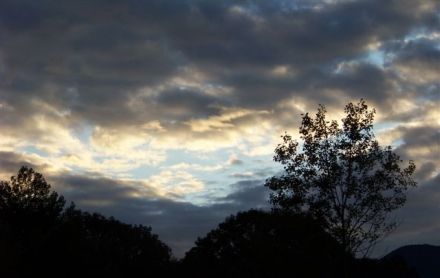 Tammy Loftis submitted this photo of the sun setting sun from 7 Mile Ridge.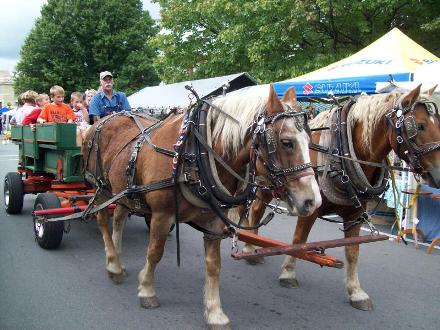 Burnsville Celebrated its annual Old Timey Days and the 175 birthday of the town of Burnsville.
| | |
| --- | --- |
| Proud parents Kyle and Brandi Gilliand welcomed their new bundle of joy, Collin Garris Gilliand on September 23rd. Collin was 7lbs. 2oz, 19.25 inches long. | Kathy Garland sent in this picture of a pretty pink posie. |
| | |
| --- | --- |
| Haley Atkins 18th birthday trip to Myrtle Beach with big brother Jeremy. | Marsha Sprouse's niece, from Marion VA, enjoying the swing bridge on South Toe River. |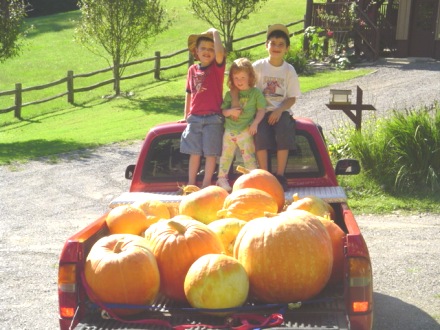 This photo was taken by Brenda Peterson of Poplar. Colton & Landon Peterson and Olivia & Logan McKinney had a blast helping their Popaw Donald Peterson Harvest these beautiful pumpkins. The pumpkins weight ranged from 10 to 85 lbs.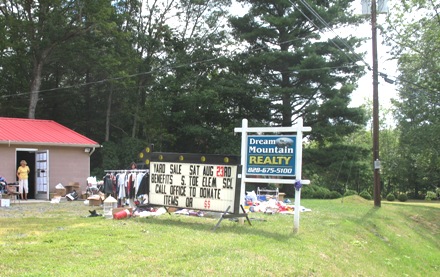 Dream Mountain Realty had a benefit rummage sale on Sat Aug 23rd. Together with the community's donations they raised $800 for South Toe Elementary School to be used for school supplies. Many smaller schools could use the extra help. Often teachers have to buy school supplies out of their own funds. Dream Mountain wanted to lend a little extra help with the new school year. Dream Mountain Realty is owned by Mary Blevins and Stacey McEntyre. Mary and Stacey grew up and attended Yancey County Schools.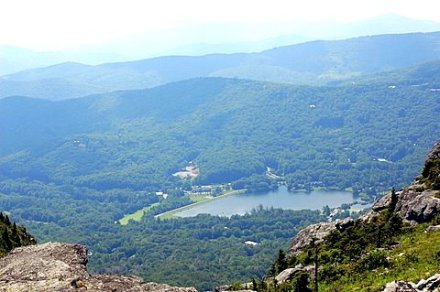 Kathy Garland of Bakersville sent in this scenic photo of Grandfather Mountain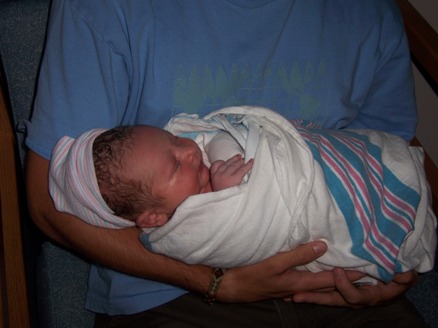 David Ardell Sink - Son of Jeremy and Donna Sink - Born at 6:28pm on Sept 11th - 8 pounds 3 oz. - 20 3/4 inches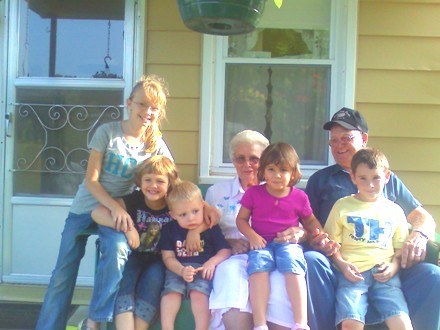 DT and Virginia Griggs celebrated their 64th wedding anniversay September 1, 2008 with family at their home. They are pictured with grandaughter Kaeleigh Griggs and Great-grandkids: Maci Drew Fox, Jazmyne and Kenyon Parker, and Brandon Boone.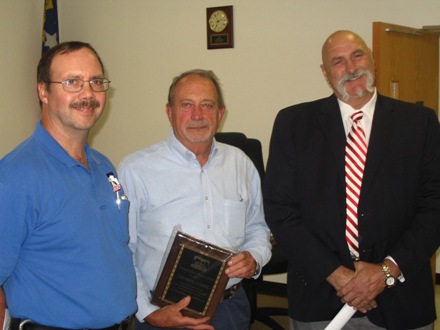 n recognition of his long and dedicated career as inspector with the Town of Burnsville, Tom Storie recently received a "Distinguished Service Award" from the NC Building Inspectors' Association. It is rare for a building inspector from a small jurisdiction such as Burnsville to receive this award. Pictured (left to right) are Steve Sudderth (Area 1 Director, NC Building Inspectors' Assn. - Watauga County); Tom Storie (Public Works Director, Town of Burnsville); and Glenn Batten (NC Building Inspectors' Assn. Awards Committee Chairman).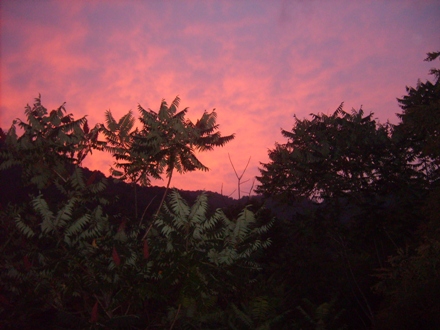 Jordan Warren took this picture behind her house on Old Mine Fork Road.
For More Photos, click here


Click Here To Visit Our Sister Radio Station


This page was last updated on Saturday, 25 April 2009 12:17 PM