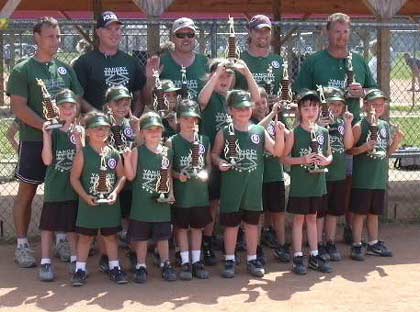 Yancey 6U All Star Team after winning the District All Star Championship. They travel to Etowah to play in the regionals. Coach is Tracy Evans. Photo by Tom Tipton
| | |
| --- | --- |
| Haley Atkins is the 13 year old daughter of Ricky and Tammy Atkins. Haley has been taking aquatic therapy through Spruce Pine Hospital. She hopes to one day have her own spa or pool. Haley has cerebral palsy and is very involved in Special Olympics. She has one big brother, Jeremy, who is now also her CAPS worker. Haley is home schooled by her mother and brother. | Sometimes it's good to just forget about the grass needing mowing, the mice that need to be caught.... all those summer time chores. Take it from "Figi"--just kick back and relax. |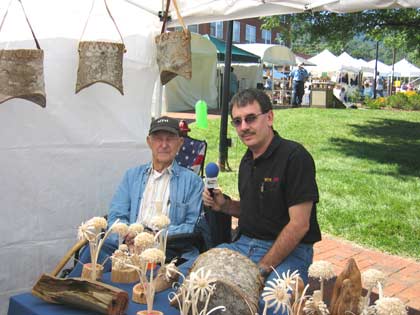 WKYK's Michael Ardell interviews Luther Thomas at the Crafts Fair. Luther has been a part of all 48 Crafts Fairs. For more pictures, Click.

| | |
| --- | --- |
| Hollyhocks are in full bloom right now. | Christina Hanks and Jacob Jarrett were married August 7th in an outdoor ceremony. The couple honeymooned in Gatlinburg. |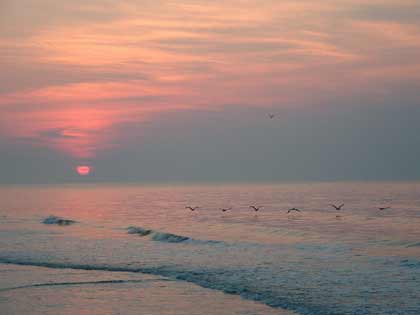 Here's a picture you probably weren't expecting. This was taken several weeks ago at Holden Beach by Taylor Dellinger.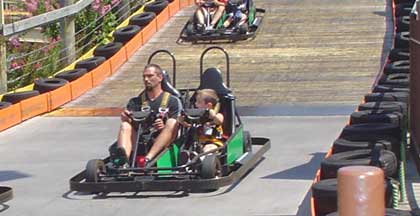 Dallas and Drake Biggs enjoying riding go-carts in Pigeon Forge, TN.

| | |
| --- | --- |
| Della Jarrett at the old Hall place on McKinney Road. On the right this is a 12 foot tall and 12 foot wide tomato plant that came up by itself. The photo to the right is of some more of Della's flowers. | One of several beautiful beds of flowers at Della Jarrett's house. |
| | |
| --- | --- |
| This big pretty bed of marigolds spotted in Mitchell County actually came from the free packets given away from United Community Bank during Customer Appreciation Days. | "Snake Killer" is what they're calling her now after a sneaky little snake (12 inch garden variety) slithered into the house. The alert "Miss Ginger" chased him into a plant. Her brother Buzz ran (taking the advice of his cousin, Muffy). Fizzy, another cat on hand for the event, quietly observed. Ginger is the hero. The snake is dead. End of story. |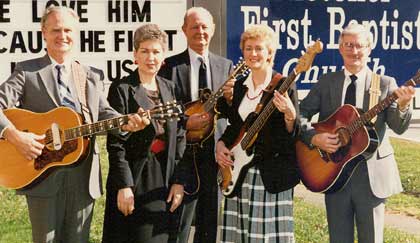 Allison Robinson (far left) is a part of The Good News Quartet. Allison lives in our area, the rest of the group is from Fletcher.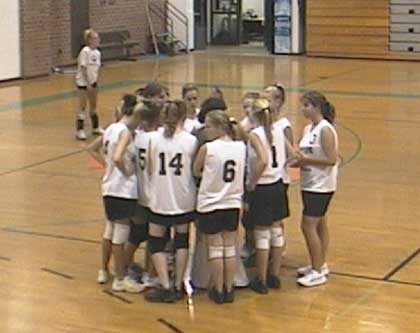 Mountain Heritage JV volleyball team huddles up during game against North Buncombe Monday, August 16th.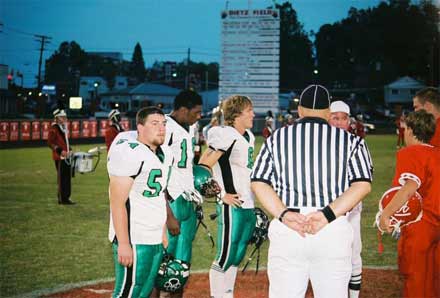 Mountain Heritage Cougars warm up prior to opening game against North Buncombe.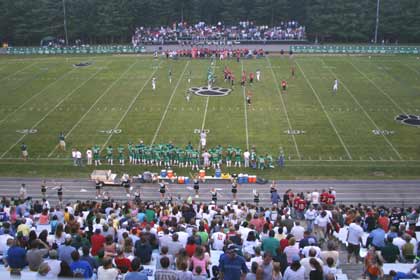 Opening night of the Mountain Heritage Cougar football season was Friday night, August 20th. The Cougars took on North Buncombe and came away with a 28-2 win. Go Cougars!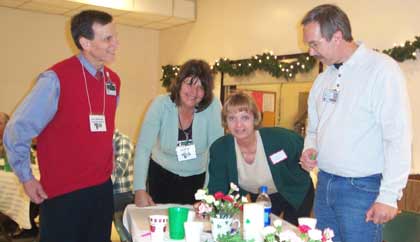 A group of local residents work together at a Healthy Yancey sponsored community meeting this past spring.
For more photos click here.

Click Here To Visit Our Sister Radio Station


This page was last updated on Tuesday, 23 October 2007 10:55 AM