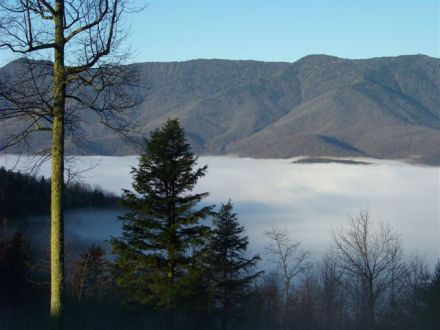 Tammy Loftis took this photo from Seven Mile Ridge on Tuesday morning, November 24th.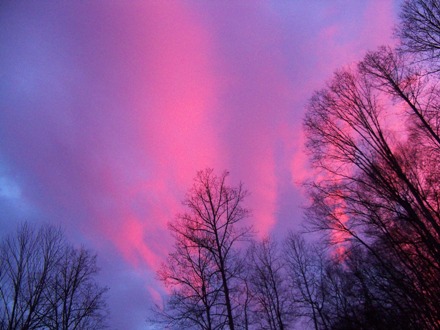 This picture was taken by Becky Thomason at her house on Indian Creek November 18th.



Jennifer Bennett took this beautiful sunrise photo back on October 22nd.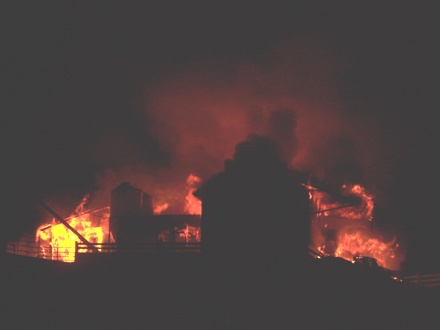 Thursday night, November 19th at 11:49 pm this barn on Bear Wallow was engulfed in flames. We were traveling home after spending the evening with family and saw a red glow in the sky. There was no one there when we arrived on the scene and snapped this photo (above) after calling 9-1-1. We left as first responders arrived and traveled on down Hwy 19E toward Micaville when we saw another red glow in the sky. A few minutes before midnight we came upon B & W Stone (photo below). We moved on as fire trucks from Newdale and Spruce Pine had arrived. Photos by Steve and Holly Hall.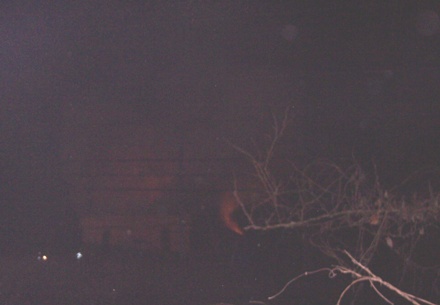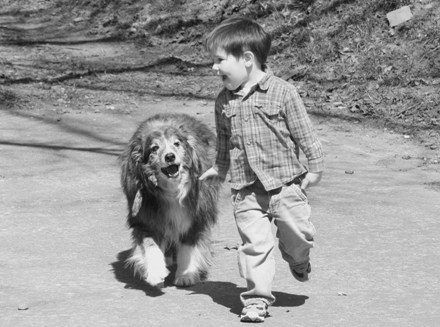 What a great photo! It makes you happy just to see it. This is Gabriel and his friend Jake. Photo was taken by Gabriel's Mee-Maw.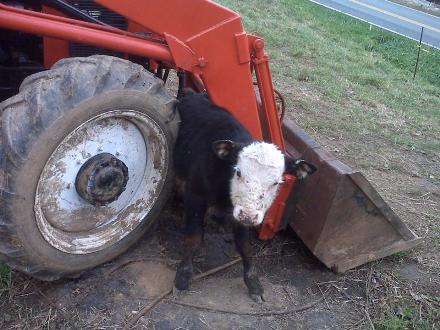 This cow was stuck in between the front tire and the front endloader of this tractor on Jacks Creek last week. We don't know whose tractor or calf it was. It was just beside the highway past Boyer Garage. Keith McCurry and Randy McPeters of Donerite Lawncare drove by and saw the calf and with assistance from Freddy Boyer and Sam Styles the calf was freed. It looked like the calf went in one way and tried to come out the other side . But its hips became stuck. It was freed by lifting its back legs and pushing down its back. (the tractor and the calf had no comment).
| | |
| --- | --- |
| Sage Biddix from Spruce Pine on the Bakersville Creekwalk. Photo by Kathy Garland. | |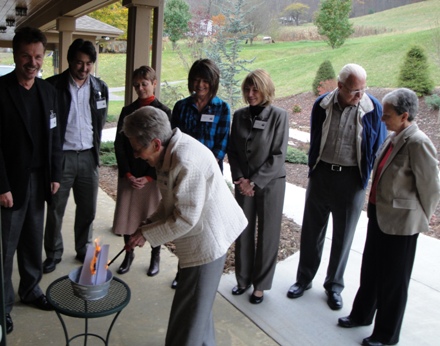 Hospice of Yancey County held an Open House and a note burning on Sunday, November 2nd. Hospice Treasurer Mary Nelson lights the note as board members watch.
| | |
| --- | --- |
| Jaxon Dade Simpson enjoys an afternoon lunch at the Mellow Mushroom in Asheville! Jaxon is the son of Kim and Darrin Simpson. | How cute is this little guy? Okay, we're a little bias on this one, since he's one of my own. Quigley is half Lhasa and half Shitzu/poodle. |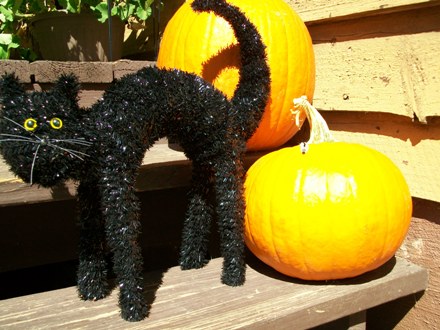 Ready for Halloween.
| | |
| --- | --- |
| It's a frog...no, its Myles Roland with his pumpkin. Myles is the son of Jessica and Luke Roland. | Tulip Rose is the newest member of the Cianfarano family. |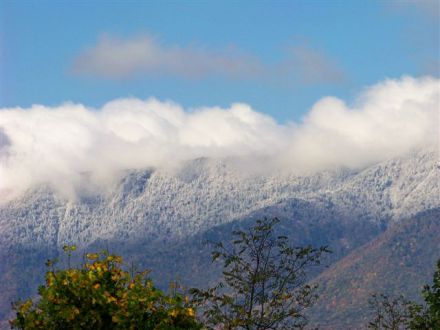 This photo, taken by Tammy Loftis on Sunday morning, October 18th shows the Black Mountain Range covered in snow and fall leaves barely turned in the foreground.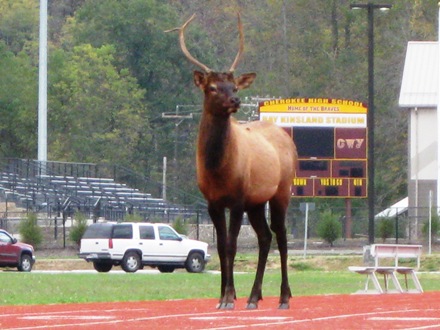 While taking a family camping trip in Cherokee this weekend, the Wilson family decided to go take a look at the new Cherokee High School. To their surprise they not only got to see the new school, they also got to see this beautiful Elk which was on the football field waiting for the game to begin. Photo By: Cindy Wilson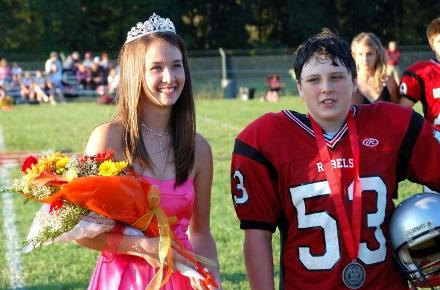 Kasey Whitson, daughter of Derrick and Cindy Whitson was crowned Queen and B.J. Tipton, son of Pat and Audrey Tipton was crowned King during Cane River's Homecoming Tuesday evening, September 22nd.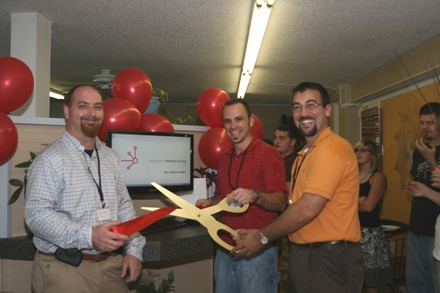 Storefront Tech has officially become Appalachian Network Services. Here they celebrate with a ribbon cutting and open house during the Yancey Chamber's Business Showcase event. They provide computer sales, repair and internet services and are located at

632 W. Main Street, Burnsville, across from Burnsville Chevrolet.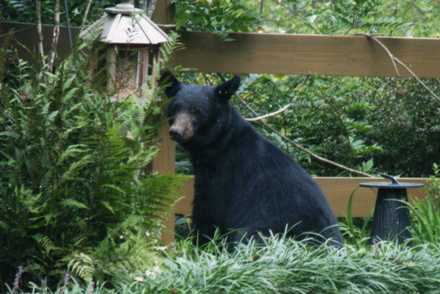 Look who came to dinner at Mike and Valencia Proffitt's home on Hardscrabble Road in the Bald Creek area!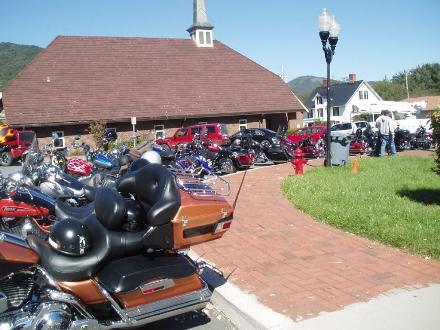 Peggy Bailey took this picture of some of the motorcycles around the town square this weekend, raising money for Toys for children at Christmas. 130 Motorcycles in all.
| | |
| --- | --- |
| Carol Ann Elliott celebrating her 58th birthday with her family and friends on 9-21-09. | Aiden from Burnsville, taken on the Bakersville Creekwalk recently. Photo by Kathy Garland |



Jan Ray crowned Homecoming Queen 2009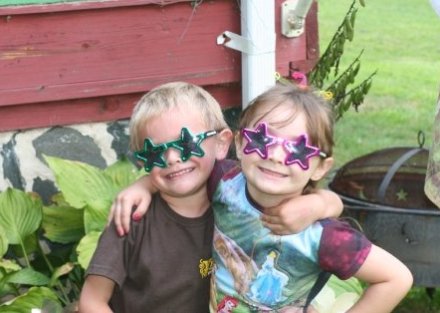 Cody and Chloie enjoying summer.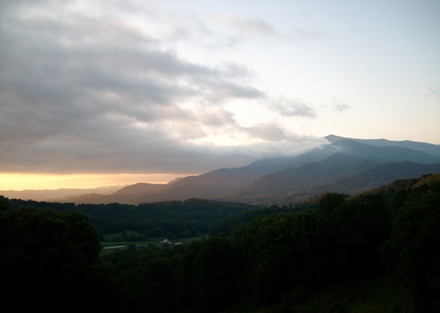 Beautiful sunrise on September 2nd. Photo taken by Jennifer Bennett.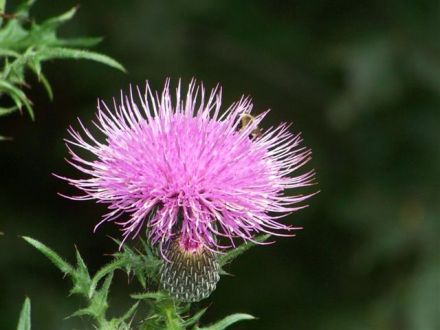 Tammy Loftis took this picture on Sunday, August 30th of a thistle, not realizing until afterward that the thistle has a visitor (bee top right).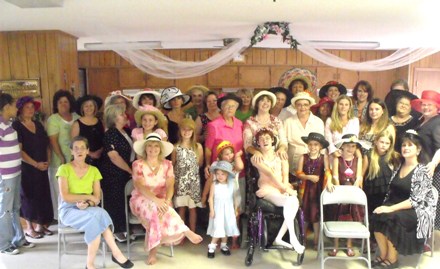 The West Burnsville Church of God Ladies group tea party held on August 29, 2009
For More Photos, click here


Click Here To Visit Our Sister Radio Station


This page was last updated on Monday, 29 November 2010 03:44 PM