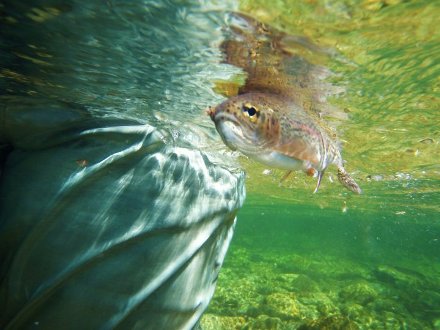 Adam Hopson took this photo on the first day of spring on Curtis Creek.
| | |
| --- | --- |
| Callie Lorraine Bennett was born on March 29, 2010. She was 19 inches long and weighed 6 lbs, 11 oz. Her parents are Melanie and Jason Bennett. She has a brother, Carter. Her maternal grandparents are Jennie Miller and Randy Miller. Paternal grandparents Dorothy and Dennis Huskins and Michael Bennett. | Luke Wilson got this big turkey on youth day of turkey season. |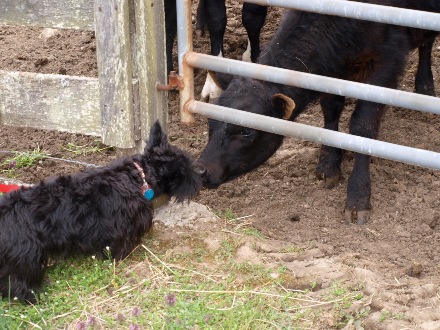 Bonnie meets the neighbor's cow! Photo by Jeremy Atkins.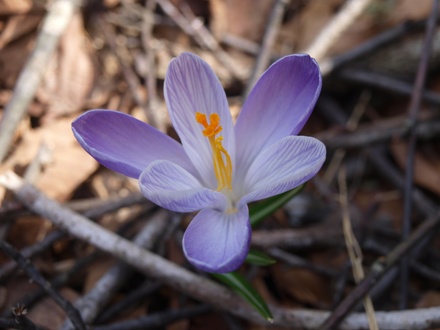 Jeremy Atkins sent this photo as a definite sign of spring.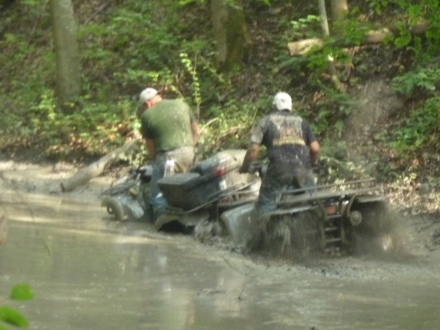 Jeff Wilson and Jeremy Fox playing in a 4ft deep mud hole in Jenkins, KY, Sept. 6, 2009. Picture taken by Celia Fox of Green Mountain.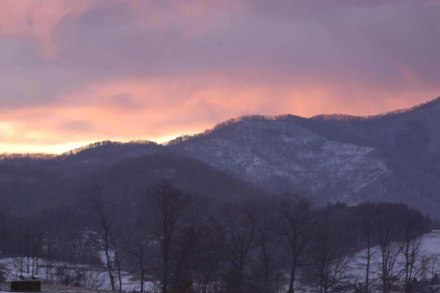 Sunrise over the Black Mountains taken from Burnsville back on March 2nd. Photo by Calvin Campbell.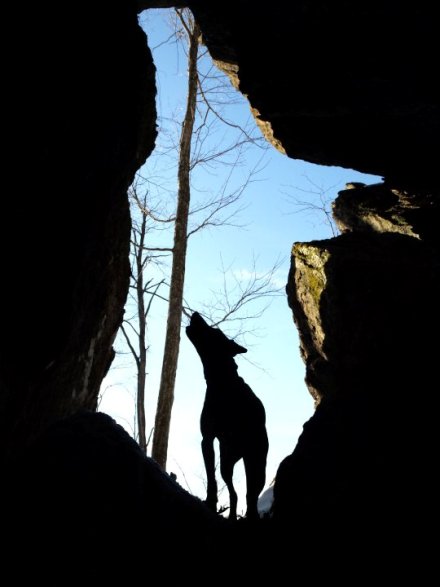 What a great photo of Adam Hopson's dog, Gus. This was taken at the John Reynolds den on Green Mountain last week.
| | |
| --- | --- |
| Anna Hicks enjoying a rare warm day out in the sunshine, in the midst of this bad winter. | |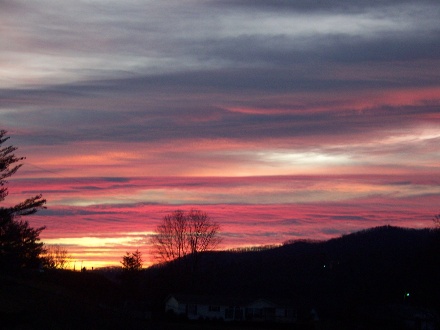 Beautiful sunrise captured back on December 11th by Jeanne Proffitt.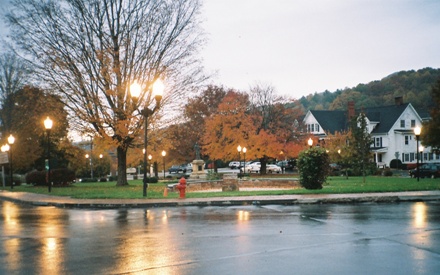 We just had a picture of the Burnsville town square, covered in snow ... so its a good time to go back and look at a photo we received this past fall from Kimberly Wise of the town square after a morning rainfall.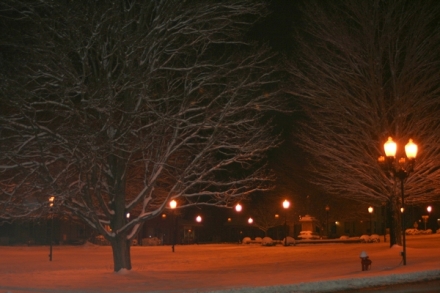 A peaceful scene of the Burnsville Town Square covered in snow. Photo by by Toni Jobin.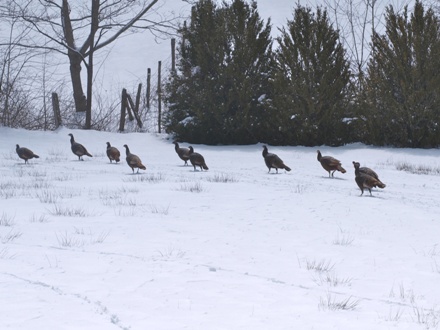 Out for a stroll in the snow...Jeremy Atkins got a picture of these guys after they crossed the road in front of him, near Seven Mile Ridge.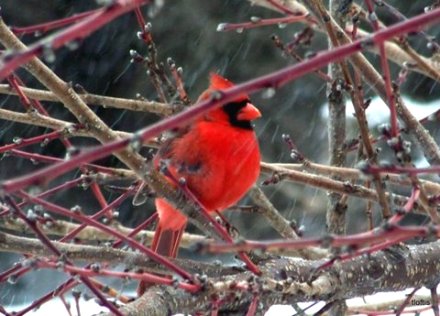 Tammy Loftis caught this beautiful cardinal out in Tuesday's storm. Send us your photos!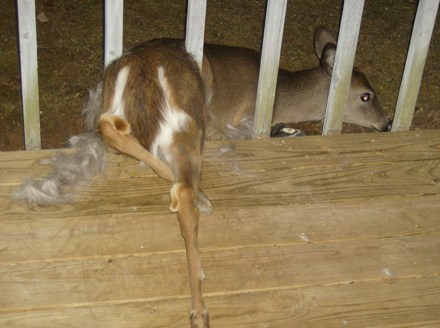 Uh oh! Slipping thru the rail trying to reach bird seed wasn't such a good idea. Fortunately Eddie Faw was there to loosen two pickets to let this little doe on through. She jumped up and ran off apparently unhurt.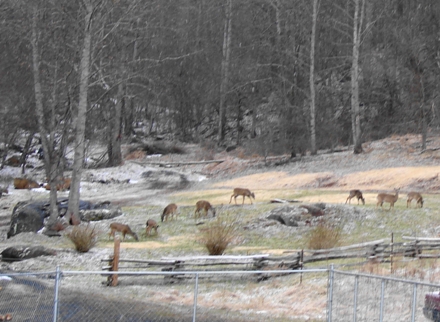 Becky Bailey sent us this photo Thursday morning.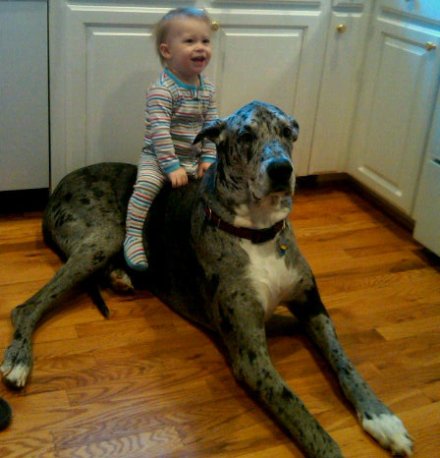 Collin Gilliland is getting a head start to his horse back riding career with Graycee the great dane. Collin is the grandson of Jeff and Teena Fox of Burnsville.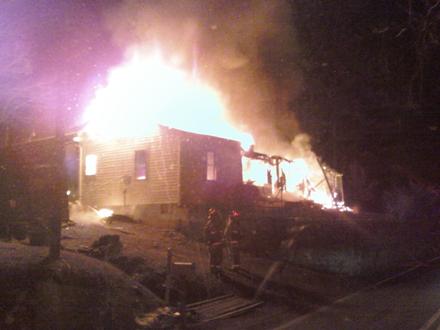 Clearmont, Double Island, and Burnsville Fire Departments all responded to this house fire on Toe River Road, near North Bee Branch. The house was
destroyed and no one was injured.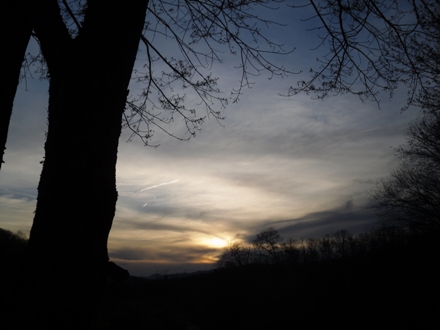 This picture was taken by Samantha Blankenship on January 29th, right before a snow arrived early the next morning.

Blanche Stanley will be 96 years young on Valentines Day, 02/14/2010. She is a wonderful Christian woman, has her own home, does her household chores and plays the piano in her church. She will tell you the Lord has blessed her so much, she gives him all the glory for her long life.
Sent in by her niece, Shirley Pittman

Mason Luke Steinel was born January 20th. He weighed only 2lbs.14ozs. Mason is the son of Jason and Megan Miller Steinel. He is the grandson of Eric and Angie Swartz and Ricky and Markie Miller.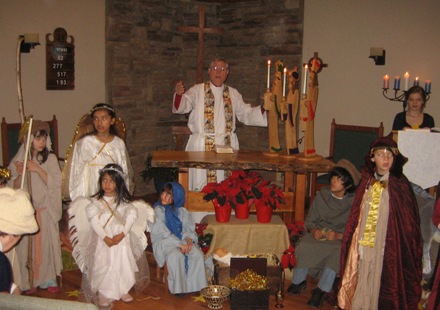 A group of children from St. Thomas Episcopal Church performed a Nativity Pageant on Tuesday, January 5th as part of the Epiphany service. The pageant, originally scheduled for December 20th, was postponed due to inclement weather. The new date made the wisemenís arrival particularly timely. Pageant participants included: Raven Whitley as Narrator; Lillian Kline as Mary; Edwin Lemus as Joseph; Evelyn Kline, Paloma Soto and Eli North as shepherds; Oscar North as a sheep; Evelyn Lemus, Jamie Lemus, and Odin Bueno as angels; and Isabella Davis, Gavin Henry, and Christian Angel as wisemen. The actors dressed in elaborate and inventive costumes including authentic items from Pakistan provided by Dr. David Johnson. The children prepared several songs for the pageant with childrenís choir leader Katey Shultz. The performance was reverent and delightful, and was enjoyed by an appreciative audience. Afterwards everyone celebrated with a potluck dinner. Pageant participants found Peggy Mannís strawberry dessert to be especially delicious! All families are welcome at St. Thomas. For more information about our youth programs, please contact Stacey Lane at 828-467-2165.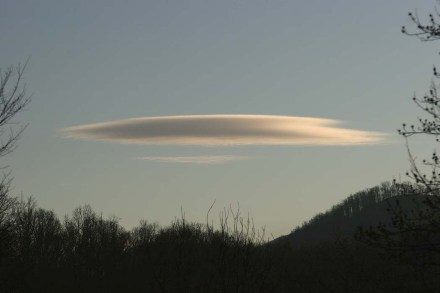 Doug Sudduth took this photo of this lenticular cloud Wednesday evening,
looking south toward the Black Mountain Range/Mt. Mitchell from Wing Road. Sometimes the appearance of these clouds precedes a weather change. Doug named the photo "5D Ship III", based on a metaphysical concept.
| | |
| --- | --- |
| | Bella Grace Hughes was born on December 26 2009 at 7:15am at Mission Hospital. She weighed 6 pounds 14 ounces and was 19 inches long. Her proud parents are Chris and Casey Hughes. She has an older sister Jocelyn Hughes. |
Edwards/Clopton

Andrea Edwards and Brian Clopton were united in Holy Matrimony on New Year's Eve at the Burnsville Town Center. After a honeymoon in Orlando, Florida, the couple will reside in Burnsville. Andrea is the daughter of Stephen and Dianne B. Edwards. Brian is the son of Karen Hollifield and Richard Clopton. Photo by TAP Photography.
| | |
| --- | --- |
| Tammy Loftis sent us this picture at12:47 pm on Thursday, 1/21/10, as rain turned to ice in the Seven Mile Ridge area of the county. | |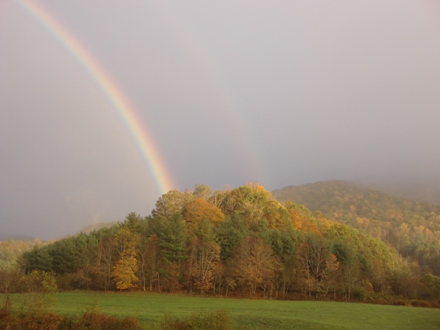 Let's jump back to the fall for this picture which was taken on Jack's Creek one evening when Sherry S. Silvers was on her way home from work and couldn't resist clicking the camera...thus capturing a beautiful double rainbow.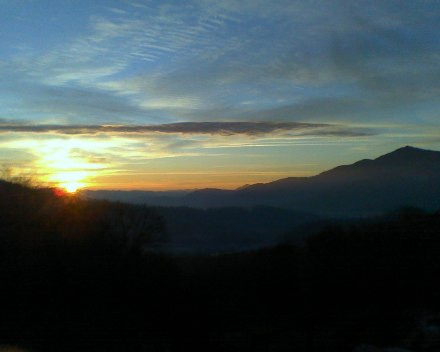 Another beautiful sunrise, this one taken on December 7th by Jennifer Bennett.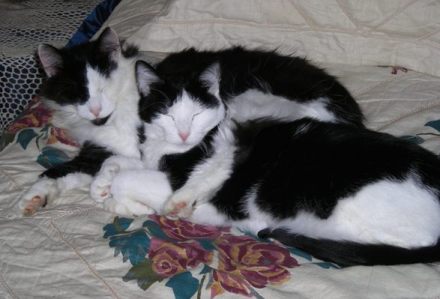 In my opinion these are two of the cuties kitties we've ever had on here...then again I am bias these are two of mine...that's Shadow at the back and Buck in front.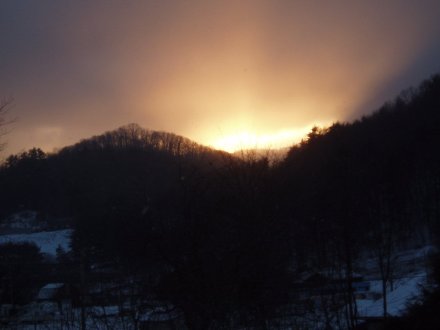 Beautiful Sunrise on the 10th of January, taken by Peggy Bailey.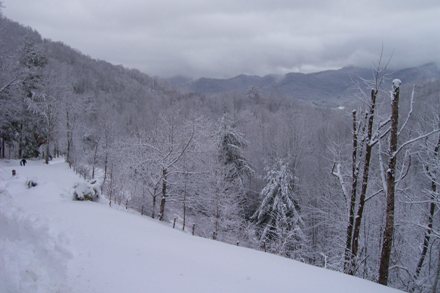 This was taken on top of Coxes Creek, Burnsville NC. View from the front deck of the Jason Silvers family.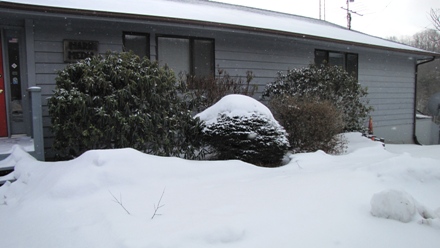 Snow still hasn't melted on the back side of the radio station building...and on Tuesday continued to add a little more.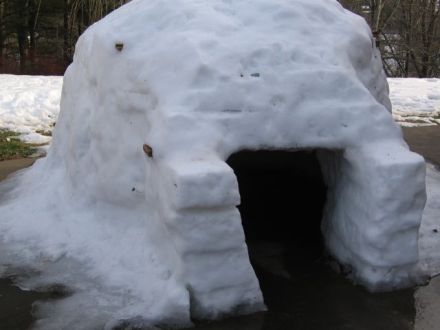 Joe Wilson, his children and grandchildren built this igloo on Christmas Eve. They live on Burning Bush Dr. off of North 80 in the Newdale Community. They were all able to get in it when it was finished and had so much fun making it. This was a whole lot more fun than sitting in front of the TV and WOW! what memories they will have of their family.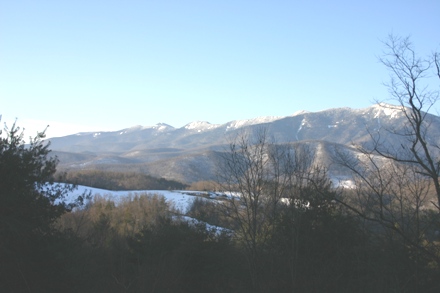 Randy Byrd took this photo of the sunrise on the Black Mountain Range from Blue Rock Road last weekend.

Happy Birthday Maycee! We love you!

We welcome your photos!, email to holly@wkyk.com


This is Maggie (a chorkie) she is 5 weeks old. This was her 1st Christmas and Santa brought her a new bed....she loved it!
| | |
| --- | --- |
| Cutest Santa we've seen...Myles Carter Roland, son of Jessica and Luke Roland, in his Santa suit opening packages. | Look close that is Miss Priss and Sugarbear. Not snuggled up in this picture but they're still good friends!Miss Priss is in Sugarbear's bed so he had to lay in hers. |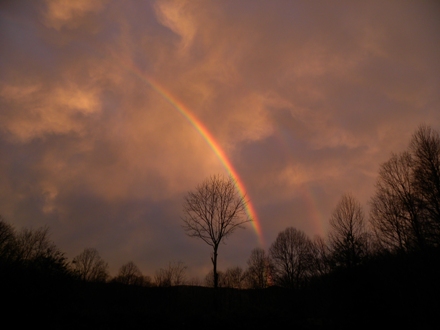 Vivian Stevens captured this double rainbow on December 2nd at Celo.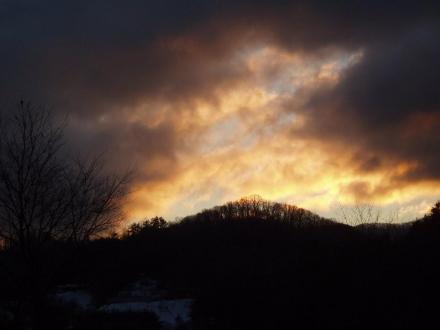 Peggy Bailey caught this beautiful sunrise Tuesday morning, December 29th.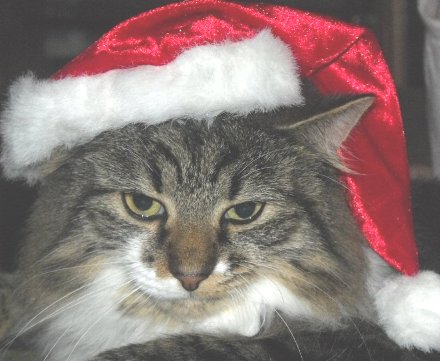 Tammy Atkin's took this picture of Fuzzie, ready for Christmas with his Santa's hat on.
| | |
| --- | --- |
| On November 21 Bentley Liam Blake Ayers was born to Nathaniel and Amber Ayers. He weighed 8lbs 1 ounce and was 19 in long. His proud grandparents are Jim and Renee Ayers of Green Mtn and David and Melissa Rathbone of Canton. | Jaxon Dade Simpson celebrated his 3rd birthday with a Sponge Bob party! He is the son of Kim and Darrin Simpson, and the great grandson of the late Charles Stiles. |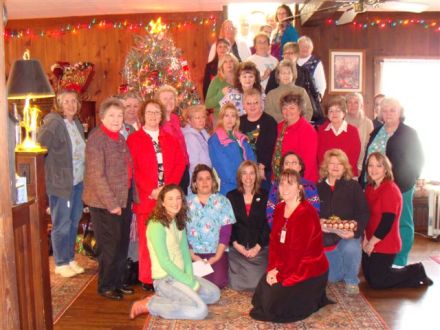 Yancey County CAPS 2009 Christmas party at the Nu Wray Inn.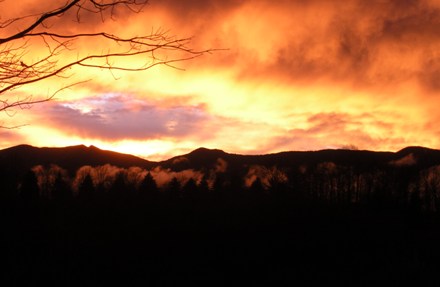 Laurie Fletcher took this beautiful photo from Seven Mile Ridge.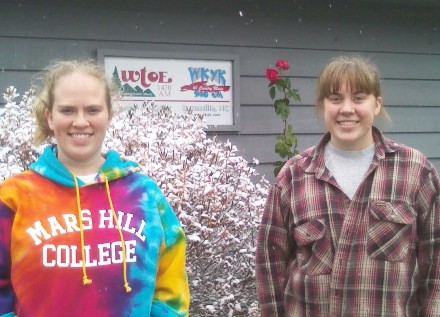 Cathryn and Carrie Hughes in front of WKYK /WTOE on Saturday, December 5th during the snowfall. Notice the snow on the bush and the rose to the right! Cathryn and Carrie both work part time at the radio stations. Photo by proud father, Randy Hughes.

For More Photos, click here


Click Here To Visit Our Sister Radio Station


This page was last updated on Monday, 07 June 2010 01:36 PM