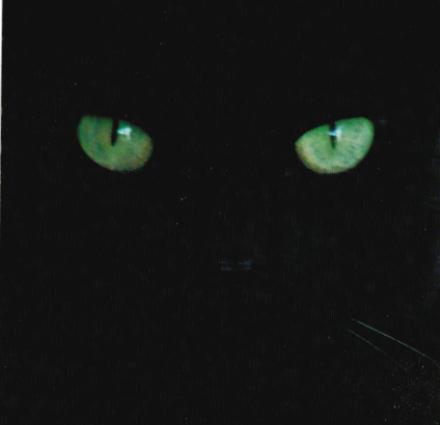 Gwen Tracy took this picture of a black cat. What eyes!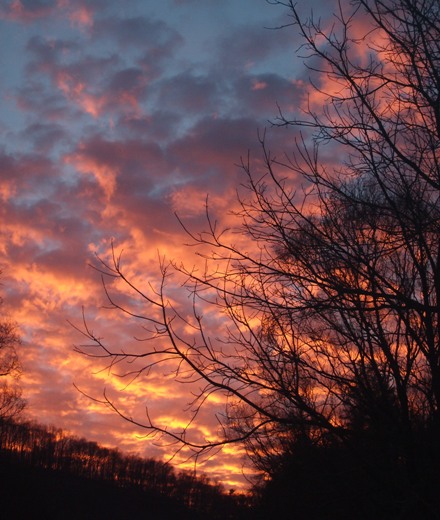 Another view of Thursday morning's beautiful red sky.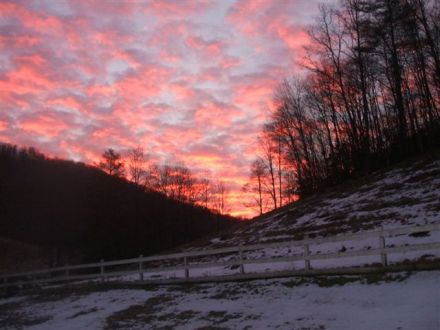 Red sky in morning...you know the old saying. Taken Thursday morning 1/20/11 by Charlie McCurry.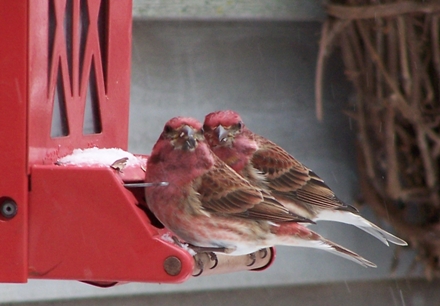 These pretty little finches grab a bite to eat during the recent bad weather. Photo by Carol Tyner.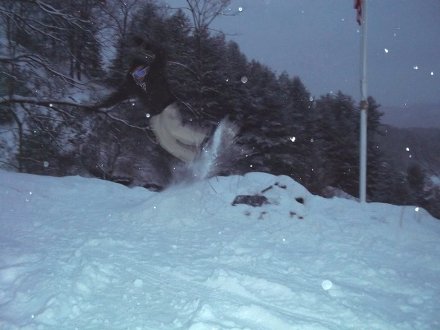 Tyler Parsley had a blast snowboarding in a driveway last Thursday.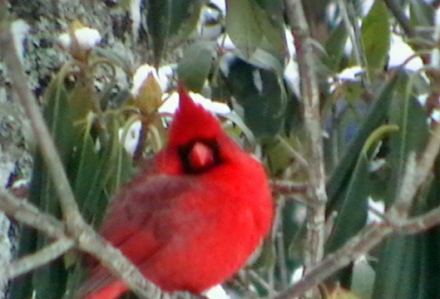 Beautiful cardinal in the snow. Photo by Steve Murphy.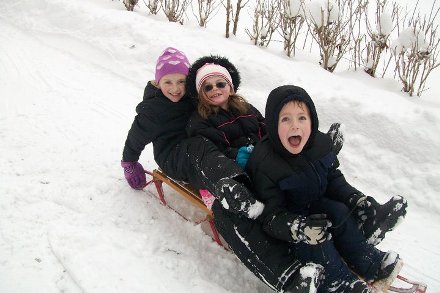 Gavin, Sammy and Reagan on one of many sledding adventures!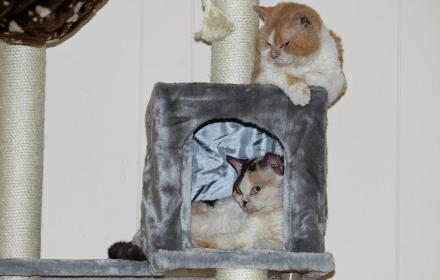 Samson (top) and Delilah seem to be enjoying their new kitty tower.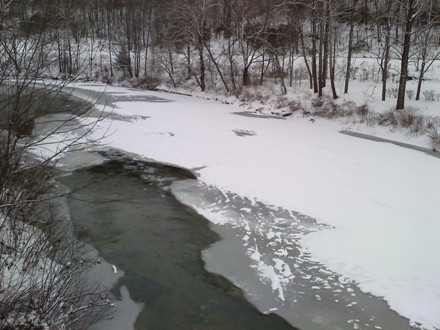 This photo was taken by Scott Hughes on Lower Doe Bag in Double Island on Monday.
| | |
| --- | --- |
| | Madison Charlton harvested this doe while hunting with her dad on the last day of deer season. |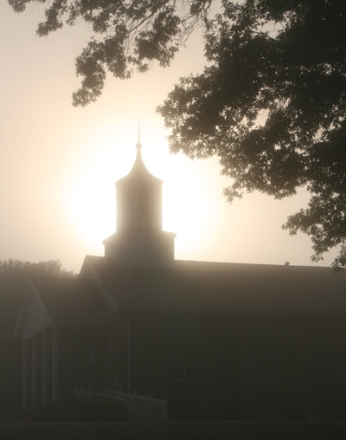 Cane River Church at sunrise. Photo by Toni Jobin.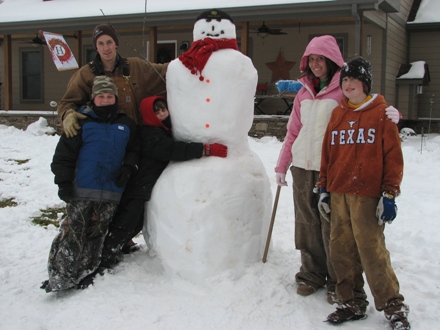 Colby Presnell, Keaton and Kason Hall, Haley and Corey Presnell had fun building this good looking snowman.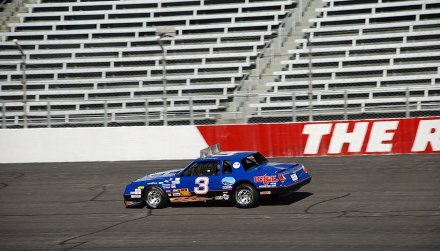 The WTOE race car on the track for practice at Rockingham. Greg Grindstaff, driver of the car reports, "We qualified a very respectable 12th place at 120.789mph out of 54 cars. At the start of the race we just settled in and tried to stay out of trouble and log laps. We had a few cautions early but were nowhere near the accidents. We were running 7th when the caution came out around lap 60 and the car lost power under caution. The car was pushed into the pits and we changed ignition module and it still wouldn't fire, then we changed the ignition coil and it fixed it, but we were 21 laps down. After returning to the track we were passing cars left and right and I was having a ball. The car was very fast and a real joy to drive. The end result was a disappointing 28th place finish. I know without a shadow of a doubt that if we hadn't had ignition trouble we would have had a top 10 finish easily. All in all it was a decent outing for us, we completed the race, we had a very competitive car, had fun and didn't put a scratch on the car. I had 3 goals for the race: have fun, bring the car home in one piece and a 15-20th place finish,,,, I guess 2 out of 3 is not all that bad since it was my first race on a speedway at that kind of speed. I also want to take this opportunity to thank all of our sponsors, WTOE, Gregs Speedliner Spray-in-Bedliners, Carolina Sign Source, Helens Restaurant, Spruce Pine Tire, and a special thanks to Royal Plaza Motel in Rockingham for giving us a couple of rooms for Friday night.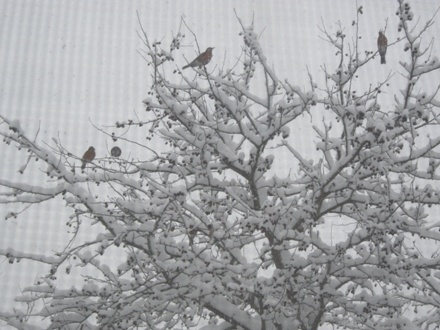 Tyrina Garland took this photo Friday at her home on Indian Creek. She said there were about 30 robins in this tree!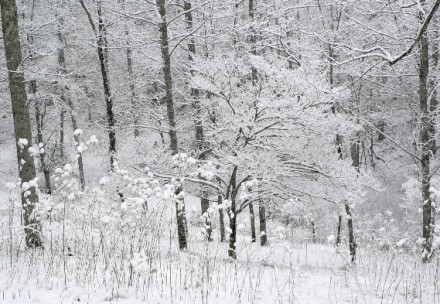 Linda Brown took this photo Friday evening.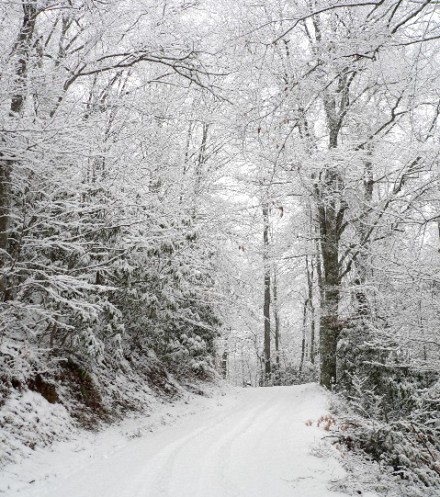 Snow, snow and more snow. Linda Brown took this picture Friday evening.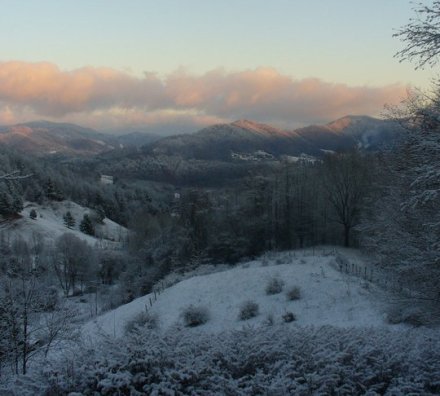 January 6th snowy sunrise taken by Jessica Ayers Jones from her deck at the head of Baker's Creek Burnsville.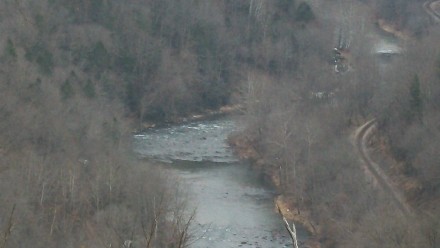 Larry Gortney took this photo of the Toe River as seen from Sunset Mountain.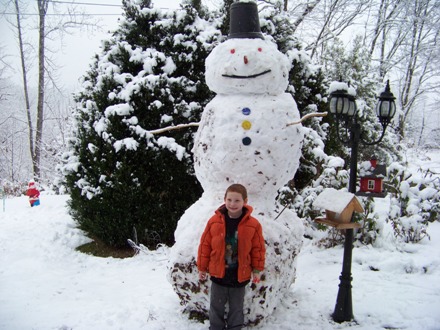 Caleb Morrissey stands beside a snowman built at the home of his Great Grandmother Betty Jones on Christmas day.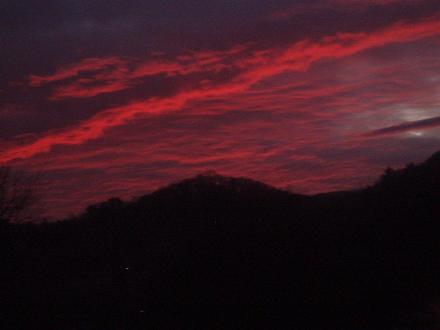 Peggy Bailey took this photo Tuesday morning January 4th...red sky in morning....could be sailor's warning...



Yancey County Humane Society Director Tim Tipton and President Jane Mummert accept a generous check from In The Garden's Steve Bessonette as In The Garden's Steve Spinks looks on. In The Garden hosted a fundraiser to help homeless animals on December 17th.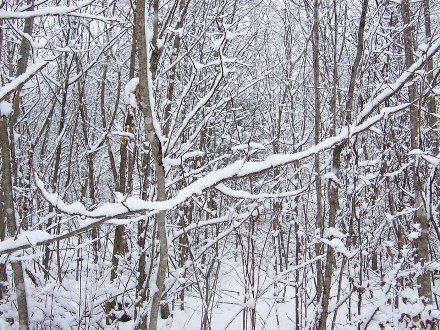 One more view of God's artwork over Christmas weekend. Photo by Linda Ledford.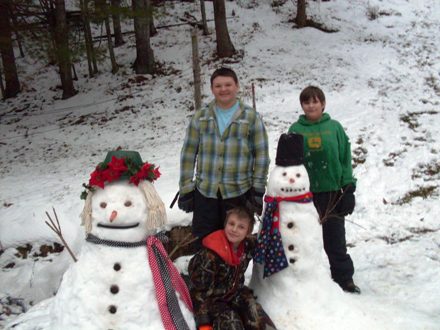 Gotta do something with all the snow! Charlie and Mason with the help of their creative Nen, and friend Dakota made Mr Snowman and Mrs. Snowlady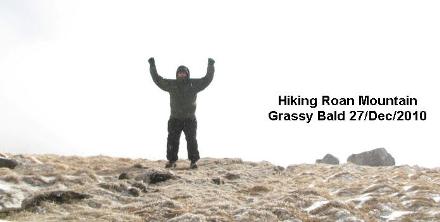 Shane Mickey hiking Roan Mountain.
| | |
| --- | --- |
| YCHS Director Tim Tipton accepts a generous $50 donation from Izzie Davis. Izzie came by the shelter to donate the money she had received as a Christmas gift. Saying, "I want to help the animals." | Merry Christmas from Hailey and Hannah Stafford! |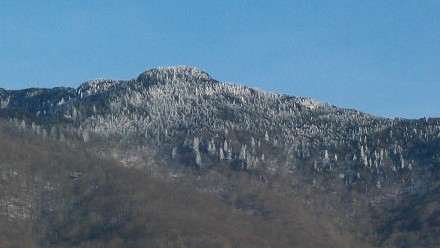 Picture of Roan Mountain from Buladean, photo by Larry Gortney of Red Hill.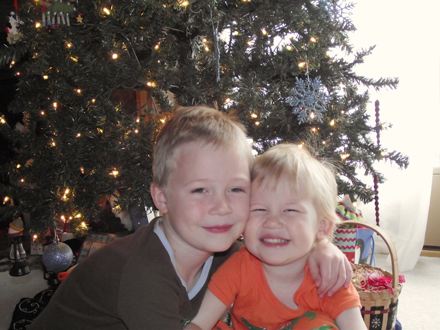 Connor & Hudson Fender…ready for Santa!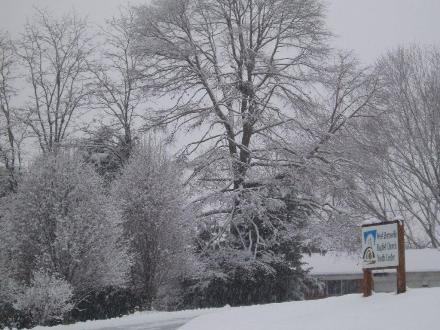 Peggy Bailey took this snow photo near West Burnsville.
| | |
| --- | --- |
| Wyatt Fender and Addison Long's first Christmas. | Teagan Alanna Boyd turned 3 on December 14th. Teagan is the daughter of Peyton and Monica Boyd. Photo by Brian Street. |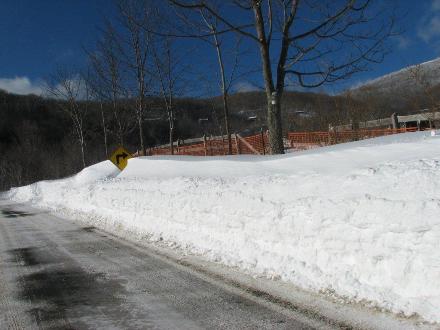 Floyd Miller got this picture of a Roan Valley snow drift last week.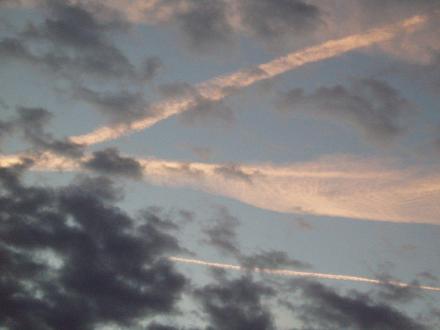 Peggy Bailey got this picture of the morning sky a few weeks ago.
| | |
| --- | --- |
| This little ball of energy is named Charlie. He is captured here wrecking havoc on the Presnell house. | |
| | |
| --- | --- |
| Bella Hughes is the daughter of Chris and Casey Hughes. She turns one on December 26. | Happy 16th Birthday Jeffrey Gortney! Jeffrey turned 16 on 12/15. |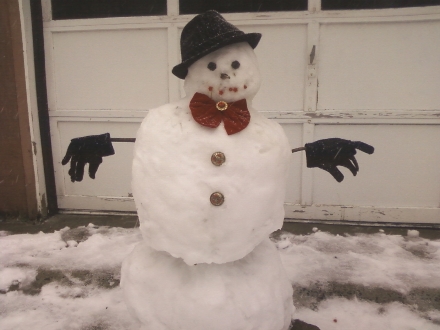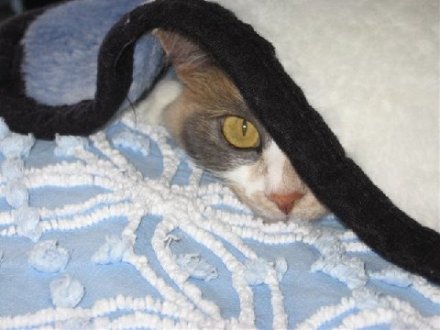 As cold as it is you can hardly blame Nellie for not wanting to come out from under the blanket.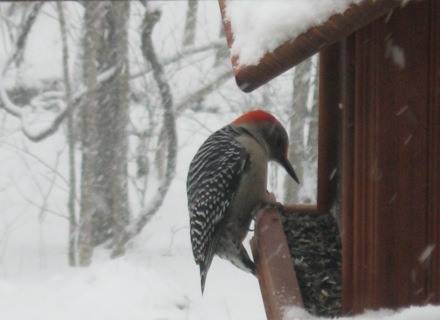 Tina Matelski sent us this great photo of a woodpecker having dinner during the bad weather.

Norma Williard was honored at the CAP/DA Christmas party for 13 years of service with the Toe River Health District as an in-home-aid. She was presented with a plaque of recognition.

Olivia's first picture with Santa Claus!

We welcome your photos! send to holly@wkyk.com



Yancey County Cap-DA Christmas Party held at the town center 12-7-10.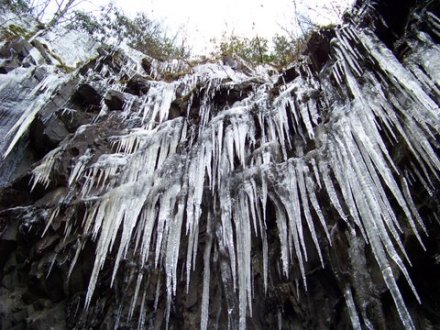 Icicles on the Parkway taken by Tammy Loftis. For another view click here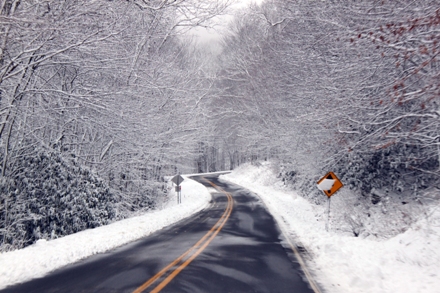 Taken 12/12/10 of Schronce Creek, by Jennifer Fender.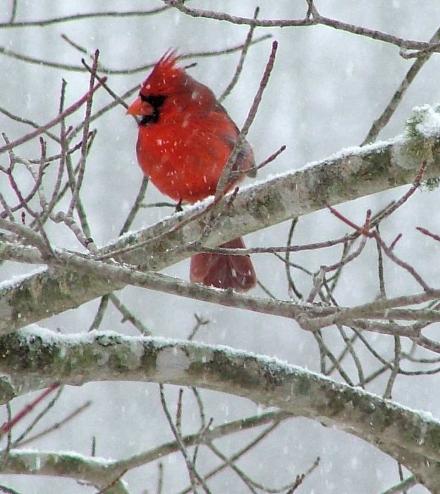 Wow. A picture doesn't get much better than this. This great photo of a cardinal in the snow was taken Sunday by David Grindstaff.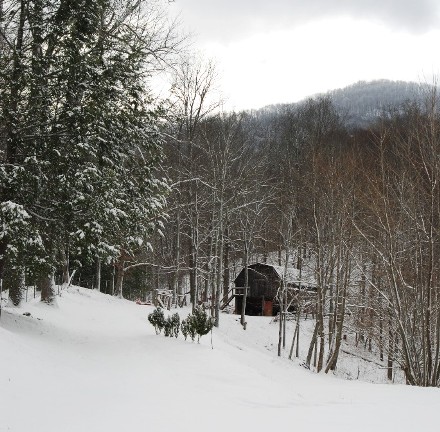 Looks like a Christmas card! Linda Brown took this picture on Sunday, December 5th at her home in the Green Mountain area.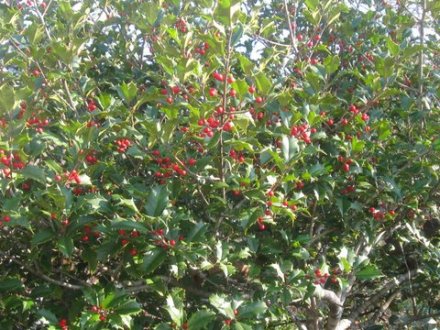 Neil Pittman sent us this picture of a holly tree.
| | |
| --- | --- |
| Clarice Murphy took this photo of a "perfect" coral colored rose, a few weeks ago while visiting family in Georgia. | Alex Stevenson and her dog, Avery pose for a beautiful fall picture at their farm on Cane Creek. Photo by Kathy Garland. |
| | |
| --- | --- |
| Happy Birthday Maycee! Jennifer sent us this photo of Maycee's 5 year birthday celebration. | Monster potato. Phyllis sent us this picture of a 4 pound 6 ounce sweet potato! |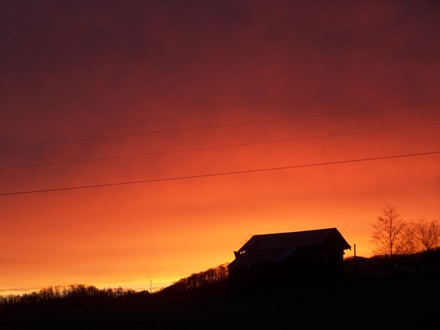 Angie Brown Anglin took this photo of a sunrise back on November 18th.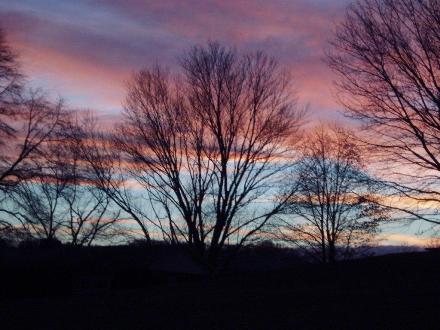 Sunset over Burnsville November 21st. Photo by Peggy Bailey.

Bruce Chuvala, a long established fixture at the Parkway Playhouse, is set to head a cast of 30 for the Parkway Playhouse's production of A Christmas Carol, running December 16-18. In this archival photo Bruce, who has overseen the technical direction and scene shop of the theatre for decades, is working on the repairs of a set.

Haley Atkins having a good time in Galinburg...and look who she ran into on the street...could it be Santa?




We welcome your photos! send to holly@wkyk.com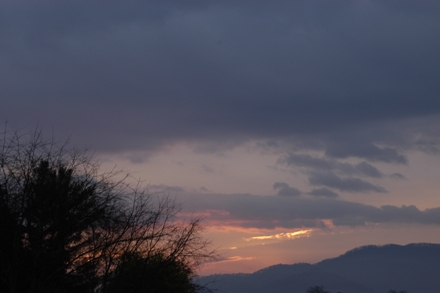 Calvin Campbell took this photo of the sunrise over the mountains.

For More Photos, click here


Click Here To Visit Our Sister Radio Station


This page was last updated on Wednesday, 26 January 2011 12:39 PM