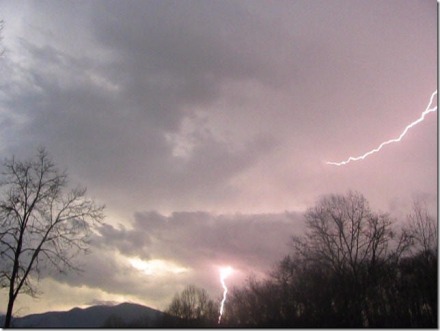 Lightening caught overlooking Celo area from the Newdale side. Photo by Kristy Daniels.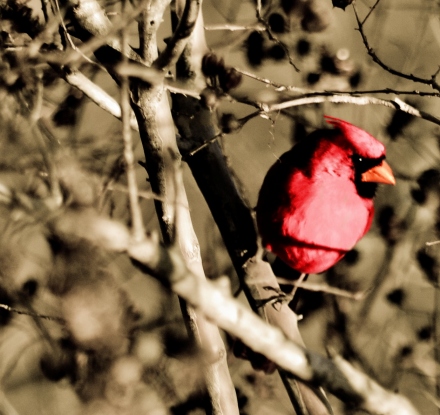 Marc Whitson took this picture recently of a beautiful cardinal.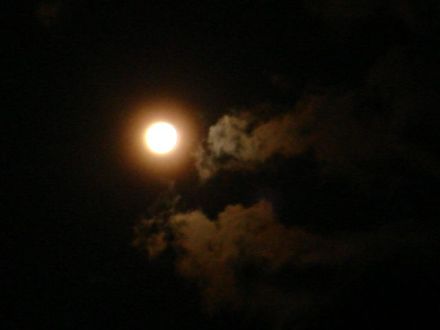 Brenda Wilson took this beautiful picture of the moon back in March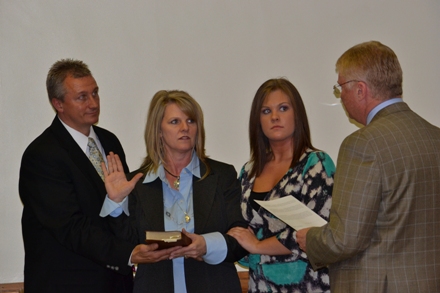 Tammy McEntyre was sworn in as the new Yancey County Clerk of Superior Court last Thursday, March 30th by Superior Court Judge Phil Ginn (right). McEntyre's husband Darrin and daughter Celeste were also at the ceremony. McEntyre was appointed by Ginn to replace retiring Clerk of Court Warren Hughes. Photo by Marc Whitson.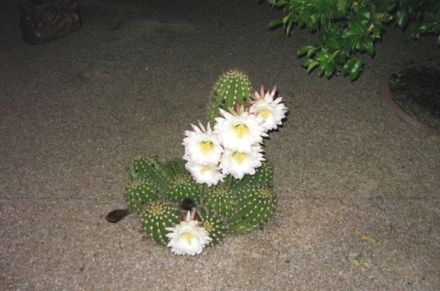 You probably weren't expecting to see a cactus! This was sent to us by Reg Bezzola and Beth Wyatt of a cactus that only blooms once per year in Sun City, AZ. They were lucky enough to be there when it was blooming this year and send the picture along to us.



Flowering trees are beautiful signs of spring. Photo by David Grindstaff.
Jan Michael Riddle graduated from BLET at Catawba Valley Community College on February 24th.
He was given the Arthur H "Ott" Dellinger Leadership award by his fellow classmates for outstanding leadership in the class.
He also received "The Stacey Speagle"award for having the highest state test score on the final exam.
He received the "Tim Duncan" award from Mayland Community College where Tim was the BLET instructor and police officer with Marion when he died in a tragic accident 2 years ago. Tim's widow Jamie chooses the recipient of this award.
He was also given a "Gold Award in Career Readiness" for his applied skills in Mathematics, Reading and Research.


Jan Michael graduated from MHHS in 2002 and attended Western Carolina University graduating with a Bachelor in Psychology degree.
He lives in Hickory, NC with his wife Jennifer and plans on building a career in Law Enforcement, including SBI.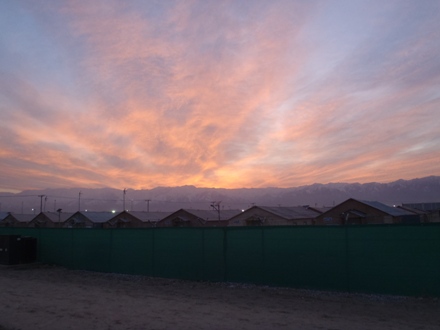 Howard Cox, a native of Mitchell County sent us this photo from where he is stationed in Bagram, Afghanistan. Beautiful photo, thank you Howard! Our thoughts and prayers are with Howard and all of the fine military personnel who are serving us all.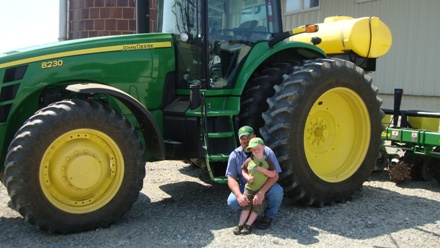 Adam McCurry Yancey County Cooperative Extension technician and his son Levi McCurry at NC A&T University Small Farms week Celebration in Greensboro NC.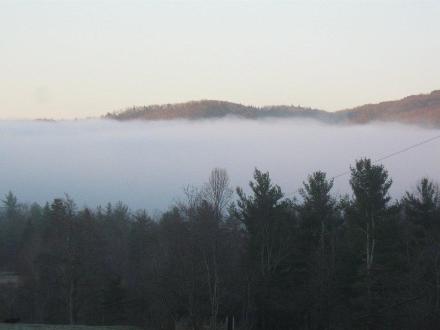 Shirley Pittman took this photo of the fog looking toward Little Switzerland mountain on the morning of March 17th.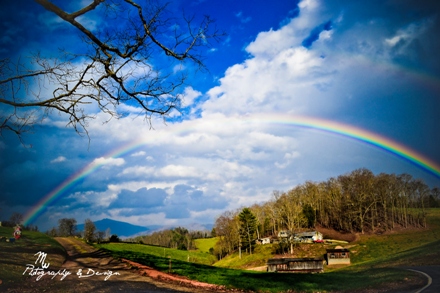 Marc Whitson took t

his photo on Peterson Branch in the Green Mountain Community March 23rd during the quick showers before the big storm that rolled through that night. If you look in the top right above the rainbow, you can see a double rainbow forming.
| | |
| --- | --- |
| Happy 1st Birthday to Callie! She is the daughter of Jason and Melanie Bennett and little sister of Carter. | Bianca Gracie Redden celebrated her birthday on Sunday 3/27/11. Bianca has a big brother Bryson Chase, Bryson & Bianca's parents are Bud & Tiffany Redden, grandparents are Darrell & Janie Fender and Betty Redden. We would like to all wish Little Miss Bianca a Very Happy 2nd Birthday!! |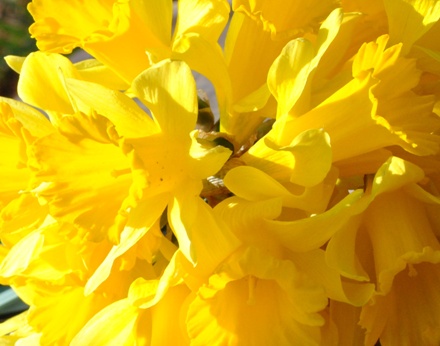 Rachel Silver took this photo of her grandmother's beautiful yellow daffodils.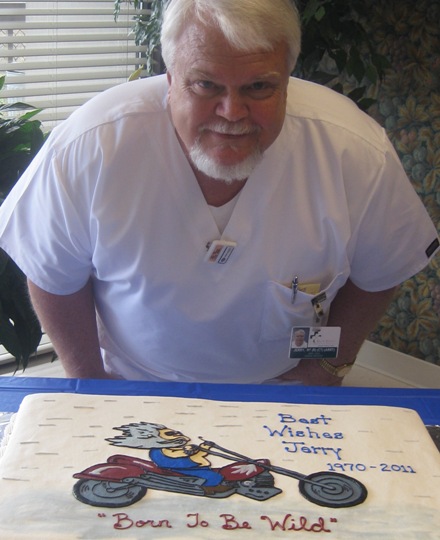 Recognize this guy? A lot of people do. Jerry Cook is retiring after 40+ years at Blue Ridge Regional Hospital in Spruce Pine. The staff held a big celebration party to honor him on Tuesday, March 22. A crowd of friends, family and fellow employees gathered to wish him well. Lots of us know Jerry as "the really nice, friendly guy" in the CT Scan and Nuclear Medicine Department.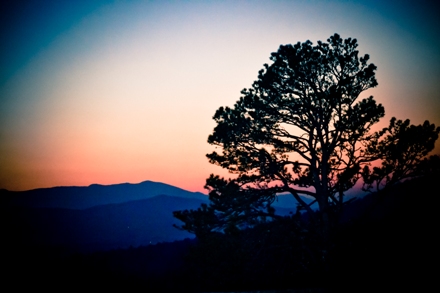 Marc Whitson took this in Mitchell County from Bear Den Overlook on the Parkway of the beautiful sunset.



Keeping warm isn't always easy! Underneath that cover is Stitch, Kathy Garland's Boston Terrier.
| | |
| --- | --- |
| | March 18th is Kirstin McCurry 's birthday. She is wished a very special wonderful birthday from her sister, Kaitlin. |
Spring or Winter?

Tammy Loftis sent us this picture to let us know it is still winter on Seven Mile Ridge this morning (3/15)!
Sgt Daniel Brown, USMC and Mrs. Samantha Brown of New Bern, NC wish to announce the birth of their daughter Emery Rose Brown. Emery was born at 6:15pm on Feb. 27th, 2011 at Carolina East Medical Center in New Bern and weighed 6lb 9oz and was 19in long.
Sgt Daniel Brown is a native of Burnsville and graduated from Mountain Heritage HS and 'mom' Samantha Brown is from Bakersville. Daniel is stationed at Camp Lejuene with the 3/10 Marine Batallion and has served 3 tours in Iraq & Afghanistan.
Emery is the maternal granddaughter of Chris & Alisa Ayers, and the maternal great-granddaughter of Lucy Greene of
Bakersville.The paternal grandparents are Ricky and Nancy

Brown of Burnsville and Jacquelyn Buchanan of Ft. Lauderdale, FL; and the paternal great-grandparents are Dean and Keta Brown, and Nancy Stiles all of Burnsville, and the late John R. Buchanan. Zella Ayers Of Bakersville is a maternal great grand mother.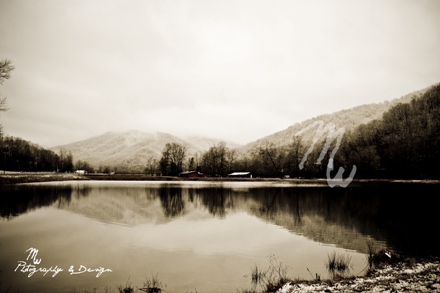 Marc Whitson took this beautiful black and white photo of the snow on the mountains this past Sunday afternoon at the ponds at the head of Pensacola.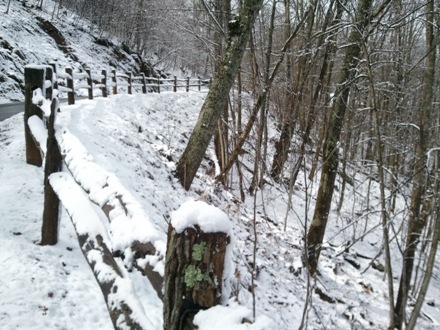 Some areas of the county had more snow than others this past Sunday and Monday. This shot, taken at Mountain Air, shows about three and a half inches.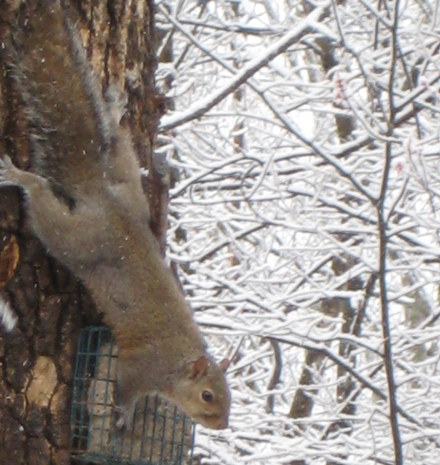 Cynthia Blood captured this little guy out in the the snow Sunday!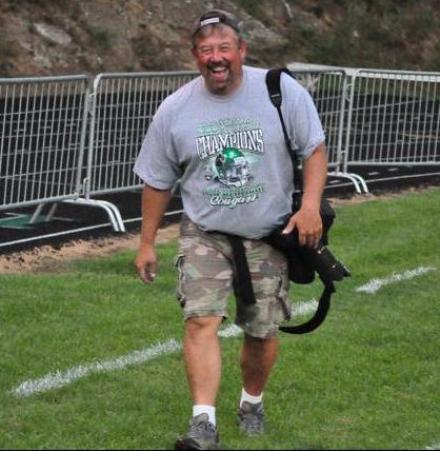 David Phillips, camera in hand and on the field at Mtn. Heritage.
Mrs. Blanche Slagle Stanley turned 97 years young February 14th, Valentines day. She was honored by family and friends with a birthday party, at Western Sizzlin Steak House in Spruce Pine. Family in attendance were three of her nieces, Lola Morales of Columbia, SC, Helen Candler, Shirley Pittman and husband Neil of Spruce Pine, Rev. & Mrs Charles Morales, Jessie and Nathan of Raeford, N.C, Rev. Michael Morales of Columbia, S.C, Gary Kivette and other friends and fellow church members.

She is very active in her church, Mountain View Missionary Baptist, where she is church treasurer and
has played the piano for over 70 years. She said she learned

to play the piano, taking lessons through the mail, for 25 cents a lesson. She has a sense of humor that will warm your heart and keep you laughing .She gives God all the glory for her long life and goodness to her. Her family and friends LOVE her and pray God will give her many more happy birthdays.



Beautiful sunrise taken recently by Calvin Campbell.
| | |
| --- | --- |
| | Erin Green-getting bundled up for a cold weather walk. Erin Lives in Bakersville. Photo by Kathy Garland. |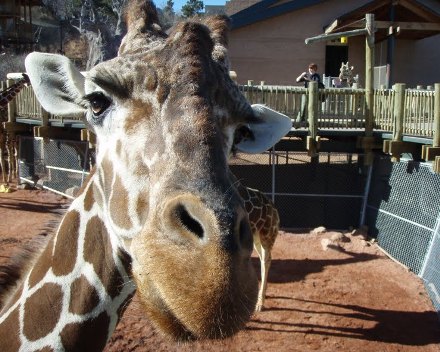 You never know what kind of picture you'll see...isn't this a cutie? This was sent in recently from one of our website lovers.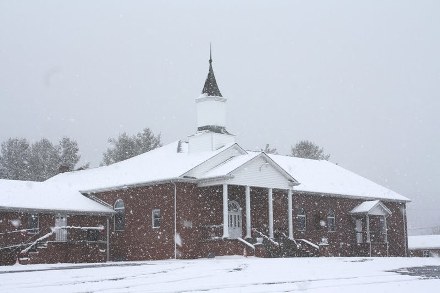 West Burnsville Baptist Church in the snow. Photo by Sharon McIntosh.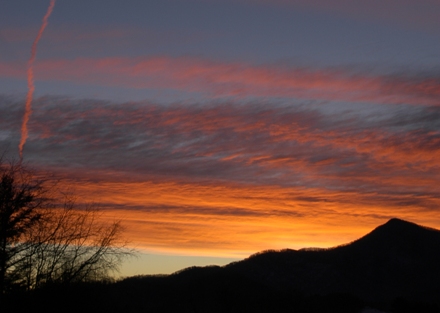 Calvin Campbell took this picture recently of a beautiful sunrise. Notice where an airplane went through on the left.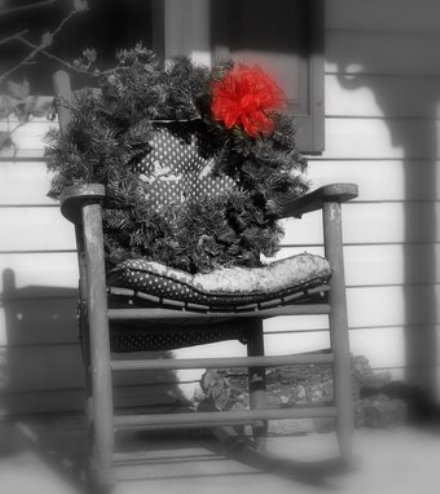 Black and white photo with touch of red by Kathy Garland.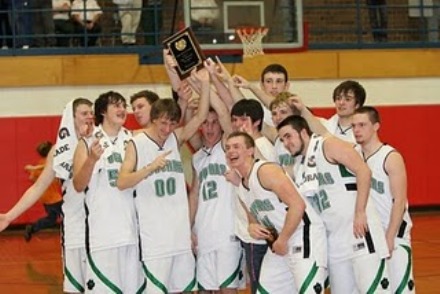 Mountain Heritage Cougar boys won the Western Highland Conference Championship Friday night, February 18th.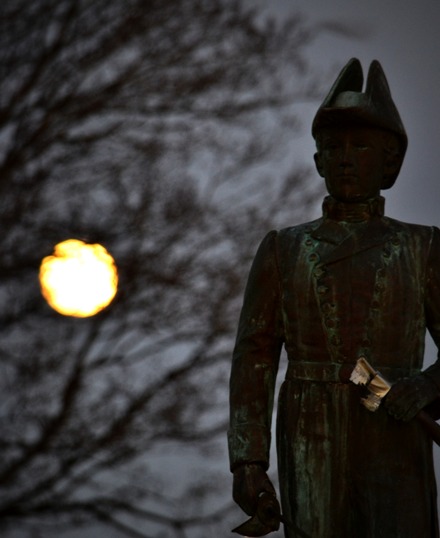 What a great picture with a beautiful full moon behind Otway Burns on the Town Square. Photo by Marc Whitson.



Fog, looking at Bolens Pyramid. Photo by Cynthia Blood.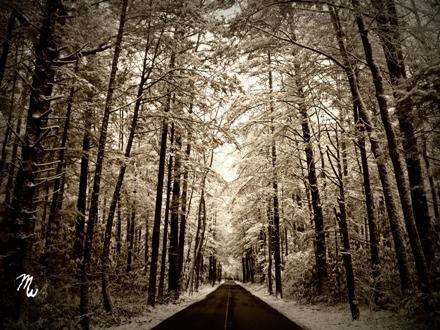 Love this dramatic black and white photo taken by Marc Whitson during one of the recent snows.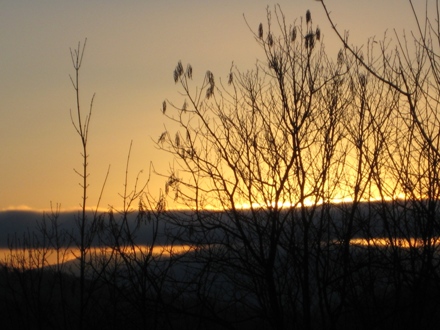 Cynthia Blood took this photo of the sunrise over Burnsville on February 6th.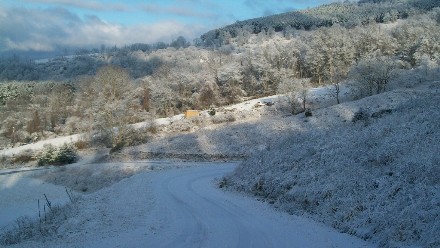 No, this wasn't taken Friday morning, and its not ice but snow. This is from a few weeks ago when the sun filtering in over the snow on Sunset Mountain in Red Hill made for a pretty photo, taken by Larry Gortney.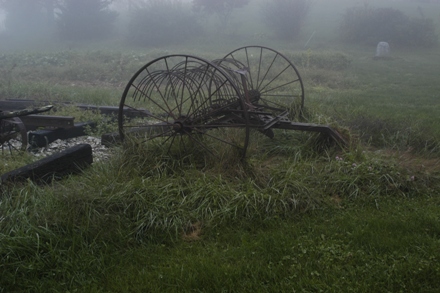 Calvin Campbell took this picture at Calvin Hall's farm in Spruce Pine last year during the Jacksonville Camera Club's outing.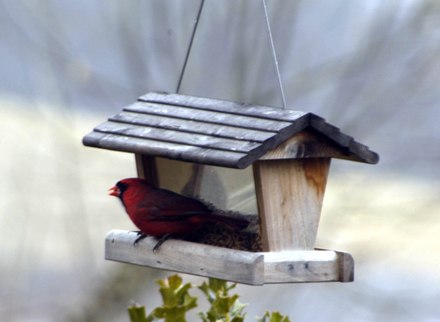 Look close, Calvin says "Big Red" is eating breakfast and has a seed in his mouth. Photo by Calvin Campbell.
First

Birthday

Wyatt Fender celebrated his 1st Birthday on 1/26/11! Happy Birthday Wyatt!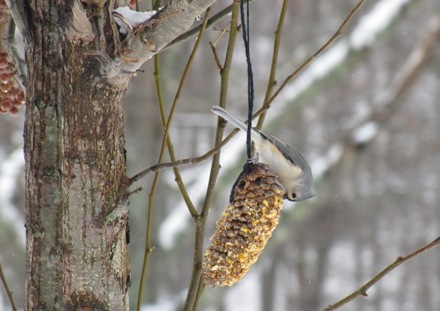 This is a pinecone bird feeder the children in Beth Deyton's first grade class at Clearmont Elementary made. Maci Drew Fox hung this outside and as you can see the birds have loved it!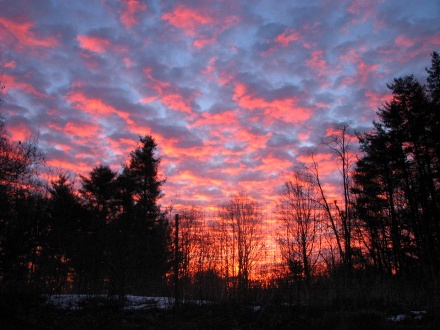 Shannon Roberts took this photo last Thursday the 20th of the beautiful sunrise.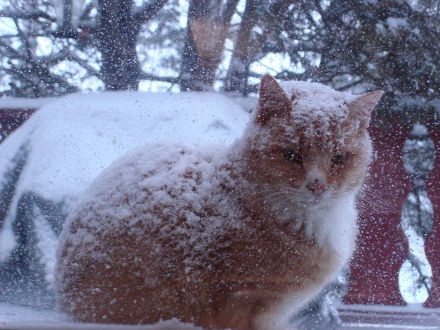 No more snow, please! Photo by Brenda Wilson.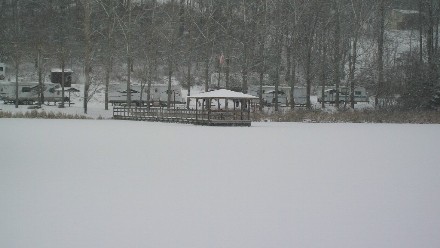 Saylor's Lake frozen over ,photo by Larry Gortney of Red Hill.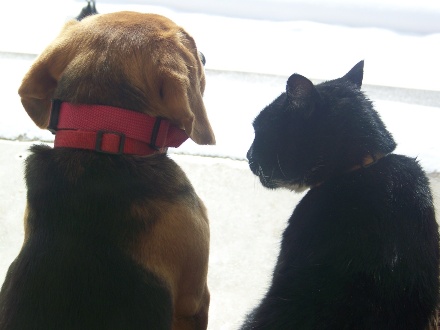 Wow, that was some snow storm, huh?...Jeanne Proffitt caught these two taking in the situation.
For More Photos, click here


Click Here To Visit Our Sister Radio Station


This page was last updated on Friday, 10 June 2011 09:23 AM