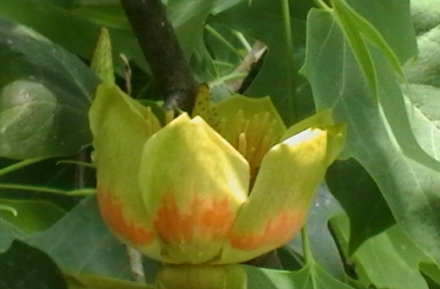 Beautiful maple tree flower. Photo by Steve Murphy.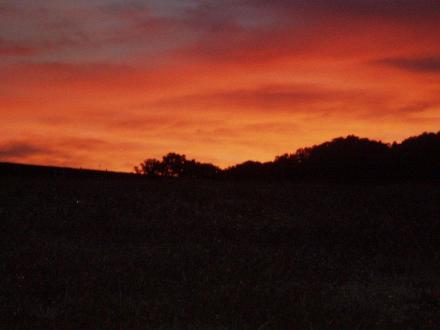 Peggy Bailey captured this picture of a beautiful sunset back in July.



Notice something missing? The hummingbirds! They are having a hard time getting to this feeder because of all the--look closely--the bees! Photo by Patsy Graham.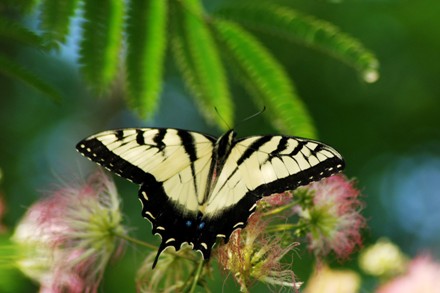 Linda Brown took this photo of a Tiger Swallowtail butterfly on her mimosa tree. To see more of Linda's photos click here..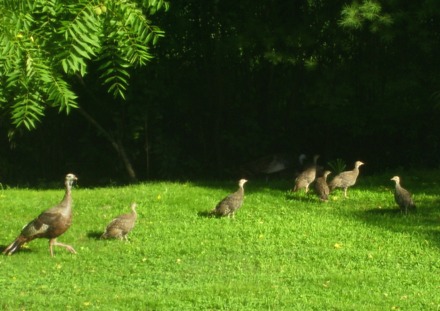 Taking the family out for a stroll....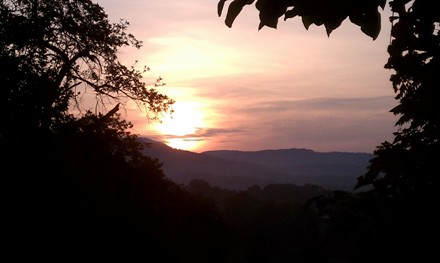 Debbie Phillips took this photo back in July of the sunrise over Burnsville.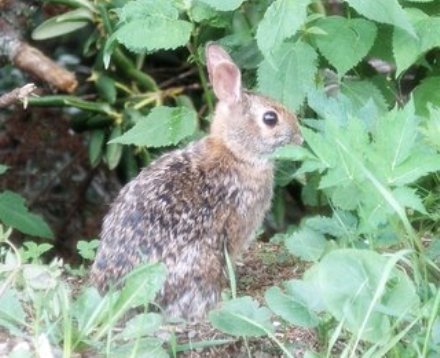 Kathy Garland captured a photo of this little fella.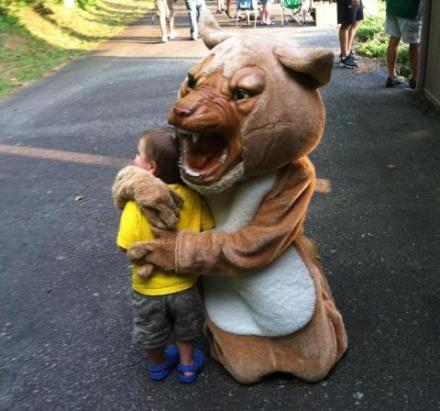 Cougar fan Myles Roland shares some love with the Cougar mascot at last Friday night's game.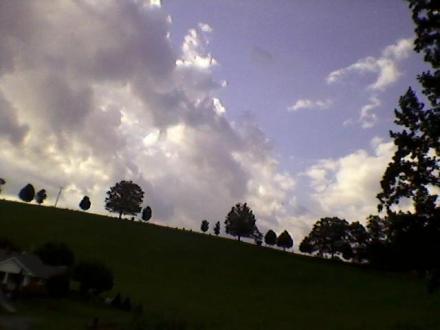 Picture taken atop Horton Hill in Green Mountain by Matthew Peterson.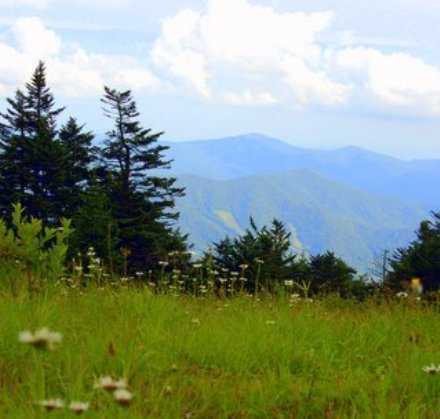 Beautiful mountain view. Photo by Kathy Garland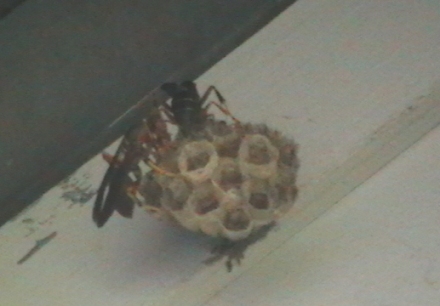 Steve Murphy took this photo of a wasp building its nest.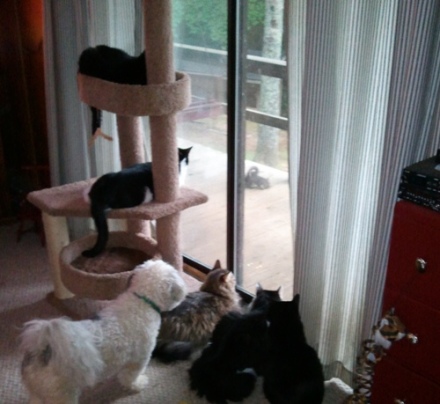 The squirrel performs on the porch for the audience in the house. The glass was a hindrance or the audience would have really eaten this one up! By the way, all these guys are "rescues".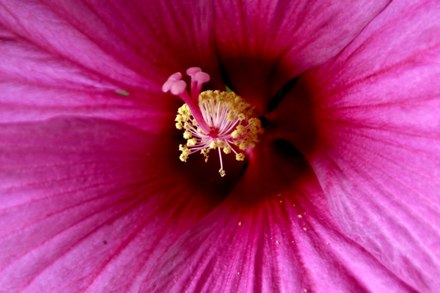 Calvin Campbell took this close up picture of a lily.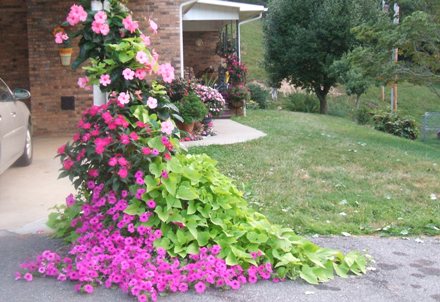 Some of the many summer flowers at Charlie & Helen McCurry's.Photo taken by Charlie McCurry.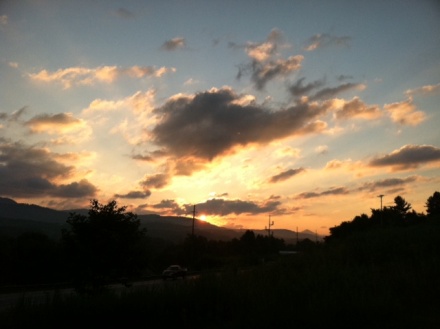 David Dayton took this picture recently of the sunrise over Burnsville.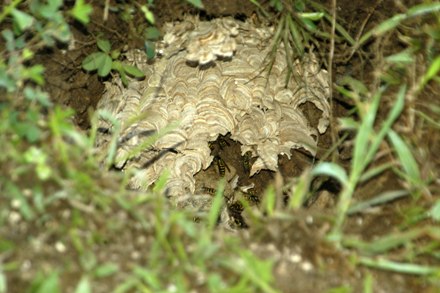 Calvin Campbell took this picture of bees in his yard.Look at the left, it looks like a fox's face.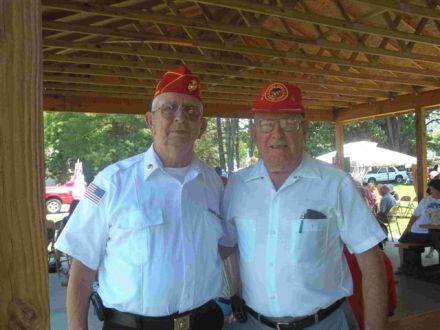 Marines meet after 54 yrs. Aaron Holtsclaw and William(Bill) Turner were Sgts together in Japan in 1957. Turner went on to OCS school and Pilot training and flew 286 mission over Vietnam and was shot down twice and retired as a Colonel after 32 yrs in the Marine Corp. Aaron spent 10yrs in the Corp. They met at the 4th Celebration in Bakersville.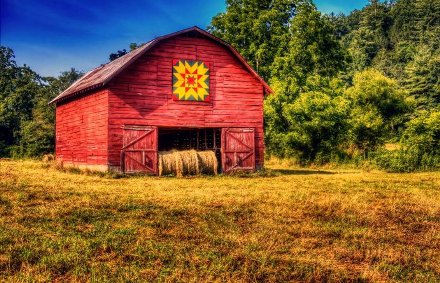 Jason Penland took this picture on Prices Creek of one of the many quilt squares.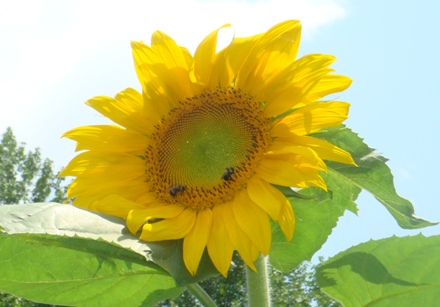 Beautiful sunflower with a couple of little visitors. Photo by Christy Edwards.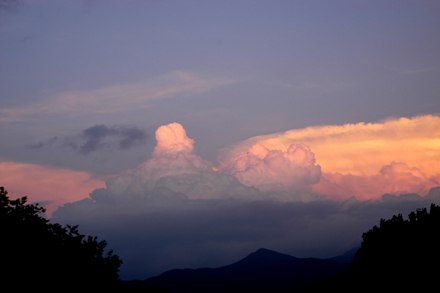 Calvin Campbell, "the Peanut Man" took this beautiful "cotton candy" cloud picture Monday evening, August 1st.
| | |
| --- | --- |
| Olivia Wynter Hennessee celebrated with a big party on Saturday. Her first birthday is August 3rd. She is the daughter of Tressa and Shannon Hennessee. | One of many beautiful roses here at the radio station. |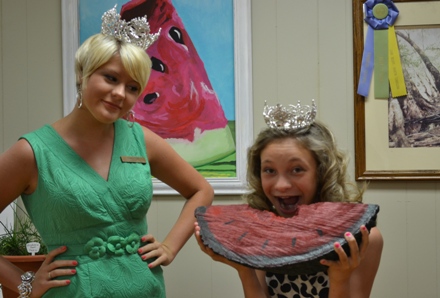 Rhododendron Queen Laura Page and Jr Rhododendron Queen Chloe Hollifield attended the Fair Bluff Watermelon Festival July 22nd & 23rd in Fair Bluff, NC.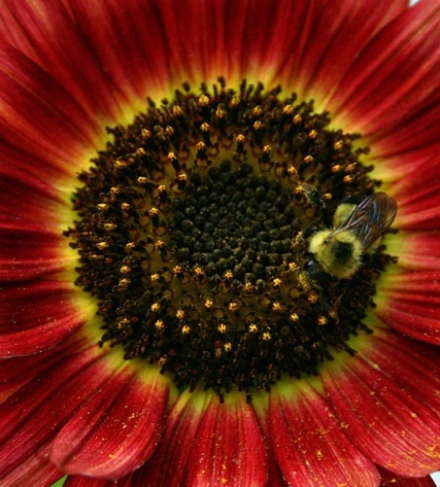 David Grindstaff captured this photo last week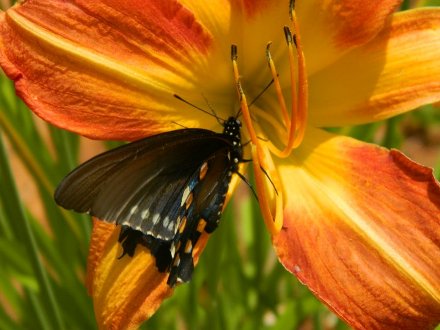 Jordan Warren took this beautiful photo outside her home on July 15th.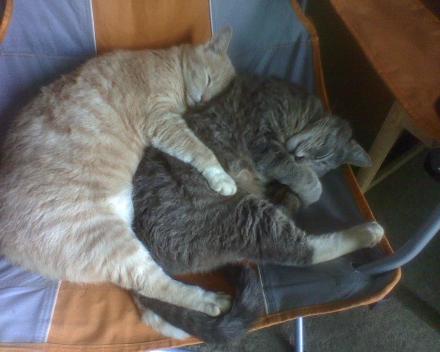 Blondie and Razzle Dazzle curl up for a snooze.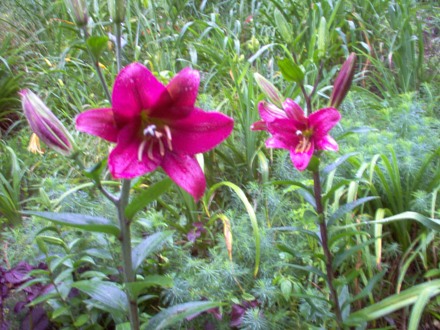 Mildred Renfro took this picture in her flower garden.
| | |
| --- | --- |
| Happy Birthday to two best buds! Adrian Mathis celebrated his birthday on July 1st 2011 at South Toe Pool with family and friends and John-Claude Charlton celebrated his birthday on July 6th at Toe river Campground with his family and friends! | Miguel Cruz with his 12' 4" sunflower. And...according to Miguel it is still growing! |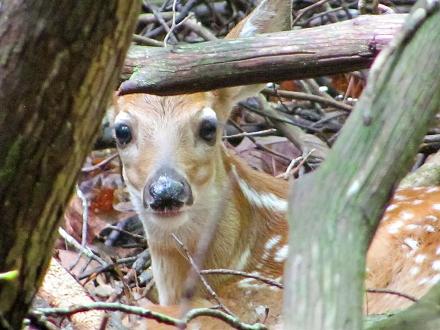 Tracy Brewer got this picture of a little deer a few weeks ago when she was target shooting at Triggers, Traps and Trout shooting range.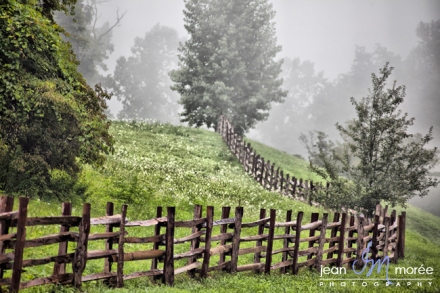 Jean Moree snapped this lovely photo recently.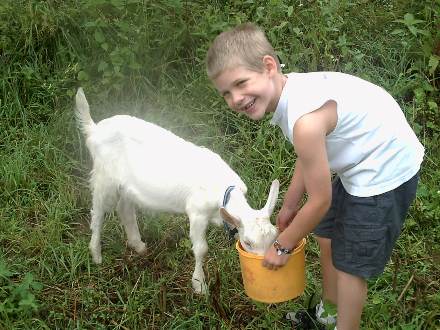 Noah Banks at his pawpaws feeding one of the goats. For more pics of the farm family click
here
and
here.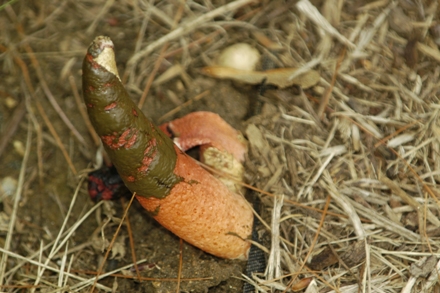 Calvin Campbell sent us this picture of mutinus elegans stinkhorn that came up in his yard after a rain the other day. One of our readers sent along this additional info:
Mutinus elegans, commonly known as the elegant stinkhorn, the dog stinkhorn, the headless stinkhorn, or the devil's dipstick, is a species of fungus in the Phallaceae family. A saprobic species, it is typically found growing on the ground singly or in small groups on woody debris or leaf litter, during summer and autumn in Europe and eastern North America. The fruit body begins its development in an "egg" form, resembling somewhat a puffball partially submerged in the ground. As the fungus matures, a slender orange to pink colored stalk emerges that tapers evenly to a pointed tip.
It is actually edible, though most people do not desire to eat it. REMEMBER, never eat a mushroom without checking with an expert! Many mushrooms look alike and are poisonous! It can also be a nuisance because of the insects it attracts.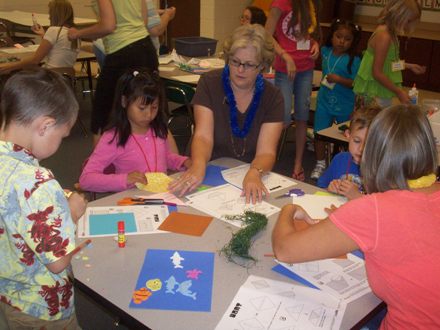 Communities in Schools Volunteer Sherri McKinney works with Josh Holtzclaw, Daisy Campos, Jayson Hollifield and Danielle Queen at this year's Summer Enrichment Program at Greenlee Primary School. The program brings reading, art and other enrichment activities to k-third graders from around the county with the help of volunteers from the community and Mitchell High School students. Communities in Schools sponsors the program in partnership with The Community Foundation of Western North Carolina, The Penland School of Craft and Mitchell County Schools.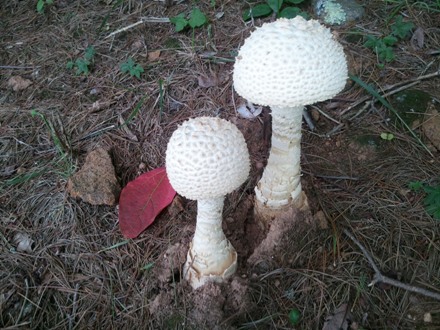 Took this picture on the side of the road earlier this week.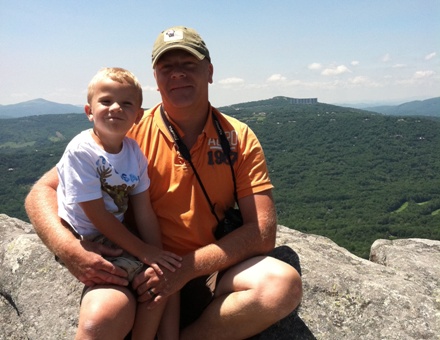 Darrin and Jaxon Simpson pose on a beautiful day at Grandfather Mountain!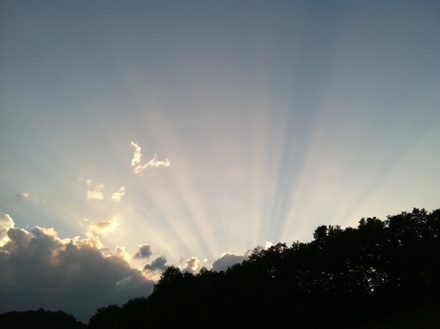 TJ and Brinkley Fox captured this inspirational sunset from Micaville via cell phone on July 9th.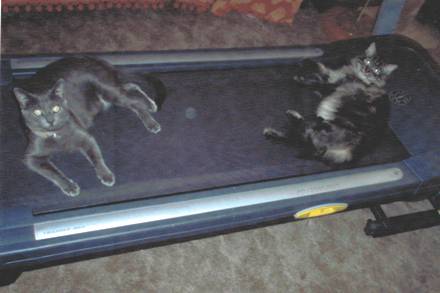 Is this what has happened to your treadmill...the one you were going to walk 5 miles on every day? This one has turned into a wonderful resting place for Charlie (left) and Smokey. Photo by Mildred Renfro.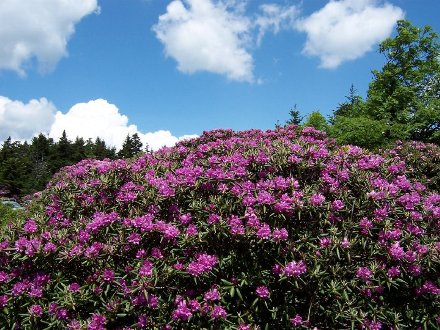 Linda Ledford recently took this photo of a beautiful rhododendron bush.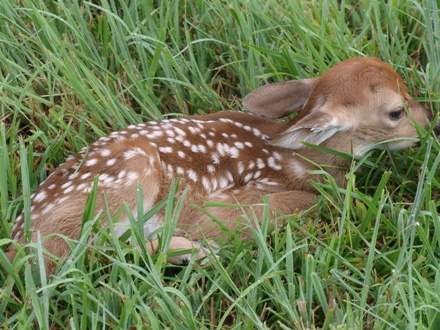 Jeremy Atkins took this picture recently of a very young little baby deer.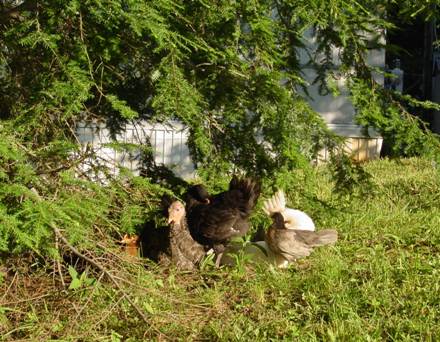 Look close and you'll see this is a wild turkey, a couple chickens and a duck! Vicky Hoilman caught this group out for an excursion.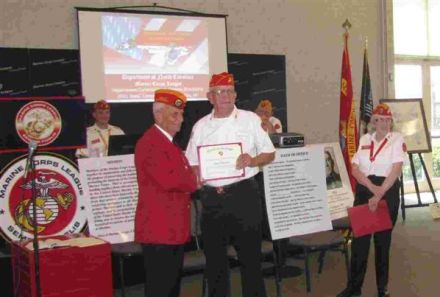 A.G.Holtsclaw Commandant of the Mt Mitchell Detachment of the Marine Corp League is shown receiving the Distinguished Service Award from the State Commandant Dennis Brockland.

| | |
| --- | --- |
| This little baby rabbit recently survived his harrowing experience of falling into a swimming pool. He was rescued, warmed up and is happily back with his family. | Kai Matthew Bena, of Burnsville, being very patriotic for this year's fourth of July. |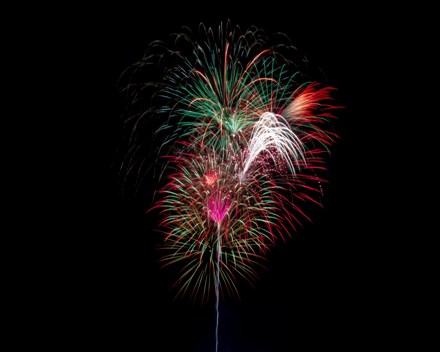 Jason Penland took this picture at the fireworks in Burnsville Saturday night.

For more 4th of July celebration pictures, click here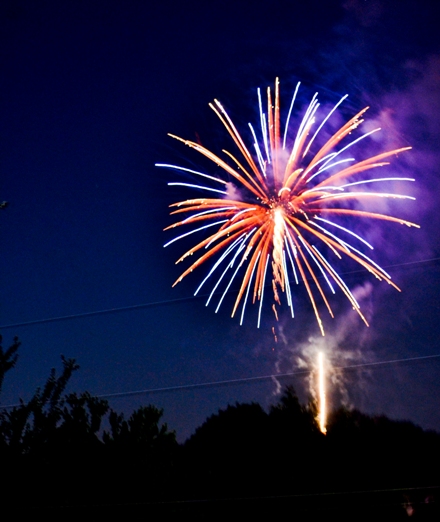 Marc Whitson took this picture at the Mitchell County fireworks on Saturday night.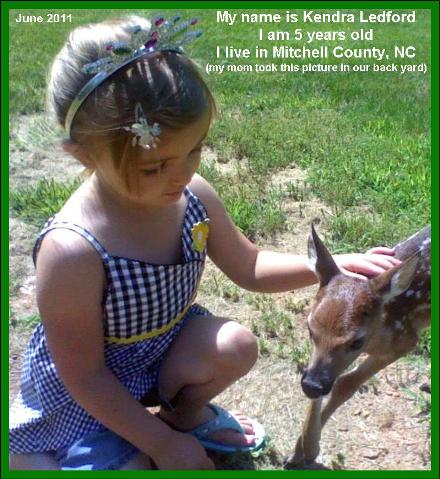 | | |
| --- | --- |
| Bobby Hicks with granddaughter Anna. | Roses outside of WTOE studios. |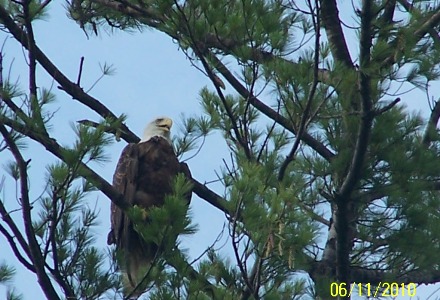 Tammy Ramsey took this photo on June 11th. She says "There are currently 3 Eagles on Lake James, and a large nest with possible more ready to view. If you are on the water take time to stop and see these beautiful creatures."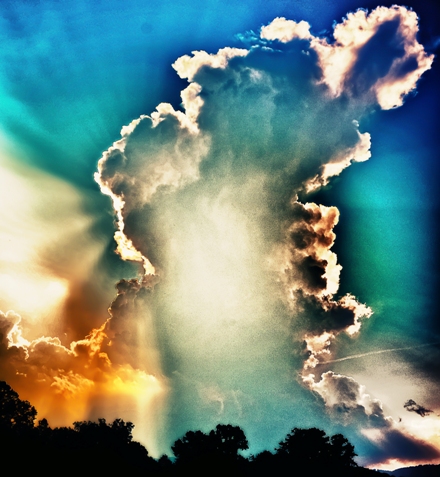 Remember those outstanding cloud photos we had last week? (see below if you don't), This is Marc Whitson's version of the event. Outstanding cloud photos, click here



Camp Funshine has been going on this week at Patience Park. Dolly Parton (Tina Hall) and Kenny Rogers (Jeremy Atkins) were there. Tuesday 21st.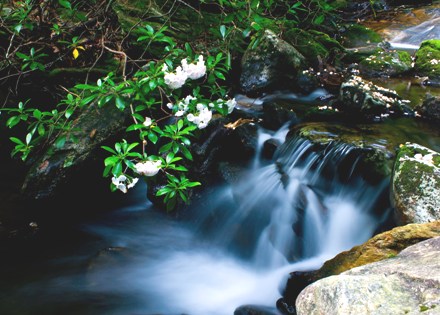 Jason Penland took this photo near the Blue Ridge Parkway of mountain laurel handing over a small cascade.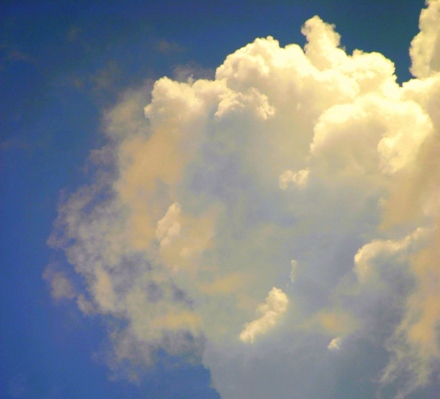 David Grindstaff took this photo of a beautiful thunderhead. More great cloud pictures (new ones added) click here.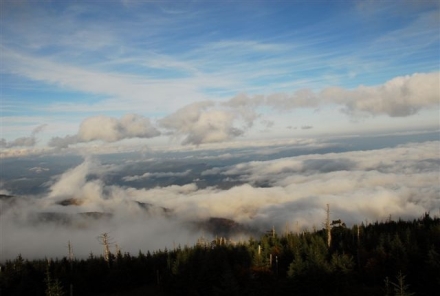 Becky Brannigan took this photo called "Mt. Mitchell above the clouds."
| | |
| --- | --- |
| Ashtyn Kyler Mathis had his 1st Birthday on June 4, 2011. His parents are Jessica Moore and Terry Mathis of Burnsville. | The family of Ashley N. Ayers are pleased to announce her graduation from Mayland Community College. Ashley achieved the President's List and graduated with honors from the 2011 RN Program. Ashley's family would like her to know how proud they are of her many accomplishments and all her hard work. May the Lord bless and guide your every step as you begin your journey as a Registered Nurse. We love you! Love, Daddy, Moma, Jennifer, Stephen, and Maycee |
| | |
| --- | --- |
| How adorable is this?.This is little Ms. Erin Green enjoying a summer day. Photo by Kathy Garland. | |
| | |
| --- | --- |
| Jackie Burleson turned 75 in May and celebrated with family and friends. Jackie is the mother of six, granny to seven and friend to many. | More than trout were on hand at this weekend's Troutacular in Spruce Pine, NC! This young man proudly displays the "feathered puffer fish" he created with clay at the Penland School of Crafts hands-on activities tent at the festival. 50 kids took a break from fishing to make clay fish and to try out the ancient Japanese craft of fish printing. |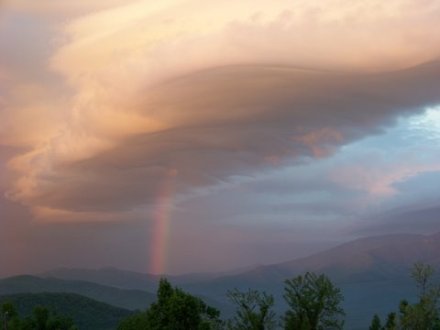 Tammy Loftis was going to take a picture of these beautiful clouds at 6:20 am on May 20th when this rainbow appeared.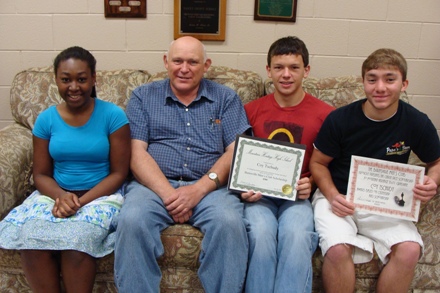 On May 13 2011, at their annual scholarship banquet, the Burnsville Men's Club was proud to award the Carlie Rice scholarship to the following 2011 Mt. Heritage seniors: Jasmin Thornton, Luke Webb and Coy Tshudy. One of the club's goals is to encourage Yancey County youth to pursue higher education to further their career goals. The club provides financial support for youth who show promise and demonstrate need. The club's dream for those youth is for success in reaching educational goals and for each youth to become a contributing member of society.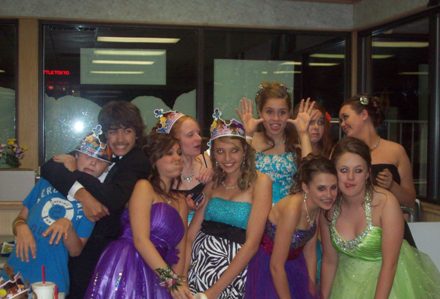 Pictured above and below are some of the East Yancey 8th graders having fun at the 8th Grade Dance held on May 27th.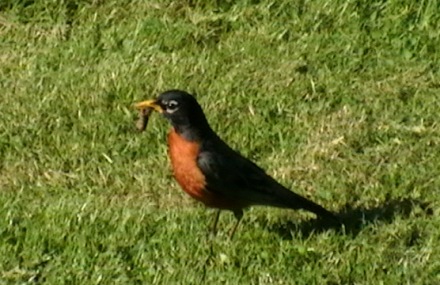 The early bird gets the worm...looks like this robin was out early. Photo by Steve Murphy.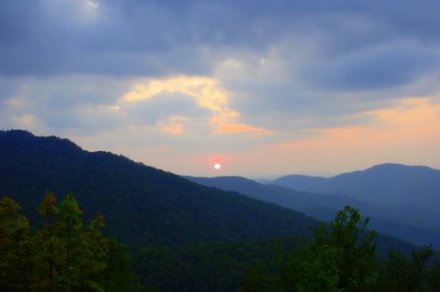 Kathy Garland took this picture of a beautiful sunset on Roan Mountain on Memorial Day. For another view click here.
| | |
| --- | --- |
| Carrie Hughes of Green Mountain earns Associate of Arts degree at Mayland Community College. Carrie received outstanding graduate award, graduated with honors maintaining a perfect 4.0 GPA. She also was a member of the SGA student government association. She is transferring to Mars Hill College and currently taking summer classes. She plans on graduating with a degree in Middle School Education. Carrie is the daughter of Randy and Carol Hughes of Green Mountain. | . |
| | |
| --- | --- |
| Jocelyn Brooke Hughes turned 4 on May 27th. She is the daughter of Chris and Casey Hughes | |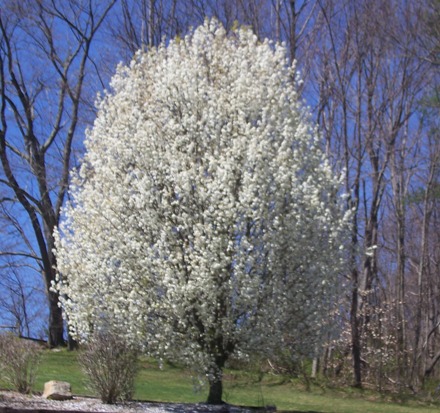 This photo, taken a few weeks ago, shows one of the many beautiful flowering trees this year.
| | |
| --- | --- |
| Jessica Holder and Micheal Filmore were married on Sat, May 7, 2011 at Lavonia Crest in Glen Ayre. Beautiful day, great food, music and dancing, and of course vows!! Much happiness to the newlyweds. | Mitchell High School prom. Deanna Bell and Mitchell Banks. Photo taken by Doreen Brannan. |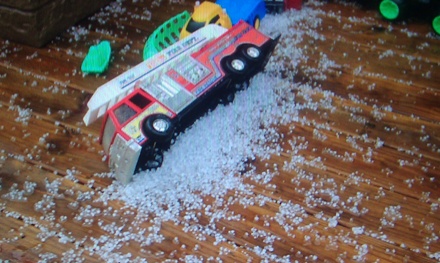 This was taken on Friday the 13th (5/13/11) during the bad storm (as you can see in some areas their were handfuls of the marble size hail) on Prices Creek in Burnsville at the home of Bud and Tiffany Redden.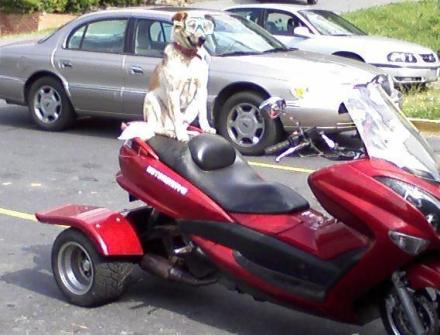 This Bakersville cruiser doesn't go anywhere without his goggles...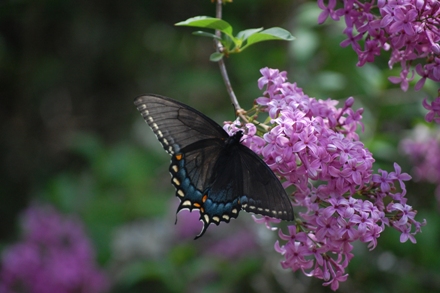 Linda Hyder sent us this beautiful picture she took on Cane Creek.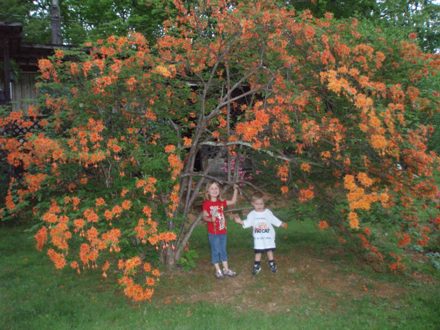 Peggy Brown sent us this picture of a wild azalea in her yard with her two grandkids, Sydney and Ezra.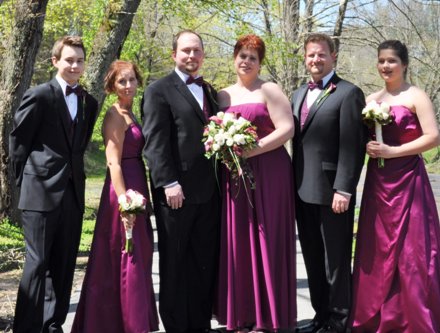 William Travis Rhymer and Jodie Lynn Bell were married April 16th 2011 at the gazebo on the creekwalk in Bakersville, NC. Rev. Tracy Carroll officiated. Following a reception at the Clarissa Community Center, the couple left for New York. The couple and their children will reside in Bakersville, NC. For another pic click here.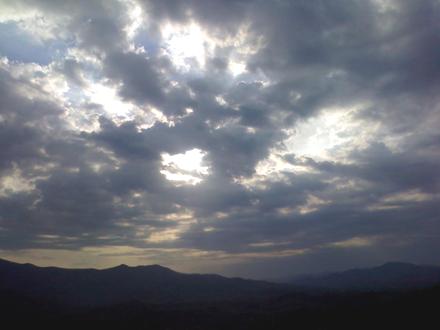 Take a look...Sara Young says she took this picture because the sky had a heart with an arrow across it.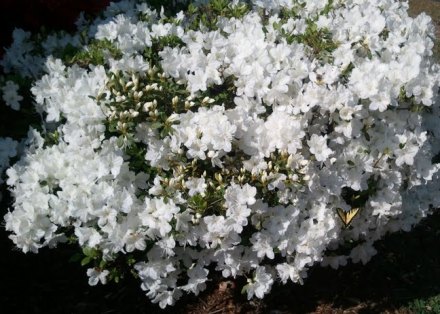 Look close to see the butterfly (lower right) on this white azalea bush.
| | |
| --- | --- |
| Jeff and Teresa Hicks' daughter, Anna in her Easter attire. | |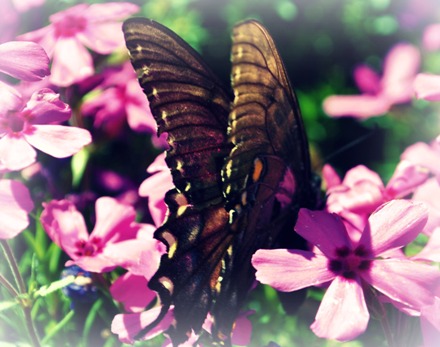 Rachel Silver took this at her Nana's house Easter Sunday.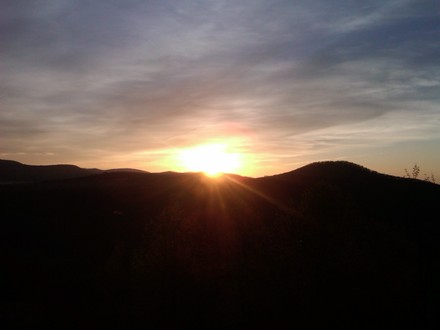 John Hall took this picture at The Orchard at the sunrise service for Grassy Creek Baptist Church.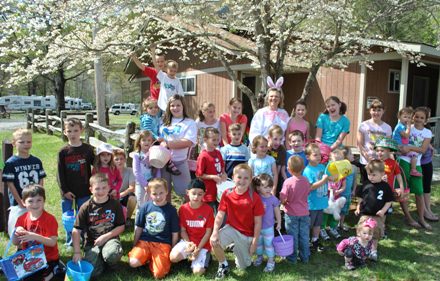 The Easter Bunny (Tina Hall) made a visit to Toe River Campground, Saturday, April 23. Children enjoyed an Easter Egg Hunt, won prizes, colored and were told the story of the Resurrection Eggs, by the Easter Bunny. A wonderful time was had by all who participated.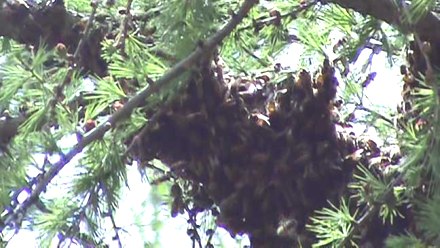 If you see a honeybee swarm like this around your home and need help call 682-9390 or 208-4278.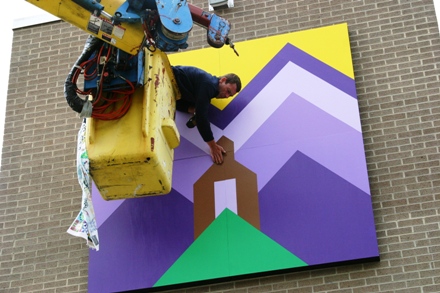 The Western North Carolina Quilt Trails organization celebrated the hanging of its 200th quilt block on April 15 in a ceremony at Mitchell High School.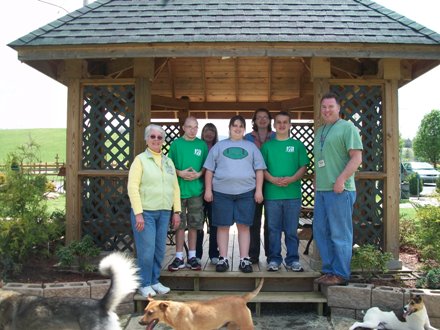 Yancey Humane Society welcomed the MHHS Life Skill Development class to the shelter as part of their Community Awareness Program. The students & teachers learned about services provided to the community by the humane society and shelter. They also got to play with all the dogs, puppies, cats & kittens. Pictured (left to right) YCHS President Jane Mummert, Justin Peterson, Debbie Boone, Brittany Rathburn, Denise Marlow, Andrew Hensley and YCHS Director Tim Tipton.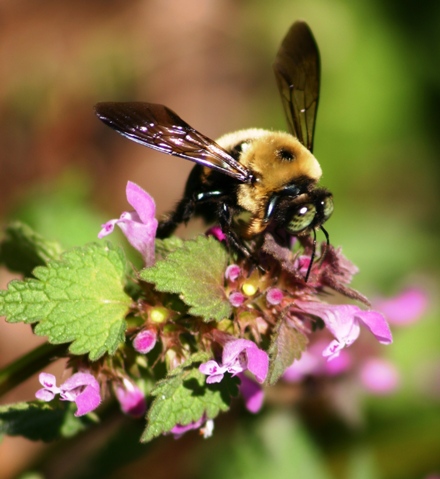 Wow!, what a great photograph! David Grindstaff took this outstanding photo of a bumblebee on Fox Glove.

For More Photos, click here

Click Here To Visit Our Sister Radio Station


This page was last updated on Monday, 05 September 2011 03:47 PM