| | |
| --- | --- |
| It may look a little gray but is actually the sun's reflection on a very sunny day at Westside Nursery & Rental Friday, September 10 as they held a Customer Appreciation Day. Free bar-b-que and special prices were part of the big day. Here WKYK's Michael Ardell interviews manager Jeff Whitson. For more pictures, click here. | The new locally owned and operated, Burnsville Pharmacy, located on the 19E bypass, held Customer Appreciation Day on Friday, September 10th. Pictured here are owners Judy and Scott Lackey. Scott is also the Pharmacist. |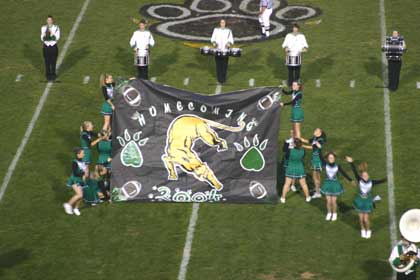 Mountain Heritage High School held its homecoming Friday night, September 24th. Here cheerleaders show off the banner they made for the event. For homecoming pictures click here.
| | |
| --- | --- |
| Wanda Proffit was one of the Advantage West board members that spoke at their meeting on Monday evening September 27th. | Andy Howell (left) and Marc Whitson (center) meet Country Superstar Dierks Bentley. |
| | |
| --- | --- |
| This is Madison Skye Hughes. She was born October 2 at 8:43 a.m., weighed in at 7 lbs 3 oz and was 19 1/2 inches long. She is already a big fan of her brother Billy Barnes and his racing. She is the daughter of Scott and Melissa Hughes of Micaville. | Tabitha Garland dressed and ready to go to the prom a couple years ago. |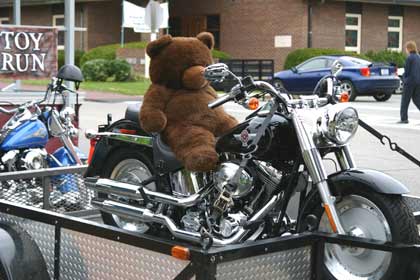 The 3rd annual Mt. Mitchell Toy Run was held Saturday, October 9 with around 200 motorcycles and their riders gathering to collect toys for their Christmas giveaway. For more photos click here.
| | |
| --- | --- |
| This Crow-egg or Sheep-nose apple tree was over 100 years old before Hurricane Ivan came through. The tree is in the yard of Bill and Peggy Wilson in the Pensacola community. The tree has produced thousands of bushels of apples and been enjoyed by at least seven generations. | B.J. Tipton, grandson of Bill and Peggy Wilson is the last generation that got to enjoy climbing the tree at left. |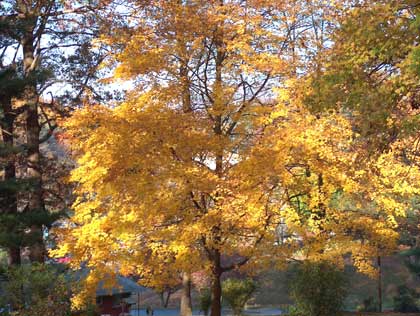 The fall season looked as if it might "brown out" but this week color has picked up and beautiful fall colors can be found all around the area.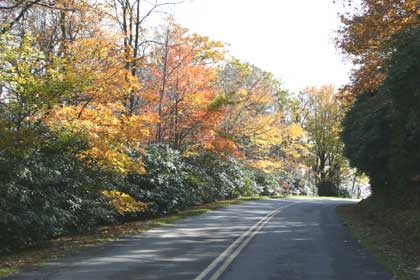 Colorful trees lined the Parkway this past weekend. Most of the Parkway campgrounds and picnic areas and concessioner-operated lodges, restaurants and other facilities will close November 1st. Some exceptions include the Museum of North Carolina Minerals, Peaks of Otter restaurant, the Folk Art Center and Price Park picnic area. For more information about the Parkway click here.
| | |
| --- | --- |
| Check out Billy Barnes back up driver for Halloween in the Jr Dragster Division at Wilkesboro Raceway Park. | Garrett Greene celebrated his 4th birthday on October 10th. Pictured with him is little brother Pierce. They are the children of Nathan and Cindy Greene of Bakersville. |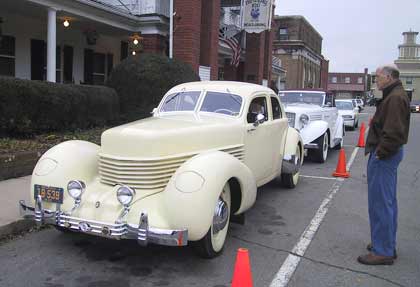 R.L. McIntosh takes a look at a Cord antique car. The Auburn-Cord-Duisenberg Car Club met at the Nu Wray Inn on the town square in Burnsville last week. For more car photos click here.
| | |
| --- | --- |
| E.W. Gibson, an award winning painter will showcase her artwork on Mayland Community College's Main Campus thru November. | Jerry Burleson with General Oliver North in Afghanistan. Jerry is the son of Dorman Burleson, formerly of Mitchell County. For more pictures from Jerry in Afghanistan, click here. |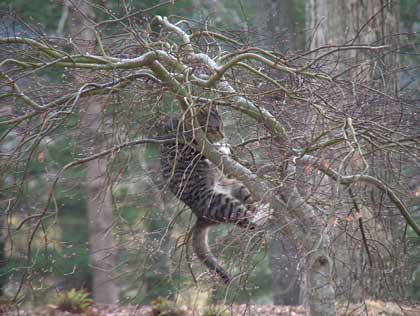 Some days you have to just hang in there.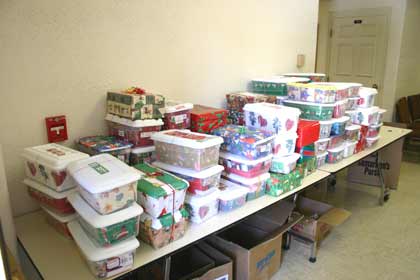 A few of the boxes stacked and ready to go at the First Baptist Church in Spruce Pine. This is the gathering point for the Yancey and Mitchell County churches involved in Samaritan's Purse's Operation Christmas Child. For more information about Samaritan's Purse click here.
| | |
| --- | --- |
| Casey Robinson with Dierks Bentley at the Mountain State Fair. | Mallory Wyatt (right) was crowned the new Miss Trillium of Mountain Heritage High School on Tuesday night, Nov 23rd by last year's Miss Trillium, Chrissy Miller. For pictures of Miss Trillium contestants click here. |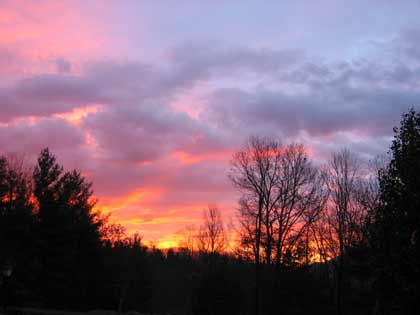 Tuesday morning, November 30th began with this beautiful red sunrise.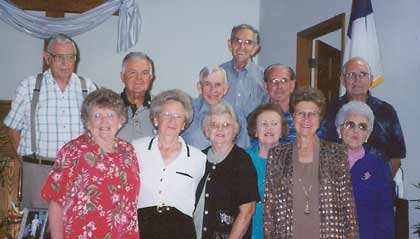 The 1944 graduating class of Burnsville High School at a recent reunion.

| | |
| --- | --- |
| Jesse Issac Fox on his first birthday, June 28, 2004. He is the son of Doug and Shannon Fox, the grandson of Tony and Ina Hilemon and Doug and Betty Fox. | Sgt. Jeff Byrd, North Carolina National Guard, 230th Support Battalion is in Balad, Iraq. He has been in Iraq since March of this year with Operation Iraqi Freedom. He is a 1988 graduate of Mtn. Heritage High School. His parents are James and Judy Byrd of Burnsville. Our thoughts and prayers are with him. |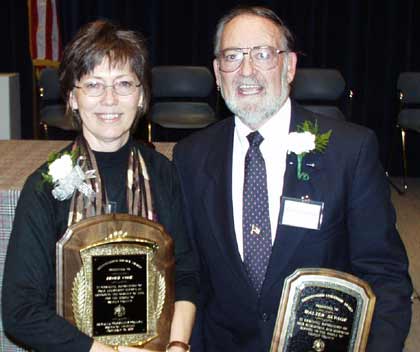 MCC Honors Outstanding Citizens
Mayland Community College annual Board of Trustee Recognition Awards Ceremony was held recently honoring Yancey County residents Denise Cook (left), Walter Savage and Franklin Cox (not pictured) for their contributions to the community. For story and pic on others honored click here.


| | |
| --- | --- |
| Joey (left) with his girlfriend Yvette. Joey is a Toy Poodle and Yvette is a Bichon Frise. They are both 4 years old. Yvette lives in Clinton, SC. This picture was taken on a day recently when Yvette came to visit. | Members of the Red Hat Society, Betty Briggs and Mattie Angel, were doing some Christmas shopping when we snapped this picture. |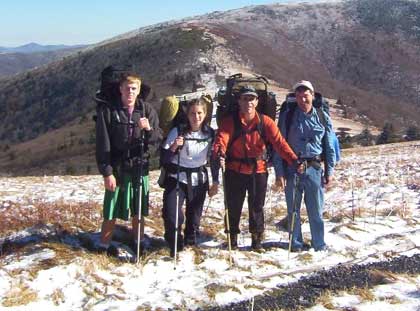 Not exactly top of the world but close to it anyway. This was Thanksgiving weekend on top of Roan Mountain. Seth Johnson, Angel Cruz, Dr. Miquel Cruz and Gunter Penner enjoyed a snowy camping trip.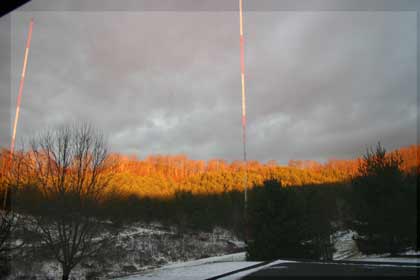 Winter officially arrived at 7:42 am on December 21st. This picture was taken behind the radio station and show the sun peeking through the winter clouds. Snow is still on the ground from Sunday the 19th.
| | |
| --- | --- |
| Madison Hughes of Micaville seeing the snow for the first time. She is being held by her proud daddy. | A few of the many beautiful flowers Geraldine Silvers grew this past summer. |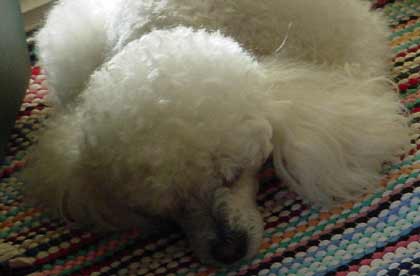 This is how most of us feel after a busy weekend of holiday activities...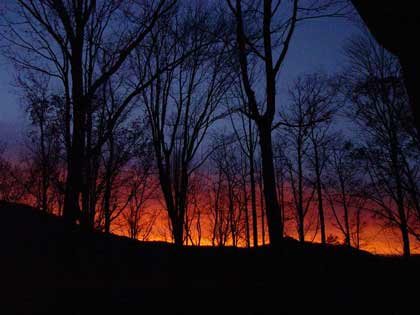 A beautiful sunset captured by Mike Hopson.
| | |
| --- | --- |
| Samuel Charles Jolly is the son of Stewart and Jackie Jolly. He was born November 24, 2004. | Do you recognize this dog? All the information we received is that her name is Peppermint and she is pictured here with her precious little puppies...anyway, she is a cutie. |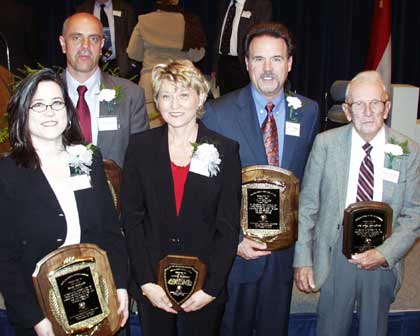 Mitchell County citizens honored by MCC Board of Trustees pictured from left to right are Gina Phillips, Byron Phillips, Connie Harrison, Van Phillips, and James Monroe Bridges.
For more photos click here

Click Here To Visit Our Sister Radio Station


This page was last updated on Tuesday, 23 October 2007 10:55 AM