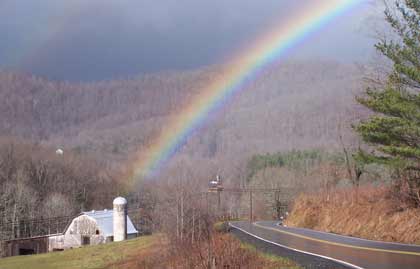 Not exactly a pot of gold at the end of this rainbow but still a beautiful picture. The photo was taken recently on Hwy 80 South by Steve Hall.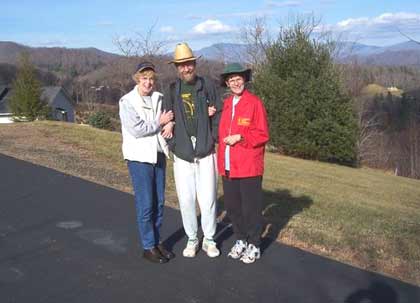 Dr. Haaga and his wife Margie with friend Mary Penley enjoying the warm weather recently.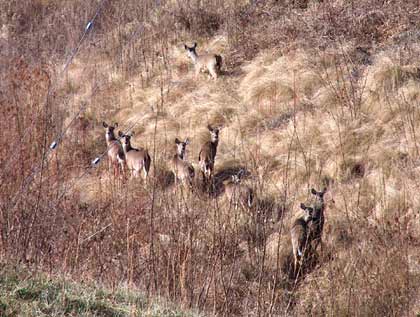 Just passing through...can you find all eight of them?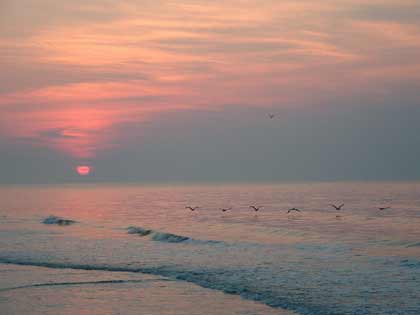 This beautiful picture was taken at Edisto Island, SC on July 4, 2004 by Martin Peterson.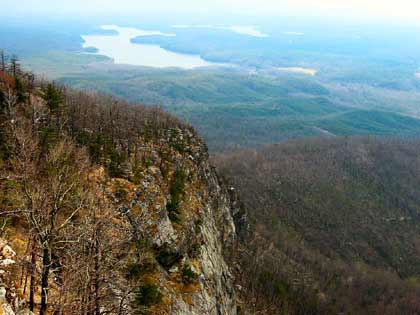 This view of Lake James from the top of Shortoff Mountain was taken by Eddie Sparks.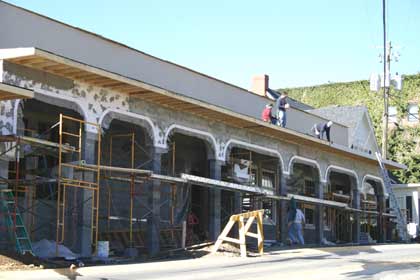 Work continues on Burnsville's Community Center.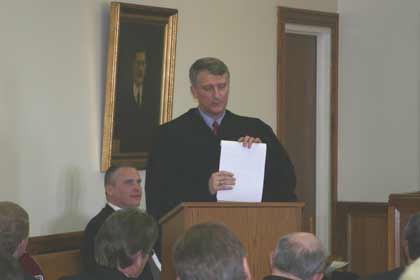 Dennis Howell speaks at his Swearing In Ceremony held Friday, January 28th. Howell was sworn in as United States Magistrate Judge for the Western District of North Carolina.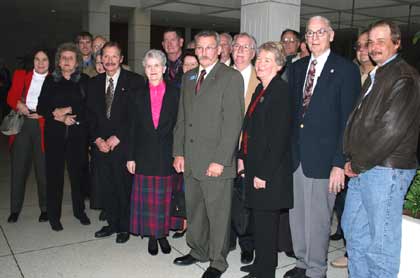 New NC State Senator Keith Presnell (in center) surrounded by a group of Yancey County residents that attended the Swearing-In Ceremony in Raleigh. Photo by Alicia J. McMahan.
| | |
| --- | --- |
| Shawnee Boone (left) and Amanda Robinson at Karate Tournament. Shawnee is the daughter of Chance and Holly Boone, Amanda is the daughter of John and Teresa Robinson. For another picture and more information see below. | These roses are a few of the ones grown this past summer by Rev. Jackie Lee Silvers. |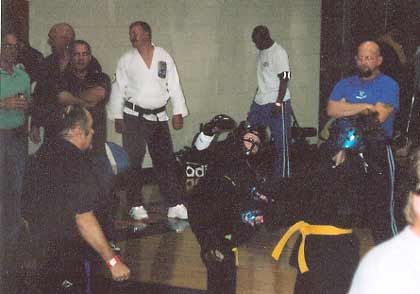 Amanda Robinson, won First Place in the 16-18 Girls Kumite Division at the Karate Tournament at Powell High School in Knoxville, TN on November 20, 2004. She fought Brandi Grindstaff, a cheerleader at Mtn. Heritage, for First Place. Amanda's Senseis is David Ray and Stanley Honeycutt.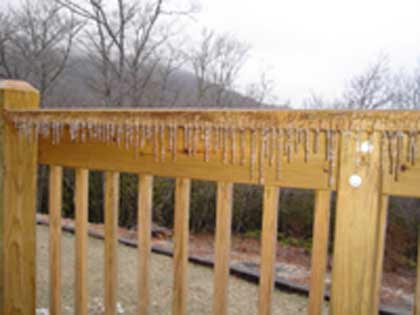 Yancey residents awoke Thursday morning, Feb 3 to find ice covering everything. This railing at the Matheny home in Micaville was covered in icicles. Roads also were covered in ice and schools were closed. Photo by Sandra Matheny.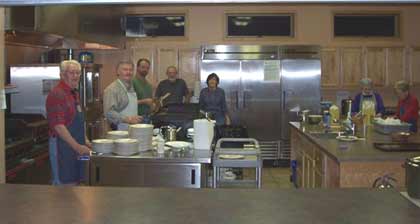 Part of the work crew at the Higgins Memorial United Methodist Church for all you can eat pancakes on Feb 8th.
| | |
| --- | --- |
| Sophie strikes a pose for the camera... | Black and white cats are popular this week...this one's named Batman. |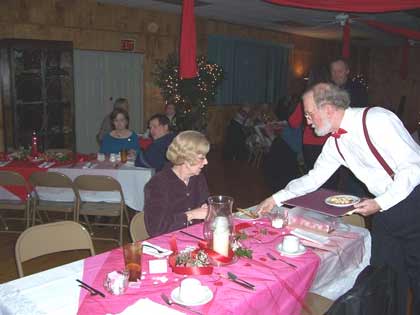 Mary Penley being served at the St Thomas Episcopal Church's annual Valentine's Candlelight Dinner. The dinner was held February 11th at the American Legion Hall.


| | |
| --- | --- |
| Miss Priss poses for the camera. Notice her reflection in the mirror. Miss Priss is a "lap cat" and thus can be found lounging on Peggy Bailey's lap--when she can catch Peggy sitting down! | |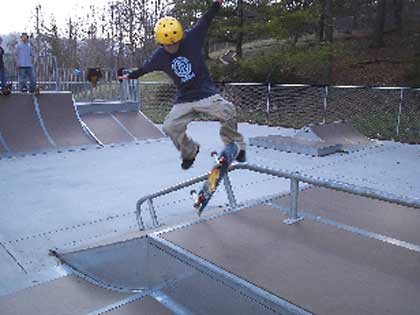 Ryan Edwards demonstrates some skateboarding skills. The Church of Christ in Burnsville has begun a youth ministry called the "U-Turn Ministry" which reaches young people at the skateboard park. For an additional picture, click here.
| | |
| --- | --- |
| Happy Birthday to Tamara Huskins. She is 16 years old as of today (2/23).She is in 10th grade at Mtn. Heritage and is the daughter of Darryl and Desiree Huskins. | Daisy is a sweet dog that loves her new home and does her best to stay out of the way of any cats. |
For more photos, click here

Click Here To Visit Our Sister Radio Station


This page was last updated on Tuesday, 23 October 2007 10:55 AM