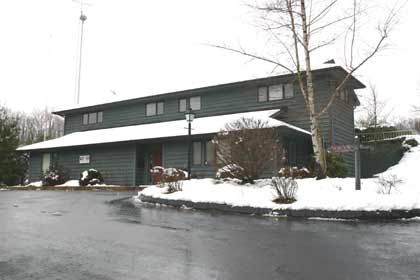 A blanket of snow covered the area Sunday night, February 27 and by Monday morning it ranged from 2 to 10 inches depending on where you were. The WKYK-WTOE building is in an area that received about 4 inches before it started melting.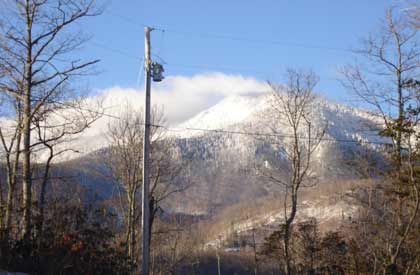 This snow-covered view of Celo Knob was taken by Sandra Matheny on Wednesday March 2nd.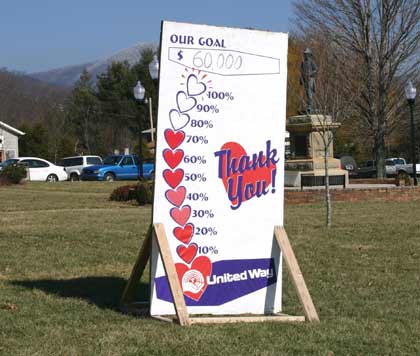 Yancey County United Way is headed toward its goal of $60,000. The campaign continues through April. If you would like to make a contribution or for more information about United Way call Todd Capps at 682-2529.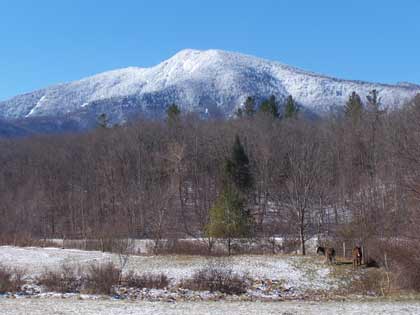 Blue skies and a snow capped mountain make for a beautiful picture. Photo by Steve Hall.
| | |
| --- | --- |
| Joey recently paid a visit to Yvette, his Bichon Frise mate who lives in Clinton S.C., in order to meet his three sons and one daughter who were born February 2nd. | ...and here are Joey's three sons and a daughter. |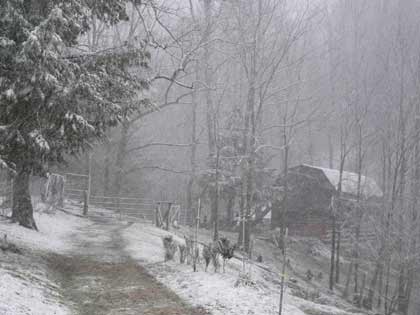 Whew--sends a chill through your bones just to look at this photo. It was taken in the Green Mountain area shortly after the snow began to fall Tuesday morning March 8th. Photo by Linda Brown.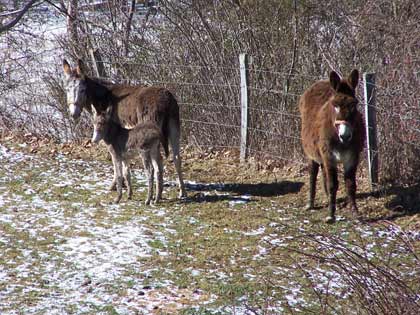 Lots of people have been enjoying watching this little fellow in a field along Hwy 80. Steve Hall got this picture of him last week during the snow.

| | |
| --- | --- |
| This "little" puppy belongs to Whitney Mitchell. She's a Great Dane and at 5 months old she weighs in at 75 lbs. | |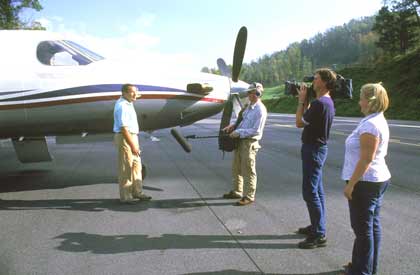 The national spotlight will shine on Western North Carolina beginning March 21 when Mountain Air, an award-winning, private residential community located just north of Asheville, will be featured on a national airing of The Travel Channel's Million Dollar Planes television show.

The segment on Mountain Air will be one of four featured during the hour-long show dedicated to luxury air travel. The segment will center on the lives of Tom and Toni Oreck, Mountain Air property owners who access the community via a sleek and speedy, single-engine turboprop Pilatus aircraft.

In fact, the original focus of the show was to be on the Pilatus, but when the production company arrived at Mountain Air they shifted the focus over to the lifestyle amenities at the community, and how the airplane becomes the facilitator for the Oreck family's retreat to the magic of the mountaintop.

Another focus of the segment will be Mountain Air's uncommon and dramatic private runway. Perched nearly a mile in the sky at an elevation of 4,500 feet above sea level, the runway is the highest in the country east of Denver Stapleton Airport.

The Million Dollar Planes show is scheduled to air on Monday, March 21 at 8pm and 11pm EST. Additional airings are scheduled for Sunday, March 27 at 5pm; Monday, May 23 at 8 and 11pm; and Sunday, May 29 at 5pm.

"We are deeply indebted to the Oreck family for taking a full day out their busy schedule to spend time with the Travel Channel film crew, says Randy Banks", President of Mountain Air. "They are consummate ambassadors for the community and we're grateful for the goodwill they continually spread around the country."

For more information click on www.mountainairpr.com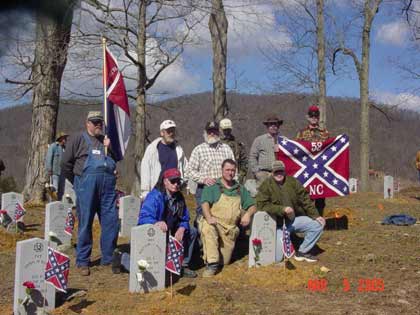 Col. John B Palmer Camp 1946 Sons of Confederate Veterans recently honored local soldiers from the 58th North Carolina Infantry Regiment who died from disease during the winter of 1862 and were buried in Jacksboro TN. The John B. Palmer Camp along with other SCV Camps from NC and TN spent the day placing 50 headstone markers.
| | |
| --- | --- |
| This birdfeeder looks like it is decorated for Christmas. The picture was taken during the recent bad weather by Sandra Matheny | Steve Hall caught this large striper on Lake Hartwell a couple of weeks ago. |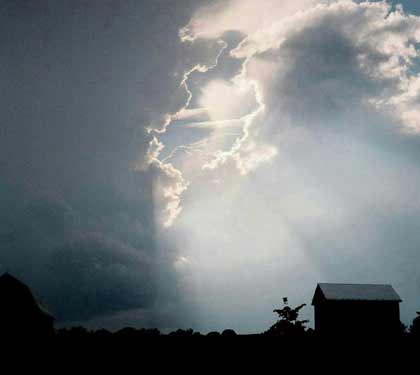 This picture, taken by Linda Brown, is appropriate for Easter, it is titled "Jesus Is Coming Soon".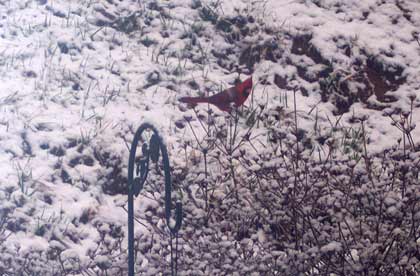 Beverly Mitchell snapped this picture of a cardinal playing in the snow on March 17th. Send your photos to holly@wkyk.com.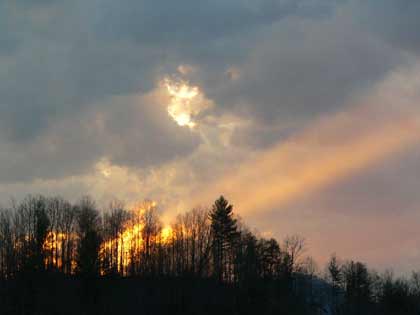 Another beautiful picture by Linda Brown. This one she calls "Street of Gold into Heaven". It was taken in the Green Mountain area.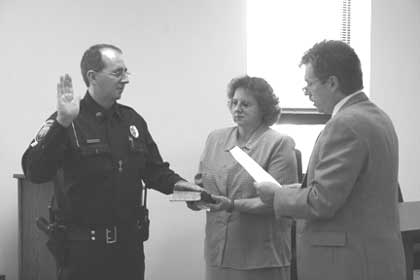 Galen McMahan being sworn in March 24th as new Chief of Police for Town of Burnsville. Galen's mother, held the Bible as Clerk of Court Warren Hughes read the Oath of Office. Photo by Alicia J. McMahan.
For more photos click here.

Click Here To Visit Our Sister Radio Station


This page was last updated on Tuesday, 23 October 2007 10:55 AM