| | |
| --- | --- |
| | This picture was taken last year but it won't be long before flowers will be back in bloom. |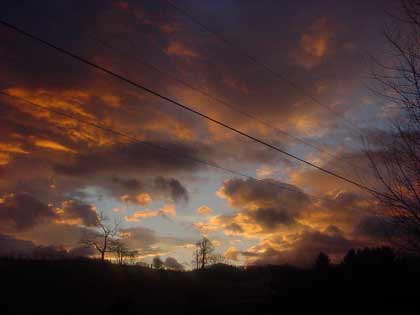 This was a picture taken recently of "Daybreak".

| | |
| --- | --- |
| This picture was taken by James Penley who lives in Micaville, of his brother and sister-in-law Patty and Gary Thomas of Grapevine TX enjoying the nice weather at Moses Cone Park. | Two Mars Hill College senior art students will exhibit their work in Weizenblatt Gallery from April 8 through May 7, 2005. For more click here. |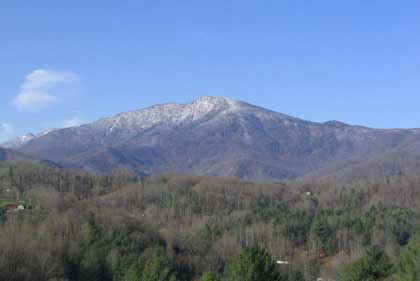 This photo of Celo Knob was taken from the Newdale area by Barry McKinney this morning, April 14th and shows last night's snowfall.
| | |
| --- | --- |
| Adalyn welcomes new baby sister Jena. Jena (Jenaca Ashlyn Jarrett) was born March 31st, 2005 and weighed 6lbs. 10oz. | Sterling (left) and his new friend and housemate, Kona. |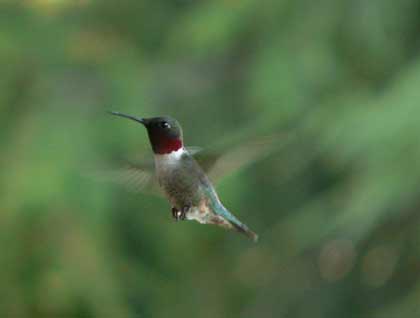 This is the first hummingbird Linda Brown has seen this year at her home
in Green Mountain. She grabbed her camera and got a great shot of it.

| | |
| --- | --- |
| This photo, taken by Lynn Pate is of Roscoe--he's only 9 months old--he's going to be a big kitty. | Miss Priss taking a snooze. |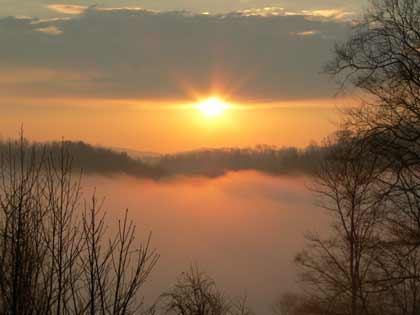 Beautiful Carolina morning. This picture was taken Monday, April 11th, in Green Mountain by Linda L. Brown
| | |
| --- | --- |
| Some of the beautiful azaleas that can now be seen throughout the area. | It's hard to see because "Sophie" is so dark, but she has an adorable little face. Of course the stuffed, pink cat that she is holding doesn't help matters. She is an Lhasa-poo. (combo Lhasa and Poodle). |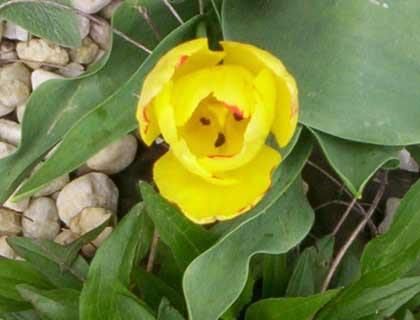 Look at the "face' on this tulip. Photo by Mike Bennett.

| | |
| --- | --- |
| Congratulations to Mr. and Mrs. Barry Mckinney. They were married April 22, 200 | After a long winter "Harvey" thinks it's great to finally get out and stretch in the gravel. |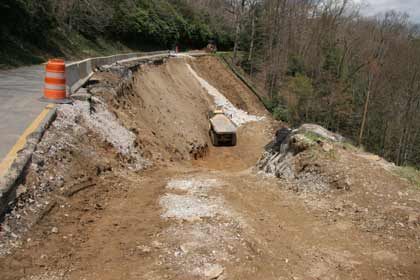 This is one of the slide areas that are under repair on the Blue Ridge Parkway between NC Hwy 80 (milepost 344) and Mt. Mitchell State Park (mile 355). They hope to have this section open by Memorial Day. Photo
by Mike Boohe.

| | |
| --- | --- |
| Springtime at Mt. Mitchell Golf Club. Photo by Bob Bildner. | Mayland Community College dean of the Basic Skills Program and MAYread board member Louise Hembree presents Roberta Samel of the Yancey County Literacy Council with a check for $200 to help promote literacy. |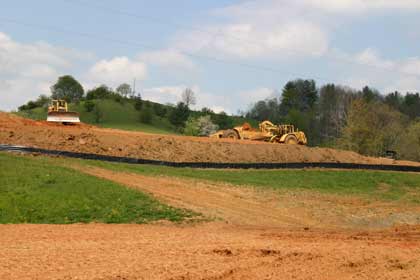 Construction got underway last week on Shoal Creek Baptist Church's new building. The new building is on Hwy 19 east of Burnsville at Windom, near Shoal Creek Road.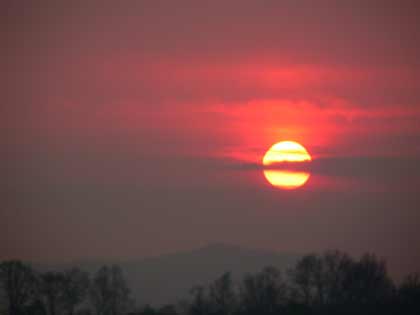 Red sky in morning...did turnout to be a warning on May 10th when heavy rains, thunder and hail storms hit the area. Linda L. Brown took this photo that morning.
| | |
| --- | --- |
| Flowers welcome the warm temperatures and sunny weather Photo by Linda L. Brown. | Renee Featherstone will speak at Mayland's GED graduation on May 13 , 2005. |
| | |
| --- | --- |
| This picture of a rhododendron bush beginning to bloom with "Old Glory" in the background was taken by Ron in Micaville. | Is it a yowl or a yawn? This cat was caught in action by Mike Bennett. |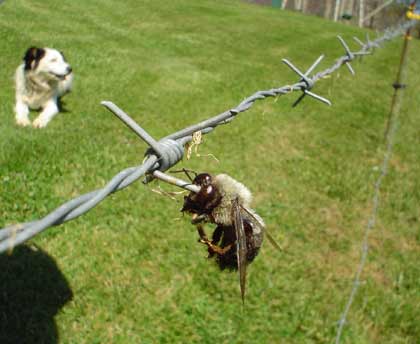 This photo, taken by Steve Robinson on Possum Trot Road, is a bit gruesome, but so unusual that we decided to share it. Was it suicide...or was the dog responsible...or was it just nature taking its course?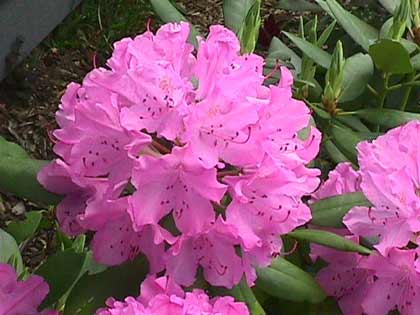 Rhododendrons in some areas have reached full bloom. This is the native purple, hybrids are red in color.
| | |
| --- | --- |
| Seven year old Mary Thompson of Ida Mich. hits the ball during a practice session. She is the granddaughter of Ron and Mary Penley of Micaville. | Christie Tipton wins Bus Driver of Year Award. |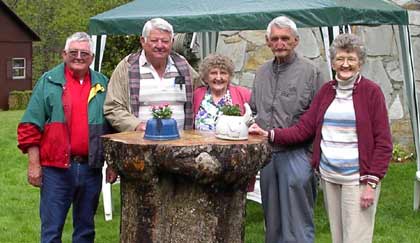 Bill, Max, Jean, Ward & Ethel at the Wilson Reunion held May 15th for the children of C. Denver and Mary Hensley Wilson (not pictured Don and the late Ed Wilson). They gathered at the old home place in Pensacola. They are pictured here around the stump of an apple tree that was over 100 years old. The tree was taken down by the Hurricane Ivan storm in September of last year.
| | |
| --- | --- |
| A few of the many yellow Lady Slippers that grow in the front yard of Bo and Kristy Daniels. | |
For more photos, click here


Click Here To Visit Our Sister Radio Station


This page was last updated on Tuesday, 23 October 2007 10:55 AM