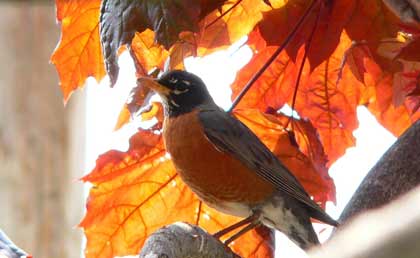 This looks like it was taken during the fall but actually it was taken by
Linda Brown on May 19th.

| | |
| --- | --- |
| Jesse Fox son of Doug and Shannon Fox. Eating like big boy. | Jeff and Teresa Hicks were married May 14, 2005. Jeff is the owner of B & H Used Auto Parts in Marion. The reception was held at the newly renovated train depot in Marion. |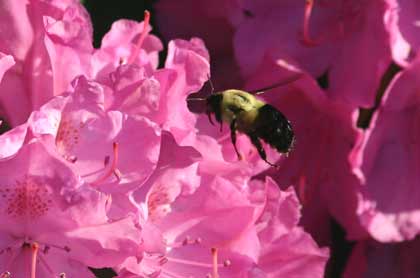 This little bee found his paradise in a rhododendron bloom. Photo
by Michael Sink.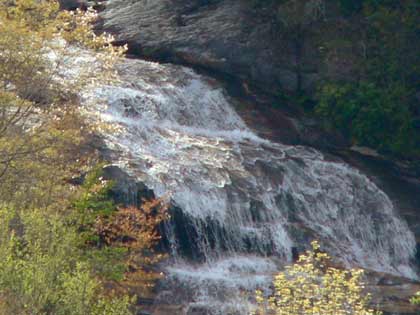 This waterfall is located at the Graveyard Fields at mile marker 418 on the Blue Ridge Parkway. Photo by Linda Brown.



The North Carolina Community College System showcases students each year who have excelled academically. Students chosen from Mayland Community College for the Academic Excellence Awards were Heather Thomas-Jenkins (left), Associate Degree Nursing 2005 graduate, and Charles J. Cresawn, an Associate in Science m

ajor.

Jennifer Bennett's art work on display at Mayland Community College during June 2005.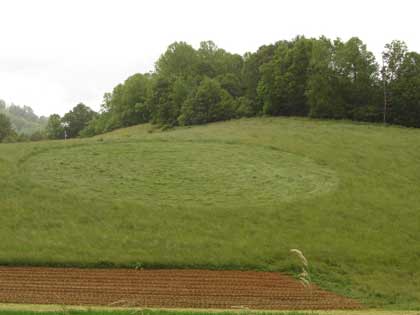 Pictures of what appears to be a crop circle were sent to us by several people. It appeared on Sunday, June 12th in a field next to Fairview Cemetery, Horton Hill Road, Green Mountain. It was measured to be 96 feet. Is it a prank or was it made by weather related storms Saturday night---or by some visitors from a far off planet?....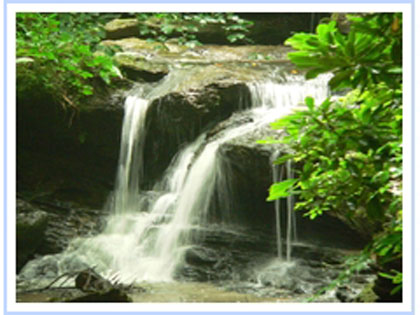 Linda Brown saw this picture on a trip to Boone.
| | |
| --- | --- |
| Kayla is the daughter of Wanda C. and Kim Deyton of Brush Creek, the Granddaughter of Susan Whitson also of Brush Creek Community, and the late William (Billy) Huggins of Burnsville. | Two eight month old babies that have no idea they are supposed to hate each other, but this happy duo play together, and Oreo the Boston Terrier, never moves while Snickers who was adopted from the Yancey Animal Shelter cleans him as if he were one of her kittens! Photo by Suzy Whitson |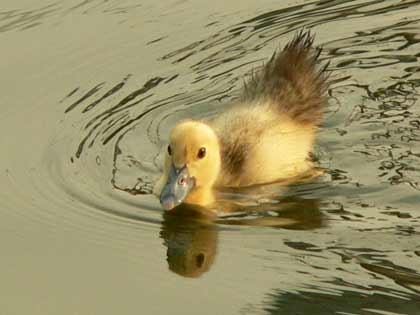 We're all going to be paddling like this little guy if the rains continue.....for
weather details click on button at right. Photo by Linda Brown.
| | |
| --- | --- |
| Thirty-eight years have gone by without any contact by these two close friends who attended high school together at Cane River High School, but with much excitement these two friends reunited again in 2004, Pictured left to right, Cherri Peterson Volkman, and Susan Elaine Whitson. | Tricia Booth, Missy Hudgins and Samm Morrow --Graduation 2005 |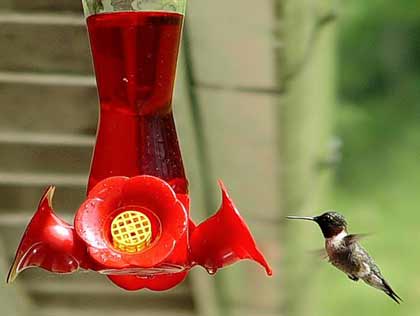 You think you got wet during the recent storms? Look at this soggy
little fellow...Thank you to Doyle Adkins for sharing this picture with us all.
| | |
| --- | --- |
| This photo taken by Linda Brown captures one of the many beautiful roses now in bloom. | Kaylee is always happy to pose with Steeda. Kaylee is the daughter of Rhonda and Larry Peterson. Steeda belongs to Kim and Darrin Simpson. |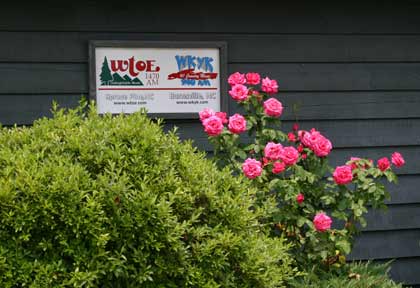 All this rain has definitely been good for the roses! This is just one of many beautiful rose bushes in front of the radio station.
For more photos, click here



Click Here To Visit Our Sister Radio Station


This page was last updated on Tuesday, 23 October 2007 10:54 AM