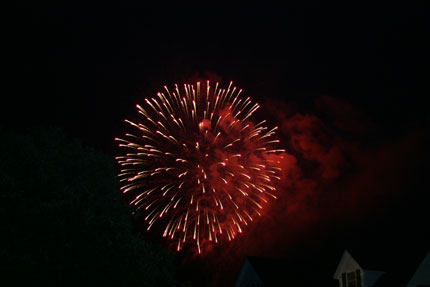 Fireworks over the Nu Wray Inn Saturday night, July 2nd, part of Burnsville's Patriotic Celebration.
| | |
| --- | --- |
| Crowds loved the music on the square Saturday, including these bagpipes. | Children enjoyed the face painting. Photos by Michael Sink. |
| | |
| --- | --- |
| Dutchess who had puppies on Saturday June 18,05, this was her first litter she had five,four girls, and one boy. | Lee Penland says this beautiful guy likes to hang around in the yucca plant and seems happy to stuff himself on the white moths, which frequent the blooms. |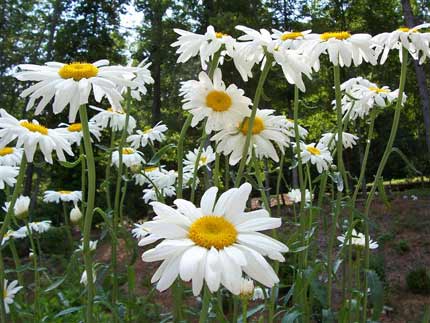 These daisies are one of the things doing well through all the rain. The extra rain is hard on some vegetable crops and some of the other flowers. This picture was taken by Ron Penley of his wife's daisies in Micaville.

| | |
| --- | --- |
| Buzz contemplates life beyond the porch. | Luke Wilson's 8th birthday, June 24th |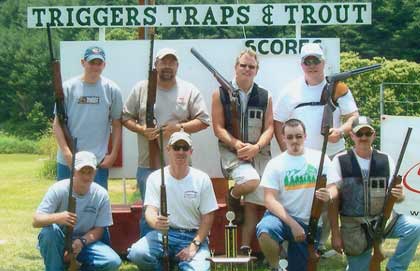 Triggers, Traps & Trout hosted another exciting "Challenge Shoot" on June 25th. The event was won by Clay's Pigeons. Evan Carroll earned the "Top Shooter" trophy. Shooters participating were: Back row, left to right, Shannon Copper, Ken Broyles, Benny Riddle, John Young. Front row: Sheldon Fox, David Sheehan, Evan Carroll, Clay Carroll.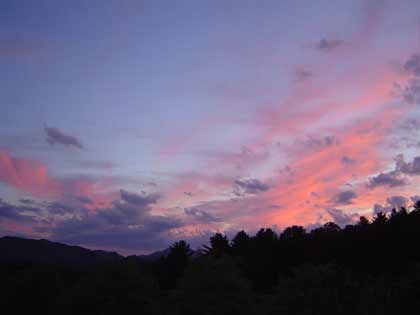 This beautiful sunset picture was taken on Friday June 17 at approx. 8:00 pm by Marvin Holland from his porch.
| | |
| --- | --- |
| Cody McKinney, son of Cindy McKinney with his therapist at Appalachian Therapeutic Riding Center. Cody, pictured here on his favorite horse, Skunk, has been riding at the Center for 5 years. Cody loves riding and loves all the wonderful volunteers at the Center. | Maria Whitson receives her Master's Degree in Human Resource Management from Western Carolina University. |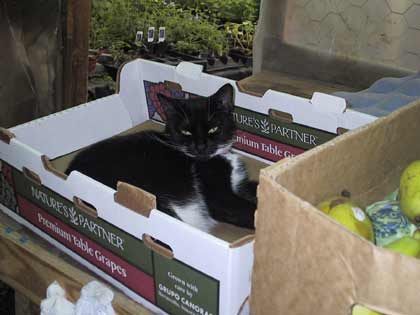 Just another day at work...this kitty wasn't caught napping on the job but
he is a familiar site at a local business. Do you know which one? Answer is Troy's Greenhouse, cat's name is Boots.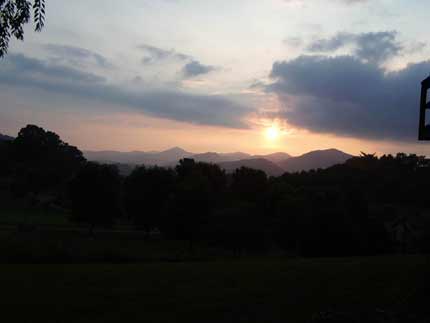 This photo was taken by Anthony Carey, of Mebane NC, on a recent visit to his mother-in-law's house (Sandra Ray) who lives near Cane River Middle School.
| | |
| --- | --- |
| Mike Bennett took this picture of some of this summer's lilies. | Jesse Fox son of Doug and Shannon Fox just celebrated his 2nd birthday! He would like to thank every one who came to his party! Also like to thank the good LORD for another year with our sweet baby boy! |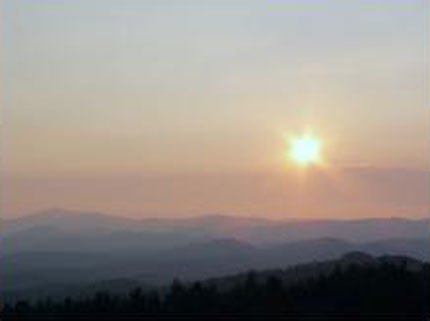 A beautiful sunset over the Blue Ridge Parkway, taken on Saturday evening, July 23rd by Linda Brown.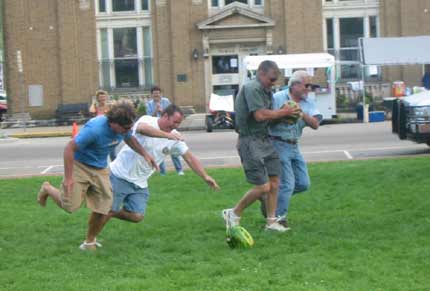 Here's a crowd having a good time during the greased watermelon race
at the July 4th celebration on the town square.
| | |
| --- | --- |
| Mike Bennett sent this picture of Autumn, who loves her dogs. | This picture of a hibiscus was taken by Jennifer Isaacs. |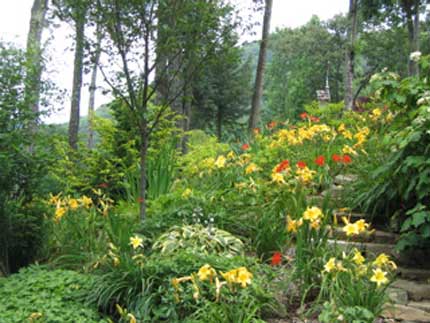 This beautiful flower garden was sent in by Paul Crutchfield. Notice the birdhouse in the upper right.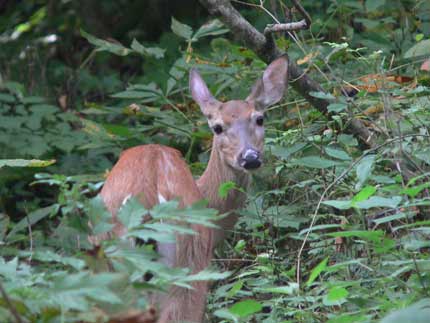 Linda Brown captured this little mama over the weekend. Her baby has been spotted but so far is camera shy.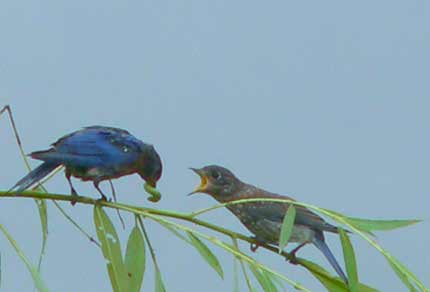 A lucky shot or persistence--either way it's a great picture of a male blue bird feeding a tomato worm to a female. Photo by Linda Brown.
For more photos click here


Click Here To Visit Our Sister Radio Station


This page was last updated on Tuesday, 23 October 2007 10:55 AM