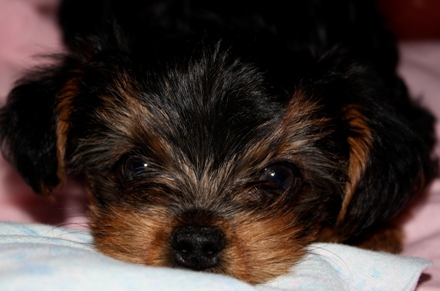 Adorable 9 week old mini yorkie named Jupiter.

Early morning sunrise, snow in the valley, sun on the mountain taken 01-07-2010 on Carters Ridge. Sent in by S. Pittman.

Saturday morning January 2, 2010 in Elk River in Banner Elk. Photo by Phillip Simmons.

The roof at the old Wellborn's in Spruce Pine collapsed from the weight of the heavy snow.

Little Ms. Ruby Smith all decked out for the holidays-owned by Aaron and Allisyn Smith of Spruce Pine. Photo by Kathy Garland.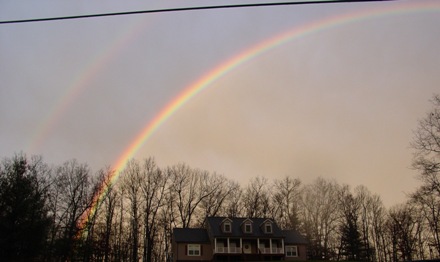 Vicky Hoilman took this picture of a double rainbow last Friday evening after the rain storm.

Wow. Kasey Barnett took this photo on Grassy Creek Golf Course on November 30th.

This beautiful photo was taken by Kendra Wilson on Roan Mountain on Friday, November 27th.

Look closely to see all the flying squirrels! This photo was taken at Johnnie and Cynthia Capps home recently. Photo by Clarice Murphy.

Heather Dale took this picture recently overlooking Linville Gorge and Woodlawn.

Tammy Loftis took this photograph of the clouds around noon on October 24th. According to Tammy, the photograph hasn't been manipulated and it only lasted a few minutes.
| | |
| --- | --- |
| Nothing like a kiss from a dog to make the day go better. Photo by Kathy Garland. | |

Toni Jobin took this photo on a recent frosty morning.

This is a photo taken by Amy Troutman last weekend (10/24/09) from Amber Ranches in Bakersville.

This photo was taken Thursday October 15th at the foot of Roan Mountain next to Lavonia Crest Development located in Glen Ayre. Photo by Veleda Snyder.

What's the old saying...when the cows are lying down, it means it's going to rain....

Christen Snyder at the rim of the Grand Canyon.

Beautiful view of downtown Bakersville. Photo by Kathy Garland.

Kathy Garland took this picture Labor Day weekend after the rain on Roan Mountain.
| | |
| --- | --- |
| Annie poses with her ball. Photo by Kathy Garland | Anna with a mischievous smile. Her parents are Jeff and Teresa Hicks. |

This is a picture of a big fungus that grew out of a log overnight. Photo by Chuck Fogarty.

The school-age children at Phillips Gwaltney Child Development Center chose Hospice of Mitchell County to benefit from their "Give Back" fundraiser program. The children raised $880 by having a bake sale and cookout. They presented their hard earned gift to Hospice on September 3 along with a hand-made tie dye wall hanging for the Hospice office.

Smile for the camera...Betty Barrier caught this little froggy just long enough to get this photo.

We always love it when someone gets a great shot of deer. This photo was taken by Kathy Garland.

Yum, Vicky Hoilman took this picture of beautiful summertime fruit.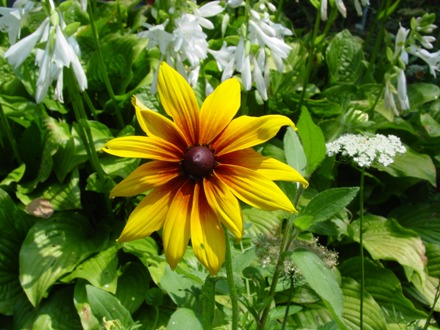 Bright pretty flowers to remind us of summer time. Photo by Vicky Hoilman.

These are Carl Murdock's six week old Beagle puppies. The photo was taken by Allen Buchanan.
| | |
| --- | --- |
| | This picture of a Moonflower was taken by Betty Barrier. Moonflowers grow to a height of about 15 feet. The leaves are rather large which allows the plant to be used as an annual in a northern garden. Propagation is usually by seed. It opens in one minute, with the main section deploying in less than 30 seconds. |

Kathy Garland recently captured this picture of a butterfly.

Tammy Loftis took this photo of flowers and fungi growing on a log.
| | |
| --- | --- |
| This is what happened when Paw Paw shared some chocolate with Ryder. Paw Paw is also known as "Murphy In the Morning" on WTOE. | |

Bright red summertime flowers. Photo by Vicky Hoilman.

The children at The Bakersville Child Development Center are learning to Recycle by throwing their empty juice cans into a separate bin. They are also learning about saving water while they are washing their hands and brushing their teeth. There are many other new ideas and recycling concepts they are learning as well.

Betty Barrier took this picture of the beautiful blooms on her mimosa tree.

Look close to see the baby bunnies!! Photo taken by Sharon Grama.

Lisa Whorten thought this would make a nice picture for the website for July 4th weeken.

Kathy Garland took this photo of the rhododendrens.

Tammy Loftis got this great picture of a bee as it landed on an azalea.

This photo of a beautiful orange tiger lily was taken by Vicky Hoilman

It's strawberry time so Vicky Hoilman sent us this picture of a beautiful, yummy-looking bunch!

We received this photo from Betty Barrier with this note: This is my "little 85 year old momma", known to every one as "Maw Hinkle" on Mother's Day holding my nieces' pet chicken. And yes, she was as happy as she looked in this picture.

Robin Briggs sent this picture of the hail storm that occurred in Tipton Hill Tuesday evening, 6/2/09. In places, the hail was several inches deep and was quarter size. Needless to say, it destroyed the gardens and potato patches, only stems remained.
For more photos, click here
Click Here To Visit Our Sister Radio Station