Pictured above are Get R.E.A.L. youth career coaches Allen Cook and April Jones, Project Manager for Northwestern Regional Housing Authority Jackie Carpenter, and the youth of Cane Creek Village who received the food from the garden Alexander Garland, Robert Hollifield, Robert Riel, Toby Burleson, Sammy Burleson and Gabriele Hippe.
| | |
| --- | --- |
| Little Ms. Addison Rose Hobson--all ready for her first Halloween--what a "treat" she is to her mom and dad--Chris and Michelle Hobson. Photo by K. Garland. | |

Which is prettier..the fall colors or these two Camaros? The blue one on the left is a 1967 owned by Doug Frye, the orange '68 on the right is owned by Greg Garland. Photo by Kathy Garland.

You can almost hear this fella talking in this fall "harvest" photo by Gwen Macpherson.

Another great "fall" photo by Kathy Garland. This one features Madison and Sage Biddix of Spruce Pine.

Sandy Hoilman took this photo of the beautiful fall colors.


Had to share this "fall" photo of little Ruby Smith. Photo by Kathy Garland.

Shirley Pitman sent us this picture that was taken Wednesday at Linville River.
| | |
| --- | --- |
| | How cute is this? Ms. Ruby Smith is all ready for Halloween in her nurse outfit! Ruby is part of Aaron and Allysin Smith's family. Photo by Kathy Garland. |

Sandy Hoilman sent this picture taken from the Blue Ridge Parkway.

How cute is this?! This is Sophia Tess Morgan last weekend at the Bakersville Creekwalk Festival. Photo by Kathy Garland.
Cadence is a beautiful gray and white 2 year old cat. She is quite and calm and would make a good lap cat. She has medium long hair. She is spayed, microchipped and full vaccinated, plus comes with a collar, tag and bag of Hill's Science
Diet cat food. Adoption fee $85. Mitchell County Animal Rescue 765-6952

We welcome your photos! send to holly@wtoe.com

Calvin Campbell took this photo below Linville Falls.

LONG awaited baby girl--Erin Faith Green, born
9-20-10 and weighed 10 lbs and 4 oz. She is the daughter of Ben and Cecelia Green of Bakersville.

t looks like a painting but is actually a photo by Doug Sudduth. There was a major occurrence of lenticular clouds on September 9th visible especially
in Spruce Pine and Little Switzerland, as well as Bakersville. Doug shot these from Wing Road, looking south toward the Black Mountain range and Mt. Mitchell. According to Doug, "A realtor-friend from Little Switzerland left me a phone message saying, "there are spaceships everywhere here. If we're not here tomorrow, they got us." A neighbor from Conley Ridge Road quoted her husband, as she called him, "I'm sitting here in the road in my truck watching these crazy clouds." In my experience these clouds can occur preceding/during a weather transition, like the cold front that was passing through."

This little one was standing in the road one morning last week. He jumped to the side and began munching on some flowers.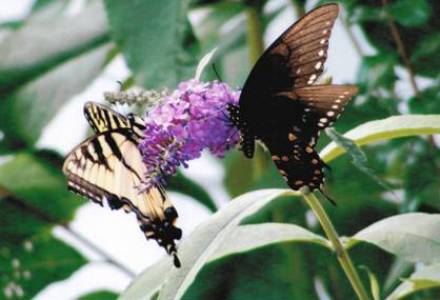 Gwen Tracey was able to capture this photo of two butterflies!

Sandy Hoilman took this photo at the Harris Blue Devil game on August 31st.

Floyd Miller took this picture on September 1st of the Angora goats located near the Jane Bald/Grassy Ridge on Roan Mountain. They are in a new grazing area protected by electric fencing and two Great Pyrenees dogs.

Beautiful Monarch Butterfly feasting on a Marigold, in Shirley Pittman's flower garden in Spruce Pine.

Vicky Hoilman took this beautiful photo of a dahlia.

Mitchell High School students gathered together Tuesday morning, August 17th in honor and in prayer of the 6 boys that were hurt in the wreck last Friday. Photo by MaryLee Yearick.

Gwen Tracey took this photo of the clouds forming a heart through the trees.

Kim Garland captured this photo of a swallowtail butterfly on Turks cap lilies.

This cat has one in its "sites"...good thing that window's there! Photo by Gwen Tracey.

Larry Gortney took this photo of a hay field along a country road at Red Hill. Notice the Queen Anne's Lace along the fence line.

Graham Buchanan thoroughly enjoying his watermelon. This is what summertime is all about! Photo by Vicky Hoilman.

Local Amateur Radio Operators practice field operations.



Gwen Tracy took this picture of some beautiful rhododendron.

Part of the balloons released Thursday evening, June 3 as part of the spring Hospice of Mitchell County Memorial Service. Henline-Hughes Funeral Home in Bakersville sponsored the event. Those in attendance participated in a balloon release in memory of their loved ones and friends. For another picture click here.

Beautiful purple iris in Shirley Pittman's flower garden.

Take a look at this beauty. Lily used to be a shelter cat but she's got it made now.

We call them "Smoke trees". Anybody know the official name? This one is a beauty.

Floyd Miller took this picture of some Lupines growing in his yard in Glen Ayre.

The Chalk Building Components held their open house Friday, May 14th. Pictured are owners Jerry and Marsha McKinney with some of the company reps. Representatives from Sun Windows, Alside Windows, Dyke Industries and Buck Stove including a Color Guard deck railing system rep with a large deck display were on hand. Located on Chalk Mountain, 2601 Highway 19 E in Spruce Pine. Phone 828-374-0036.

Rhododendron . Photo by Vicky Hoilman.
| | |
| --- | --- |
| | Beautiful pink rose. Photo by Walter Baker. |

You know that spring and summer have finally arrived with all the pretty flowers, such as these azaleas now in bloom.

Beautiful photo of dogwood blossoms by Clarice Murphy.

Vicky Hoilman took this photo of azaleas Friday.

Phyllis Wilson sent this photo of a beautiful snow ball tree in full bloom near her house.

Whiskey can't wait until football season!

Vicky Hoilman took this photo recently.

Jeremy Atkins caught this guy strolling on the Parkway.

A different perspective of an apple tree. Photo by Kenny Hoilman.

Those yellow forsythia bushes also herald the coming of Spring. Photo by Tammy Loftis.

Bev Dulaney captured this beautiful picture of raindrops on leaves.

Shawntae Wiseman sent us this picture of the fire on Hwy 226 on April 1st.

How cute is this little guy? Andrea McKinney took this picture of a river otter at Grandfather Mtn.

Spring Is Here!! MaryLee Yearick took this picture in her front yard Friday, March 19, 2010.
Marylee Yearick turns 50 this month!

This photo shows her as a beautiful Senior in High School.

This special Happy Birthday is from her family, Ken, Kenton and Peyton in Spruce Pine, who say "we love her so".

Happy 50th Marylee!

Wow. Aaron Holtsclaw took this on Roan Mountain this past Tuesday morning, March 16th.

Okay the eyes are a little wild looking (is that devil cat there in orange?), I can say that because these are two of my babies, in one of their more peaceful moments.

Back to another great dog photo! This is Hannah with her new Bassett Hound Rocky.

What a great photo of a beautiful little female cardinal in this week's snow. Photo by Randy Ward.

This little squirrel was out for a snack during Tuesday's storm when Tammy Loftis was able to get this photo.

This little Scottish Terrier, named Bonnie is all wrapped up ready for this cold weather.

What a beauty...Daisy is her name and she's one of the prettiest Golden Retrievers we've ever seen. Picture taken by Rachel Silver.

Check out this great photo of Chloe Willis and her uncle Blake's dog, Brock, taken by Lydia Parker.

Snow piles up at Little Switzerland Post Office. The Postmaster there loves Teddy Bears so they are calling the pile, "Mount Teddy". Photo by Ann Kernahan of Switzerland Cafe & General Store.
| | |
| --- | --- |
| | Diana O'Shields sent this picture of her little granddaughter, Rosalie, at 4 months old enjoying her first snow. |

There's a new barbershop quartet in town, named Local Fourcast. In this photo they are singing Valentines songs at DT's in Spruce Pine, February 9. Members are (left to right):Danny Thomas, tenor, Will Shurley, lead, Doug Sudduth,bass and George Bennett, baritone. They sang the National Anthem at a recent basketball game at Mitchell High School.

Loving seeing everyone's adorable dogs...and here's another great one! This is Brady. He is a Pomeranian and he is one year old. He was Santa's little helper this past Christmas. According to Daniel, Glenda & Josh Franklin, "His wonderful personality just brightens up our lives."

This is Dakota, wondering where his breakfast is...he belongs to Phil and Tammy Simmons.

Ms. Libby Miller's kindergarten class at Greenlee Primary School bought Christmas presents for the shelter pets at Mitchell County Animal Rescue this year. Abby, a former shelter dog and Patricia Beam of MCAR went to the classroom. The class learned about pet needs and how to be kind to animals.

How cute is this?! Lisa Whorten sent this wonderful photo of her son Jonathan Whorten, who just turned five years old. He is seen here with his birthday present "Chigger". Chigger was adopted from the Mitchell County Animal Rescue. Lisa wanted to make people aware of the wonderful dogs and cats available at the shelters.
Next four photos by Doug Sudduth
Click Here To Visit Our Sister Radio Station