Planning a Wedding?
Need a ring that your "rough and tough" guy won't hurt?
We Can Help!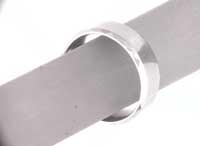 This Tungsten Carbide ring (shown here around a metal file) is stronger than a file. You can file it--but you can't scratch it!
Come in today for a demonstration and to see our
great selection!
Also we now have the Tungsten Carbide watches for men!
___________________________
A wide selection of both jewelry and gifts
in every price range.
Rings, necklaces, earrings, bracelets, watches (including Fossil)

Wedding and anniversary invitations, accessories and gifts

Wall pictures, clocks, plate racks

Collectibles including Cherished Teddies, Kneaded Angels, Tom Clark gnomes, Blue Sky porcelain, Music boxes
Fine diamonds from Belgium.... gifts starting as low as $9.95.
LADIES: Start getting what you want--fill out our register with the
items you like.
GUYS: Get her what she wants! Look at the register or we can help
you pick out a gift she'll love. All transactions totally confidential.
(she won't know until you give it to her!)
Jewelry repair and custom designed rings
___________________________
Banks in business since 1961... A family owned business



605 East Main Street, Burnsville, NC 28714 828-682-3414

Click Here To Visit Our Sister Radio Station


This page was last updated on Monday, 12 September 2011 05:21 PM