For School and Special Announcements click here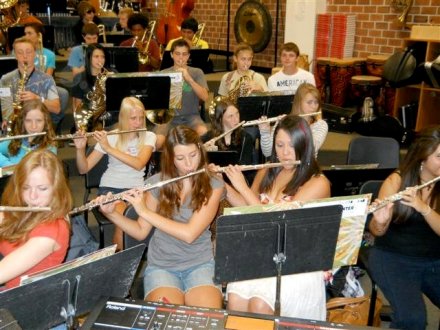 The Mountain Heritage High School Symphonic Band and Jazz Ensemble will present their Fall Concert on Thursday November 3, 2011 at 7:30 p.m. in B. M. Tomberlin Auditorium at Mountain Heritage High School. The ensembles are directed by Dr. Tim Babb. "We have had a very busy start to the school year. Yet, the students have worked especially hard, says Babb. He continues, "They possess a tremendous amount of talent and understanding of musical expression. I am especially proud of the many varieties of musical styles the symphonic band has begun to master so early in the school year. I am also very excited about the return of jazz to the music curriculum. I am sure the audience will have a wonderful musical experience." Admission to the concert is $5.00 for adults and $3.00 for students. All proceeds will be used to support the Mountain Heritage High School Band. We welcome your photos!, send to holly@wkyk.com.
Mountain Heritage Citrus Sale, click here
Car Show, Bar-b-que, Bluegrass and Gospel Concert Benefit for Charlie Proffitt family 11/5, click here

Email Us Your Photos | View Photo Archive
Local Color
Get your picture on the web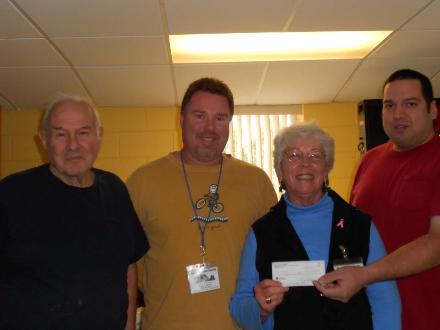 Yancey Humane Society President Jane Mummert and Executive Director Tim Tipton accepted a generous donation recently from the Knights of Columbus at Scared Heart Catholic Church in Burnsville. Many thanks to the Knights for their dedication and concern for animals.

Remember when your photos leave the Home Page they go to our Photo Archives--just click on Photo Archives below to see lots of great pictures!
INFO CENTER
FREE showing of "Forever Strong" for Middle and High School Students 11/8, click here

JROTC To Honor Veterans 11/10, click here

Heritage FFA Forestry Dominates at Regional Competition, click here

Clearmont Elementary Students Go on a Health Adventure
click here

New exhibit at Penland, click here

Flu vaccine available at Health Department, click here

Help out with "Shop with a Cop" event, click here

Free Living Healthy workshop 11/2, click here

Mars Hill College Honors Long-time Employees, click here

Buladean Fall Festival 11/5, click here

Changes in Energy Assistance Program, click here

House for Sale, click here
Quilt Trails News (updated 10/17), click here
ARCHIVES
Click here to make WKYK.com your default homepage
~ OR ~
Click here to add WKYK.com to your favorites
(paid advertisement)
To View our Birthday Calendar Click here
Burnsville Town Center Calendar, click here
Learn more about our web site hits, click here

Click Here To Visit Our Sister Radio Station


This page was last updated on Thursday, 03 November 2011 08:32 AM